Canadian firm 'may sue for $4bn' if Romania blocks gold mine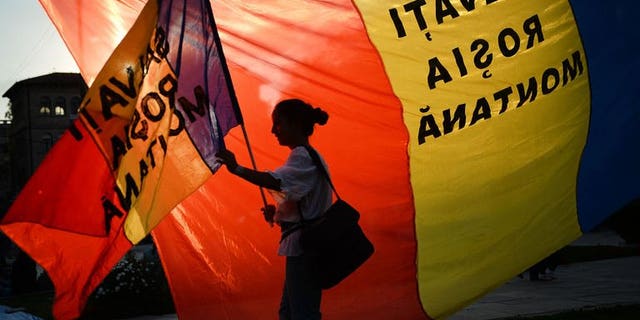 BUCHAREST (AFP) – Canadian mining firm Gabriel Resources told AFP Wednesday it may sue for $4 billion (3 billion euros) in damages if Romania's parliament blocks its project for a massive gold mine in the country.
"If the draft legislation is rejected then the company will provide formal notification to Romania of its intentions to commence litigation for multiple breaches of international investment treaties... with a claim of up to $4 billion", Jonathan Henry, CEO of Gabriel Resources, wrote in a email.
He did not say which court the complaint would be submitted to nor which treaties would be used to back the claim.
Gabriel Resources, through its 80 percent stake in the Rosia Montana Gold Corporation, plans to open Europe's largest open-cast gold mine in the Transylvanian village of Rosia Montana.
The company acquired a mining licence for the village in 1999 but has been waiting ever since for a crucial permit from the environment ministry.
To speed up the opening of the mine, Romania's centre-left government last month submitted a bill that would make it easier for the company to expel villagers living around the site of the mine and circumvent some regulations.
But the draft law sparked an outcry with thousands of people across the country taking to the streets every evening over the last 10 days.
On Monday, Romanian Prime Minister Victor Ponta said the controversial draft law will be voted down by parliament.
"A majority of lawmakers are opposed to the draft law so it will be rejected," he said.
Gabriel Resources wants to extract 300 tonnes of gold using an average of 12,000 tonnes of cyanide a year.
It promises 900 jobs will be created during the 16-year extraction period, with added economic benefits for locals.
Scientists from the Romanian Academy and environmental rights groups such as Greenpeace say the mine will be an a ecological time bomb, while archaeologists warn it threatens ancient Roman gold mines.
Analysts said that a negative vote on the draft law would not necessarily torpedo the mine project, which could still go through a lengthier procedure to obtain a permit from the environment ministry.
But Environment Minister Rovana Plumb on Wednesday told Romania's Mediafax news agency that a negative vote in parliament would block any further move in the permit process.