Canada to end bombing mission against ISIS within weeks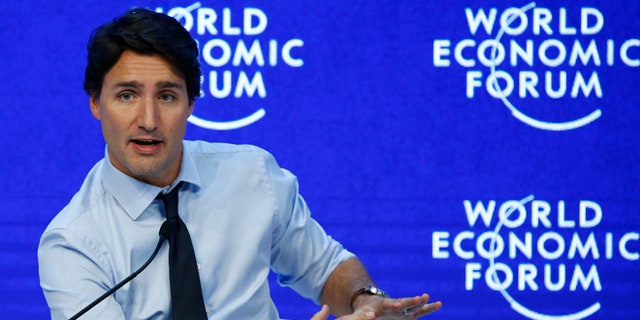 NEWYou can now listen to Fox News articles!
TORONTO – Canada's prime minister on Monday announced that the country will end airstrikes against the Islamic State group in Syria and Iraq by Feb. 22, saying that "the people terrorized by ISIL every day don't need our vengeance, they need our help."
Justin Trudeau, following up on campaign promises he made last year, also announced that the government will expand efforts to train local forces and rebuild the war-torn region. Military personnel in the region will increase to 830 from the current 650 and provide planning, targeting and intelligence expertise.
Canada's contribution to the mission against the Islamic State group is being extended until the end of March 2017.
The U.S. had asked coalition members to boost their military contributions in Iraq and Syria against the Islamic State group after the deadly attacks in Paris in November. However, Trudeau's promise that Canada would pull its jets was already part of his winning campaign.
"While airstrike operations can be very useful to achieve short-term military and territorial gains, they do not on their own achieve long-term stability for local communities," Trudeau said during a news conference Monday. The country had six fighter jets carrying out the strikes.
"We will be supporting and empowering local forces to take their fight directly to ISIL so that ... they can reclaim their homes, their land and their future," the prime minister added.
Canada will keep two surveillance planes in the region as well as refueling aircraft, and it will triple the number of soldiers training Kurdish troops in northern Iraq to about 200, from about 69 now. The size of Canada's "train, advise and assist" mission will triple, including additional medical personnel and equipment including small arms, ammunition and optics to assist in training Iraqi security forces.
Trudeau said the government will spend more than US$1.15 billion (CA$1.6 billion) over the next three years on the mission as a whole, including on security, stabilization and humanitarian and development assistance.
Last March, one Canadian soldier was killed and three others were injured in a friendly fire incident in Iraq.
The military has said that during Canada's decade of operations in Afghanistan, 158 Canadian Forces personnel died.
Trudeau said Monday that Canada learned the hard way in Afghanistan that airstrike operations do not on their own result in long-term stability. He said Canada gained valuable experience training local Afghan police and military forces.
"Experience that the Canadian Armed Forces should be bringing to bear in Iraq and Syria," he said.
The U.S. has said it respects Canada's decision to pull its fighter jets out of the air campaign. But the Americans did not invite Defense Minister Harjit Sajjan to recent coalition meetings in Paris.