Cambodian self-exiled opposition head vows poll return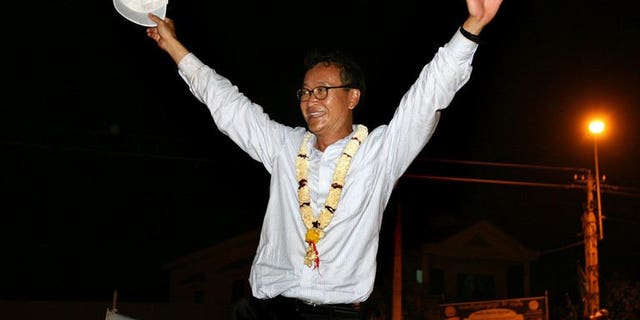 PHNOM PENH (AFP) – Cambodia's opposition leader, who lives in self-imposed exile abroad, has vowed to return to the country, in a move his party hailed Sunday as a boost to its chances in elections this month.
Sam Rainsy, seen as the main challenger to strongman Hun Sen, promised to travel to Cambodia "before the election day" on July 28 in a video posted on his Facebook page.
"The presence of Sam Rainsy will encourage voters to believe in CNRP (Cambodia National Rescue Party)," said opposition spokesman Yim Sovann.
Rainsy's presence would "create a strong force that would make a change and bring a positive result for the country", he said, adding that the opposition leader was working to set a date for his return.
Prime Minister Hun Sen, who has ruled Cambodia for 28 years, is widely expected to win a majority in the elections.
Rainsy lives in exile in France and faces 11 years in jail if he returns after he was convicted in absentia for charges that included publishing a "false map" of the border with Vietnam.
"I would sacrifice my life for the country and I dare to die in order to save the nation from disaster," he said in the recorded message.
The opposition leader, who fled Cambodia in 2009, has vowed to return several times in the past year, but he has never made it.
"We will just wait and see whether he will walk the walk or not. Will he be arrested or not upon his return to Cambodia? You should ask this question to the court," government spokesman Khieu Kanharith told AFP.
Hun Sen is one of Southeast Asia's longest-serving leaders and has steered the impoverished country from the ashes of civil war and overseen a growing economy through development, tourism, and garment exports.
His government is regularly accused of suppressing political freedoms and muzzling activists.
In May he said he would try to stay in power for another decade, until he is 74. He previously vowed to hold office until he reaches 90.