California woman survives terrifying 500-foot zip-lining fall in Mexico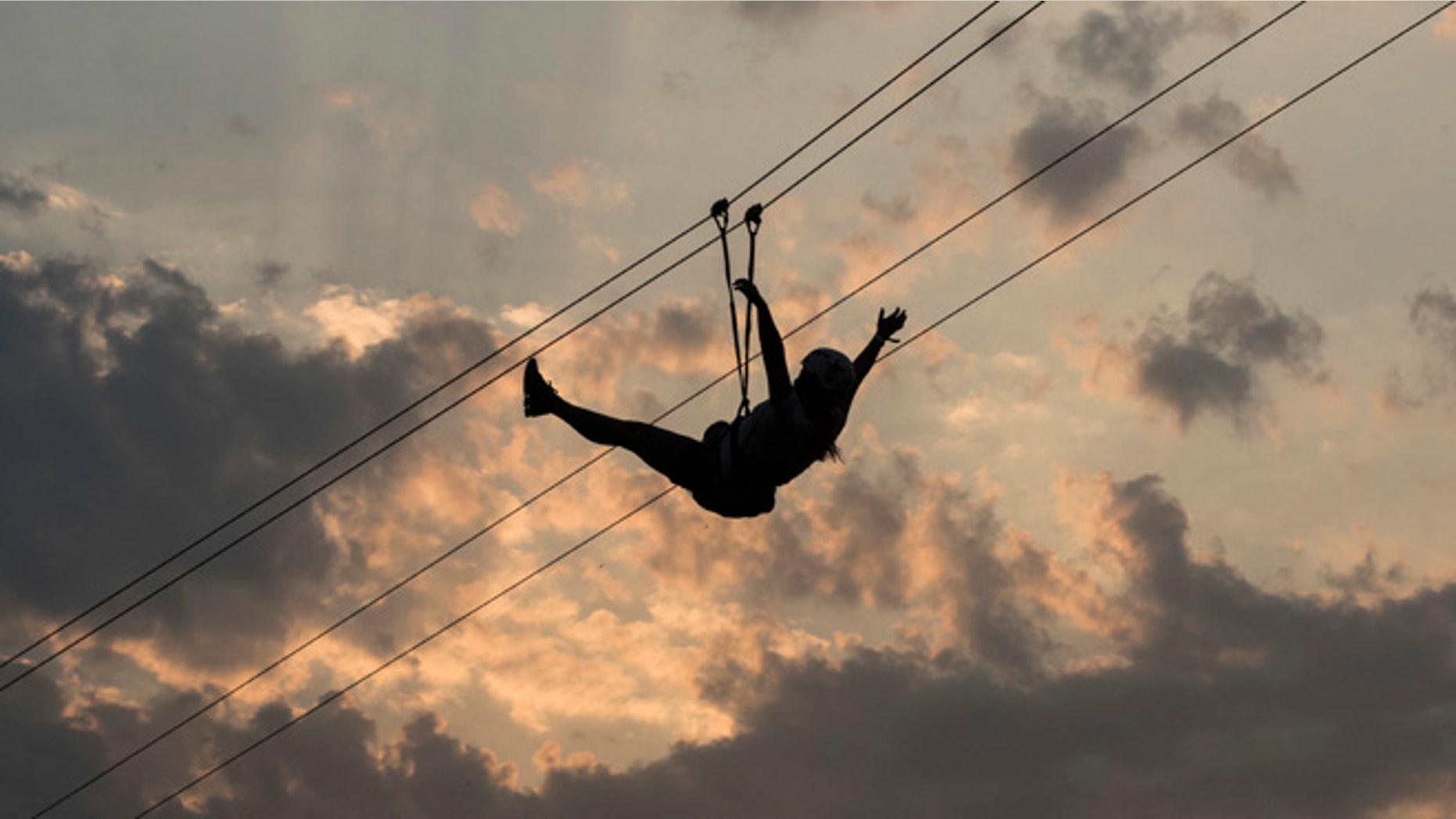 Heather Gladden of Cloverdale, California, says she is very lucky to be alive after falling 500 feet while zip-lining while on vacation in Mexico.
Last month, the Bay Area mother of four was on a cruise with her husband when they booked an excursion in Puerto Vallarta's Nogalito EcoPark, which offers a course of 11 zip-line runs.
About halfway across her fifth run of the day, there was a problem with the line she was riding on. Gladden fell about 500 feet down into a tree-covered gorge.
"Next thing I could hear the trees rustling through my ears and the noise of the tree branches," Gladden recalled to KPIX-TV in San Francisco. "And then just a hard yank, and then when I opened up my eyes, I was upside-down in the tree."
She also said, "I didn't think I was going to make it."
Remarkably, Gladden survived with no broken bones and only what could be considered minor injuries.
"I have bruising throughout my leg with nasty cable burns," she said. "And a possible torn ACL."
Her husband told KPIX that he was on the next zip-line platform when the accident occurred.
"All I saw was the wire literally go right through my legs, hit the ground and then went over the cliff," said Ryan Gladden. "I told the guy, 'What just happened?' And he was just like, 'I don't know. This has never happened before.'"
Ryan said he rushed down into the gorge and found Heather dangling in the branches of the tree that broke her fall.
Fellow-travelers Monica and John Lee of Hayward, California, told the station that they heard the line snap before seeing Gladden's fall.
"It was unbelievable, I couldn't believe what had happened," Monica Lee said.
Her husband added, "And then you just hear her yelling, you know, just screaming."
Nogalito manager Nuria Flores González told the Santa Rosa-based Press Democrat that the zip-line did not detach or break. Instead, she said, Gladden fell a cable support mechanism failed.
"It got weak in some way, and that's what made it drop lower than normal," she told the paper. "I believe it was a slow drop."
The Gladdens elected to not stay overnight at a local hospital and returned to their Norwegian Cruise Line ship – which has no affiliation with the zip-line excursion. The seven-day cruise was heading back to where it began in San Pedro near Los Angeles, where the Gladdens left their car.
After returning to the Bay Area, Gladden received treatment at the Sutter Santa Rosa Regional Hospital.
"I'm not a churchgoer, but somebody was looking over me that day," she told the Press Democrat.
She admitted to KPIX that the accident "replays over and over and over."