California Bus Involved in Fatal Crash May Have Had Brake Problems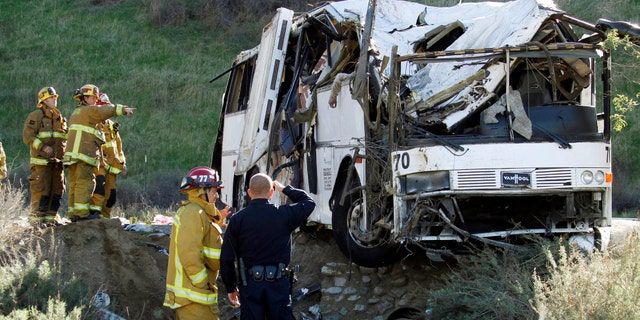 Two days after a deadly bus accident in California killed seven people and injured dozens of others, investigators say they are still trying to piece together what went happened.
Federal investigators at the scene said they would begin on Tuesday a thorough investigation of the bus and the circumstances that surrounded the crash. They will determine if mechanical failure or driver error was to blame.
The bus had traveled from Tijuana, Mexico to Southern California when it careened out of control and collided with a car and truck as it came down the mountain from the ski resort town of Big Bear.
Government records showed the bus, operated by Scapadas Magicas LLC of National City, Calif., recorded 22 safety violations in inspections in the year ending October — including brake, windshield and tire problems.
Though the company retained an overall "satisfactory" rating from the Federal Motor Carrier Safety Administration, it had been targeted for a higher rate of inspections linked to bus maintenance, the agency said.
No one answered the door at the Scapadas Magicas office in a sprawling complex that houses more than 1,300 storage lockers and about 30 small offices. Jordi Garcia, marketing director of Interbus Tours, said his company rented the bus from Scapadas Magicas, which supplied the driver.
The driver, Norberto B. Perez, 52, of San Ysidro, suffered major injuries but before going to the hospital told authorities the vehicle had brake problems.
A person involved in the investigation who spoke on condition of anonymity because the probe was ongoing said the bus was moving slowly downhill and was passed by other vehicles, including the Saturn, when it suddenly sped up.
The bus traveled about a mile from the point it struck the Saturn until it came to a stop, California Highway Patrol Officer Leon Lopez said.
At least 17 people remained hospitalized Monday, including at least five in critical condition.
Gerardo Barrientos and his girlfriend Lluvia Ramirez wanted a week away from the suffering they see every day at a government hospital in Tijuana, Mexico. Looking for a break, they paid $40 apiece for a day trip to the snowy mountains of Southern California.
But they found themselves in a scene more gruesome than any they had seen back home.
"I saw many people dead. There are very, very horrendous images in my head, things I don't want to think about," Barrientos, who works in a hospital pharmacy, said Monday.
The pickup driver was in extremely serious condition, said Peter Brierty, assistant county fire chief.
Interbus offers near-daily bus tours to the western U.S. from Tijuana. Its office in a Tijuana strip mall displays photographs of some of its destinations, including Hollywood, the Las Vegas Strip and the San Diego Zoo.
Garcia said 38 people were aboard the bus that crashed, including the driver and a tour guide. The bus left Tijuana at 5 a.m. Sunday and planned to return late that night.
He said he spoke briefly with his tour guide, who suffered bruises. She told him she heard a loud pop before the crash.
Maria Salazar's daughter, 28-year-old Diana Maldonado of San Diego, was among those injured. Salazar said her daughter described the terror of the bus flipping and her head smashing through a window as she was propelled out of the vehicle. She lost consciousness and awoke as paramedics tended to her.
Maldonado hurt her back and shoulder but did not break any bones, according to her mother, who said her two other daughters had planned to make the trip but did not.
"I just thank God they did not go," Salazar said in Spanish as she choked back tears.
Based on reporting by the Associated Press.
Follow us on twitter.com/foxnewslatino