Burned Iraqi boy returns home after surgery in US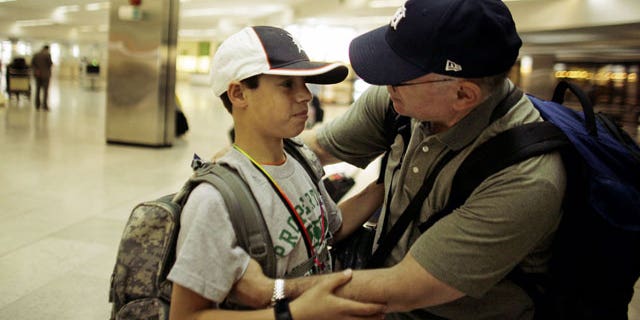 BAGHDAD – BAGHDAD (AP) — After a year in the U.S. where he underwent five surgeries to treat severe burns, the Iraqi boy seemed a bit uncertain as he waited for his bags Tuesday at the Baghdad airport.
To make matters worse, National Guard Maj. David Howell — the man who had brought 13-year-old Mohammed to the U.S., organized the treatment and flew back to Iraq with him — now had to say goodbye and catch the next flight out.
"I feel a little bit nervous because I haven't seen my family for a while," Mohammed said in a quiet voice amid the clamor of the baggage claims area.
The boy, whose middle and last names are not being publicized for his protection, wore a Detroit Tigers baseball cap and a T-shirt reading "Property of Michigan State" — the university where the surgery was performed.
"He's had a great time in the U.S., it's a bit like leaving Disneyland," said Howell. "I think right now he's a little bit sad, because we spent the last year together." The two then hugged and said goodbye.
Then, as Mohammed started making his way toward the airport exit, his mother swooped out of the waiting area and enfolded him in a crushing, tearful embrace. His trepidation evaporated and the two briefly sat for the television cameras before she ushered him away to head home to a celebration with the extended family.
Caught in a house fire when he was only 2 years old in the city of Ramadi, once an insurgent hotbed west of Baghdad, Mohammed was severely scarred. Then three years ago, his father was gunned down by insurgents for working as translator for U.S. troops.
When his uncle went to the morgue to claim the body, he too was killed by militants, who warned Mohammed's mother they would kill her and her children if she ever contacted the U.S. military.
Instead, Mohammed went on his own to an army checkpoint outside Ramadi in November 2008 and asked Howell, a Michigan Army National Guard physician assistant, to save him and take him to America.
It took Howell six months to get the permissions, but he managed to get Mohammed to Michigan, find him a Muslim host family and set up a foundation to pay for his operations.
Black, glossy hair now grows where only scar tissue was before. And Mohammed's left hand and wrist — deformed in the fire — now can field baseballs. He gained 26 pounds and grew 3.5 inches during his time in America — and he now speaks English with an American accent.
Howell said they are hoping to find a way to someday get Mohammed back to the U.S. for college, hopefully at Michigan State.