British PM Cameron suggests granting Assad safe passage to end civil war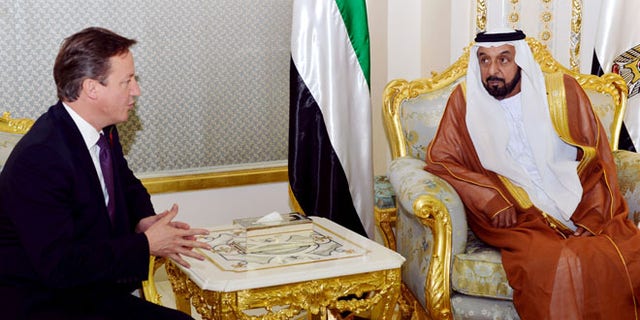 British Prime Minister David Cameron suggested Tuesday that Syria's president Bashar Assad could be allowed safe passage out of the country if that option would guarantee an end to the nation's civil war.
Asked in an interview with Al-Arabiya television if he would contemplate offering Assad an exit route, Cameron said the international community would consider anything "to get that man out of the country and to have a safe transition in Syria."
"I am certainly not offering him an exit plan to Britain, but if he wants to leave, he could leave, that could be arranged," Cameron said, speaking in Abu Dhabi on the second day of a three-day tour of the Gulf and Middle East.
Activists say that since Syria's unrest began in March 2011, more than 36,000 people have been killed. The conflict is now stuck in a military stalemate, which rebel fighters blame on a lack of strategic weapons, such as anti-aircraft missiles.
"Of course, I would favor him facing the full force of international law and justice for what he's done," Cameron said, before he arrived in Jiddah, Saudi Arabia, for talks with King Abdullah.
Later Tuesday, the two leaders met in Jiddah and discussed the situation in Syria extensively, according to the official Saudi Press Agency (SPA). No further details were available.
Sunni-led Saudi Arabia is one of Assad's harshest critics and has called for arming the rebels. The kingdom's regional rival, Shiite-led Iran, is the Syrian regime's staunchest regional ally.
Cameron and the Saudi king were expected to discuss issues pertaining to Iran, the Palestinian-Israeli situation and bilateral economic ties, according to SPA.
Meanwhile, officials in London said Cameron was not suggesting Assad could escape potential international prosecution if he were to be granted passage out of Syria. They also confirmed that the British leader was not holding talks with counterparts aimed at crafting an exit deal.
"We have been clear that Assad should face justice and that it is for the Syrian people, including the opposition, to decide the details of a transition including the options for Assad. The longer the killing goes on, the fewer options Assad will have," Britain's Foreign Office said in a statement.
Cameron has previously called the failure of world powers to halt the Assad's regime assault on its opponents a "terrible stain" on the reputation of the deadlocked United Nations, where Syria's allies Russia and China have repeatedly blocked attempts to approve harsher sanctions in the Security Council.
"I am very frustrated that we can't do more. This is an appalling slaughter that is taking place in our world today -- 40,000 lives lost already and you can see, on your television screens, night after night, helicopters, airplanes belonging to the Assad regime pounding his own country and murdering his own people," Cameron said.
However, he insisted that Britain would not consider providing weapons to Syria's fractured opposition -- in part, because of concerns about the growing prominence of extremist groups fighting alongside the rebels.
"My fear is, firstly, that the slaughter will continue, that the loss of life will continue. That should be our number one concern," Cameron said. "But there is another fear, which is that the longer this goes on, the more that it can promote and drive extremism and we'll see instability in the region as well."