Britain believes Syria regime behind chemical attack: Hague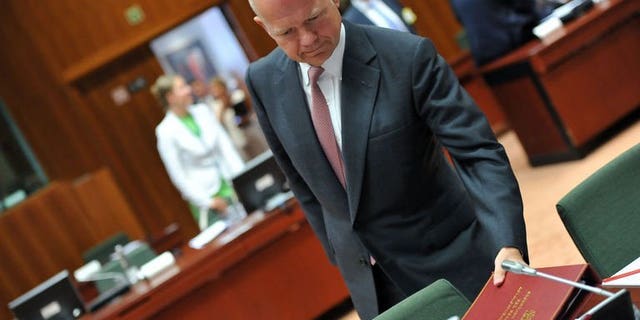 LONDON (AFP) – The British government believes the Syrian regime of President Bashar al-Assad is responsible for an alleged chemical weapons attack this week, Foreign Secretary William Hague said Friday.
Hague said evidence from the attack, which reportedly left hundreds dead on Wednesday, was deteriorating every day. He called for UN experts to be granted immediate access to the site near Damascus.
"We do believe this is a chemical attack by the Assad regime on a large scale, but we would like the United Nations to be able to assess that," Hague said in a televised statement.
He said it "seems the Assad regime has something to hide" by not letting the UN experts tour the site.
Hague held talks with US Secretary of State John Kerry on the Syria crisis overnight and spoke to UN Secretary General Ban Ki-moon on Friday.
Amid growing outrage over the attack, he met Qatar's Foreign Minister Khaled al-Attiyah in London on Friday and said he was hoping to speak to his Russian counterpart Sergei Lavrov later.
Hague dismissed suggestions that the attack could have been faked by Syrian rebels.
Damascus has denied launching the attack.
Russia on Friday questioned Western claims that the regime was responsible, saying that the incident instead appeared to have been "provocative in nature".
But Hague said there was "no other plausible explanation" than the use of chemical weapons for "casualties so intense, in such a small area, on this scale".
He added: "This is our priority at the moment: to make sure that a UN team can investigate on the ground and establish the facts."
If this does not happen, Hague said Britain would return to the UN Security Council to "get a stronger mandate and for the world to speak together more forcefully about this so that there can be access".
Russia has repeatedly blocked UN Security Council resolutions calling for more action on Syria.
Harrowing footage posted online, showing unconscious children and people foaming at the mouth, has triggered revulsion around the world.
"This is not something that a humane or civilised world can ignore," said Hague.
Britain would not rule out any options on Syria, as long as they complied with international law "and could save innocent lives," Hague added.
In his talks in London with his Qatari counterpart on Friday, Hague said they had agreed the UN team should be given "urgent and immediate access" and added that "a political solution is the only way out of the bloodshed."
Qatar is one of the main supporters of the Syrian rebels.