Brazil's Rousseff Says U.S. Trip Hinges On Obama's Response To NSA Allegations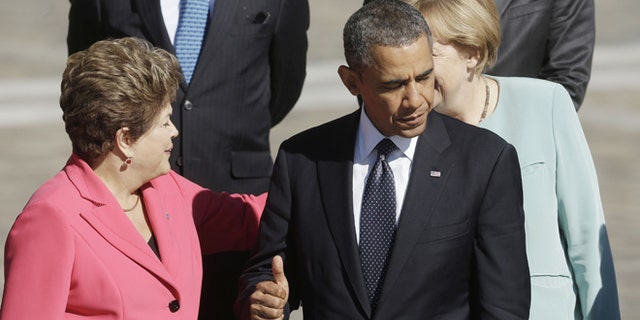 RIO DE JANEIRO – Brazilian President Dilma Rousseff said Friday that she will decide on whether to cancel a state visit to the U.S. over alleged spying on her based upon President Barack Obama's full response.
Rousseff and Obama met in Russia at the G-20 summit. The Brazilian leader said on her official Twitter account that "my trip to Washington depends upon the political conditions to be created" by Obama.
She added that Obama promised to explain the spying to her by Wednesday, and that she would soon propose before the United Nations new international regulations for privacy protection, though gave no details on what those might be.
Rousseff is scheduled to visit Washington in late October and was extended the honor having a state dinner, the only such dinner for a foreign leader scheduled this year.
But a report that the National Security Agency's massive spy program directly targeted Rousseff's communications with top aides has brought the trip into doubt and hiked tensions between the two biggest nations in the Americas.
That report was aired on Globo TV last weekend and was based on NSA documents leaked by Edward Snowden to U.S. journalist Glenn Greenwald, who lives in Rio de Janeiro and worked with the network on the story.
The report said the U.S. spy agency mapped out the aides with whom Rousseff communicated and tracked patterns of how those aides communicated with one another and with third parties, according to a June 2012 NSA document. Greenwald said the document, while not containing excerpts of Rousseff communications, made it clear that U.S. officials were reading her emails and text messages.
The White House confirmed that Obama individually discussed the NSA's surveillance programs with Rousseff and also with Mexican President Enrique Pena Nieto, who according to the Globo TV report, was also a direct target of the NSA program.
Obama said he assured both leaders he takes very seriously the allegations of spying on their communications by the National Security Agency. He said he promised to address their concerns.
Both leaders have expressed outrage over revelations that the NSA kept tabs on their communications. Pena Nieto says it would constitute an illegal act. Rousseff responded by canceling a trip to Washington by a team of aides preparing for her upcoming U.S. visit.
Rousseff remained firm as she spoke to reporters at the end of the G-20 summit.
"I think is very serious to spy on a democratic country, very serious. I don't see how someone can defend spying on a democratic country, or spying on the privacy of people," she said.
"I made him (Obama) see that the relationship that we had, based on the fact that we are big democracies in this part of the world, is incompatible with the act of spying."
"President Obama told me — and repeated — that he wants to create political conditions for my trip to the United States," she said. "I want to know everything that they have. Everything."
Brazil's minister for external relations, Luiz Alberto Figueiredo, is expected to meet with the U.S. National Security Adviser Susan Rice on Sept. 11 to discuss the matter.
Based on reporting by The Associated Press.
Follow us on twitter.com/foxnewslatino
Like us at facebook.com/foxnewslatino