Brazil's acting House Speaker annuls vote to impeach President Dilma Rousseff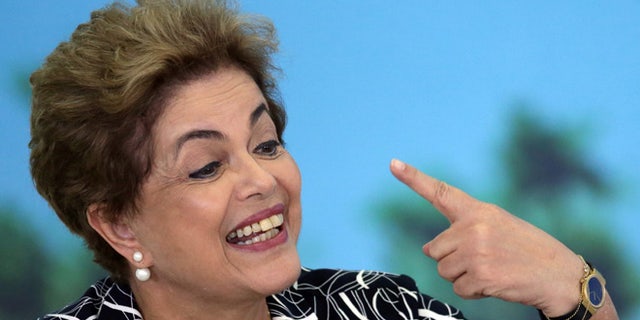 NEWYou can now listen to Fox News articles!
RIO DE JANEIRO (AP) – The acting speaker of the lower house of Brazil's Congress on Monday annulled last month's vote on impeachment, complicating the process that was widely expected to see embattled President Dilma Rousseff suspended later this week.
A Senate vote on whether to accept the matter had been scheduled for Wednesday, with the expectation that the vote would lead to Rousseff's immediate suspension and Vice President Michel Temer taking over. But Monday's request by acting Speaker Waldir Maranhao evidently means the matter will go back to the Chamber of Deputies and possibly delay the process by days or weeks.
Under the terms of Monday's decision, the lower house would have five sessions to stage another vote on whether to send the impeachment process against Rousseff to the Senate. The lower house overwhelmingly voted to move forward with the process last month, and it's those April 15-17 sessions that Maranhao has called off.
The reasoning for Maranhao's decision was unclear, and the surprise announcement touched off a firestorm of debate over the move's legality and its possible implications.
Opposition leaders have already threatened to appeal the decision to the Supreme Court, and observers say the government could do the same if it Senate decides to ignore the request and hold the proceedings anyway.
Rousseff is battling impeachment over allegations her government violated fiscal rules, in what critics say was a bid help artificially hold up the country's flagging economy. Rousseff has said prior presidents used such fiscal maneuvers and that the impeachment effort amounts to a "coup" aimed at removing her and her left-leaning Workers' Party, which has governed the country for 13 years.
Rousseff reacted cautiously to the news at an event in the capital, Brasilia, about education, suggesting it wasn't entirely clear what was happening and adding, "we have a difficult fight ahead of us."
She also called for caution, adding "we live in a time of cunning and wile."
Maranhao took over the reins in the Chamber of Deputies, after former Speaker Eduardo Cunha — Rousseff's sworn nemesis and the driving force behind the impeachment effort — was removed from office over corruption and obstruction of justice allegations against him. Maranhao voted against the impeachment in the April 17 vote in the Chamber of Deputies.
Opposition congressman Pauderney Avelino said from his point of view, the impeachment process was out of the lower house's control.
"The process in the Chamber is done with," Avelino said, adding that Maranhao's decision was that "of an unbalanced person."