Brazil vs. Mexico: A Development Rivalry That Keeps Going Back And Forth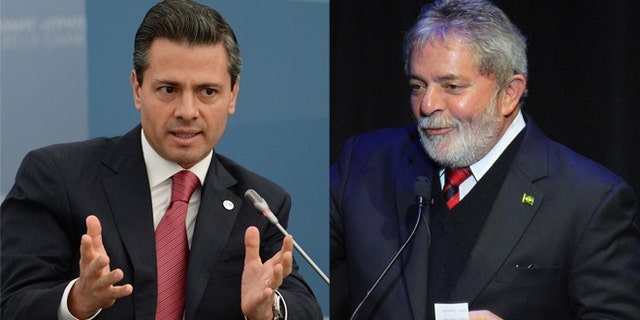 NEWYou can now listen to Fox News articles!
MEXICO CITY – Brazil and Mexico meet in a World Cup match on Tuesday, pitting a perpetual soccer power against an oft-anguished underachiever. But the match comes as Brazil underwhelmed in its opening match and Mexico sees an opportunity for an upset – and a chance to outperform its previously poor expectations.
The same could be said for the off-the-field rivalry between the two countries – the two largest economies in Latin America. It's something noted by former Brazilian president, Luiz Ignácio Lula da Silva, who recently commented on the notion that Mexico's economic outlook burns brighter that of Brazil's, "Those that believe Brazil will recede are wrong."
Lula ramped up the rivalry further by telling a forum organized by the Spanish newspaper El País in Porto Alegre earlier this month, "I went to find out [the Mexican economic fundamentals], and everything is worse than in Brazil."
The statements stirred patriotic sentiments a continent away, where Mexican political and business elites previously envied Brazil's success stories, even as the North American country dealt with a hornet's nest of drug cartels and death dominating its image and headlines.
The Brazilian economy boomed during the last decade, pulling millions out of poverty and capturing such acclaim it was awarded this year's World Cup and the 2016 Olympics.
But times have changed.
Investors and analysts have turned bearish on Brazil, Latin America's largest economy. And many have embraced previously-overlooked Mexico, which has since stolen some of Brazil's thunder as President Enrique Peña Nieto has achieved a slate of structural reforms in areas such as education, energy and the economy – measures markedly more popular with investors and analysts than with ordinary people.
Lula was perhaps voicing frustration with criticism of his own country more than expressing any actual feeling of rivalry toward Mexico, where he was imported to promote an anti-hunger program launched last year by Peña Nieto.
He couldn't help but compare the North American country's ongoing attempts to open its oil industry (the details of which are being hashed out in the Mexican Congress) to the partial privatization achieved in Brazil.
"What they're doing best, we already did with Petrobras 20 years ago," he said, referring to Brazil's semi-public oil company.
The comments come as protesters in Brazil blast the government for spending billions on stadiums and airports for the World Cup, while social services remain subpar or underfunded.
Growth has slowed, too; the World Bank slashed its outlook to 1.5 percent this year from the 2.4 percent originally forecast, Bloomberg News reported.
Analysts also point to domestic issues: Lula's successor, Dilma Rousseff, seeks re-election in October amid an atmosphere of protests, strikes, and general discontent.
"The comments were strange, an unnecessary own goal on the eve of the World Cup," Eric Farnsworth, vice-president of the Americas Society/Council of the Americas, wrote in an email from São Paulo.
"There is no doubt Brazil's soccer team is superior to Mexico's" – which struggled to quality – "but off the field, the story is different."
The sour sentiments sounded similar to frustrations expressed by former-Mexican President Felipe Calderón, who during the depths of the drug war in 2010 complained, "The international perception is that Mexico is in chaos … and Brazil is some sort of paradise." His wife, Margarita Zavala, later said with some apparent bitterness, "We have less than half (the homicide rate) of Río de Janeiro … and they won the Olympics and World Cup."
Peña Nieto, whose administration has made improving Mexico's image a priority, played down any possible frictions with Lula and Brazil.
"Mexico and Brazil didn't sign up for [an economic] competition," he said during a trip to Spain.
"We respect the route taken by Brazil, which is a reference for other countries, but Mexico has its own."
Others were only too happy to pile on, however, with many pointing out that problems in Brazil – such as urban violence – are less likely to make the international media than stories of insecurity in Mexico are.

"Something happened to Brazil that never had happened before: It was suddenly under scrutiny similar to what had occurred in Mexico, and evidently they didn't like it," José Carreño, a long-time foreign correspondent, wrote on the Animal Político website.
"Because of its neighborhood, Mexico has been subject to more scrutiny than Brazil," he continued. "Our problems, defects, inconsistencies, have been seen, analyzed, exhibited, criticized, exaggerated and sometimes made out to be less. Brazil hasn't had that experience."
Brazil also benefitted from countries like China buying boatloads of commodities during the last decade, while prior reforms promoted investment.
"Brazil had the luck to be sitting on a giant pile of natural resources in 2007-2008, and again in 2011, when energy and metal ore prices were very high. But they didn't capitalize on the opportunity," says William Adams, senior international economist for PNC Financial Services Group.
With prices lower again, the party has given way to hangover.
Brazil also maintains trade barriers – unlike Mexico, which has trade deals with more than 40 countries – says Manuel Molano, adjunct director of the Mexican Institute for Competitiveness, a think tank.
"They are in a stage of development where Mexico was in the 1970s and at some point that model will run out," Molano said.
"If you look at our export base back then, it was oil and a few agricultural commodities, which is pretty much like Brazil. They should be really wary of that."
Mexico boasts strong macroeconomic numbers like low inflation, low interest rates and a stable currency – along with the prospect of structural reforms. Growth has been elusive, however, and the Finance Ministry recently reduced its 2014 forecast to 2.7 percent from the 3.9 originally projected.
Peña Nieto says structural reforms will pay off in the long-term, allowing for annual growth of better than 5 percent.
To some observers, the current situation seems reminiscent of the 1990s. Back then, Brazil was experiencing economic hardship, while Mexico wowed international investors by undertaking reforms, privatization and signing NAFTA – only to suffer a currency collapse in 1994.
"It's our turn again," says Federico Estévez, political science professor at the Autonomous Technological Institute of Mexico. "We may be 15 or 20 years older, but with the right makeup … you get a pretty nice picture."