Brazil post office issues pope stamp ahead of visit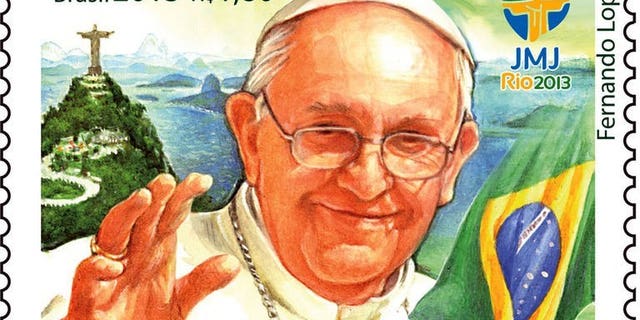 BRAS??LIA, (AFP) – Brazil's post office is to issue a stamp in honor of Pope Francis, who is due in Rio on Monday to attend a week-long Catholic youth fest.
The stamp will begin circulating Tuesday after the inaugural mass of World Youth Day (WYD) on Rio's famed Copacabana beach, the post office said.
The stamp features the green and yellow colors of the Brazilian flag and shows a picture of the pontiff offering a blessing against a background of Rio's iconic Sugar Loaf mountain and Christ the Redeemer statue.
"WYD Rio 2013: Pope's visit to Brazil," says the caption of the stamp valued at 1.80 reais (80 US cents).
In total, 1.2 million stamps will be made for sale via the Internet, post offices or other sales outlets.
Some 1.5 million young pilgrims, including 350,000 from abroad, are expected to attend WYD, which will be held for the second time in Latin America, after Buenos Aires in 1987.