Boston's Cowboy Hat-Wearing Hero Carlos Arredondo Questioned by FBI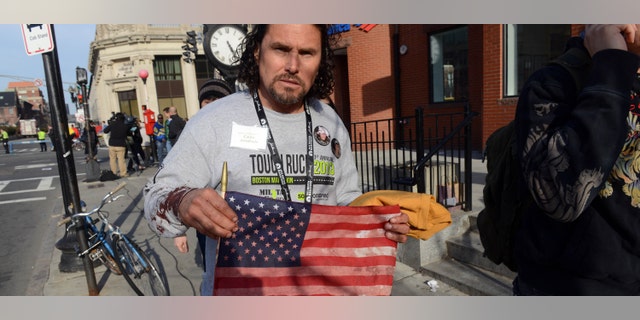 BOSTON – He's being hailed a hero of the Boston bombings. Carlos Arredondo ran toward the chaos immediately after the deadly explosions Monday to help, and now he is helping the FBI find the terrorists responsible for killing at least three and injuring nearly 170.
FBI investigators and Boston Police showed up at Arredondo's Roslindale home on Tuesday and questioned him about the bombing. Sporting a cowboy hat, Arredondo became a lasting image of heroism immediately following Monday's attacks when he ran toward the catastrophe and immediately began helping victims.
"They [investigators] took my clothes, my shoes my pants, my t-shirt, whatever they needed I provided to them," Arredondo told WBZ-TV
Authorities even took some photos he had taken from the event.
"I'm 100 percent supportive," he says. "It's very important to support the investigation."
A Costa Rican immigrant, Arredondo was at the Boston Marathon to cheer for friends and national guardsmen who were running in honor of his son, who died fighting in Iraq almost a decade ago, when the bombs went off.
He was wearing a cowboy hat and used his clothes and towels to apply tourniquets to maimed victims lying on the street. Many were beyond help, their wounds too severe.
"There was blood on the floor. There was blood everywhere," a still visibly shaken Arredondo told reporters, according to a YouTube clip. "Then, all you see is limbs everywhere. I mean, everywhere."
While he is enjoying almost celebrity status now, Arredondo's life has not always been easy. According to Mother Jones, the day Arredondo was told his son had died he filled a van with gasoline and set it on fire.
After surviving the matter, he became a peace activist.
Two years ago, his other son who suffered from depression committed suicide.
Arredondo was called the "face of the tragedy" by the International Business Times.
Follow us on twitter.com/foxnewslatino
Like us at facebook.com/foxnewslatin