Border Patrol Mystery: Agent's Family Surprised By His Apparent Suicide, Kidnapping Allegations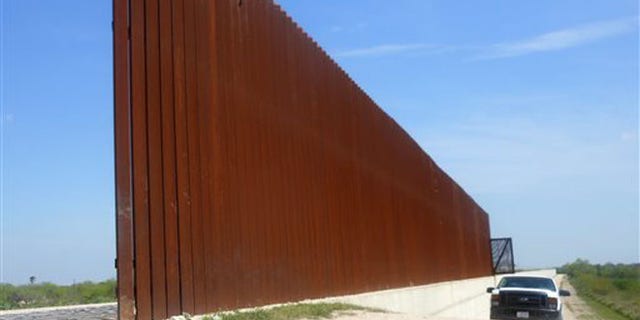 MISSION, Texas (AP) – Esteban Manzanares was working his regular day shift as a U.S. Border Patrol agent along the busiest stretch of Mexican border when a trio of Honduran immigrants spotted him and offered to surrender.
A woman, her teenage daughter and a teenage family friend later told authorities they were taken into custody and driven away from a popular county park just north of the Rio Grande and upriver to a more remote, scrub brush-filled area. It was there, in this rugged no-man's land between the river and a stretch of rust-covered steel border fence, that the older woman says the group was assaulted by a man wearing green fatigues who left the area with one of the girls.
Based on the woman's description of the attacker's clothing and his vehicle, investigators quickly concluded the suspect was likely a U.S. Border Patrol agent, according a federal law enforcement official.
More than seven hours after the older woman was first spotted Wednesday, her wrists cut and bloodied, agents from U.S. Customs and Border Protection, the FBI and Immigration and Customs Enforcement found Manzanares dead in his apartment from what investigators have described as a self-inflicted gunshot wound. The missing teenager was there, too, bound and naked.
Manzanares' family has no idea what could have led the Border Patrol agent to his apparent suicide. They said allegations that he kidnapped and assaulted the women were even harder to comprehend.
"Honestly, I don't know," Manzanares' ex-wife, Susana Manzanares said Sunday. "It's really hard to believe."
She and Esteban Manzanares met online about 10 years ago. She described him as a sweet, kind-hearted man who helped strangers. They married in 2006.
The pair divorced earlier this year, but Susana Manzanares, 30, said they remained friendly and spoke often, usually about their 6-year-old son and 1-year-old daughter, both of whom have cystic fibrosis.
"What surprises me is that he would leave his children," she said as she watched her daughter, Artemis, toddle around the living room of her apartment.
Manzaneres, 32, was originally from the McAllen area and he had been with the Border Patrol since 2008, serving at a checkpoint further away from the border before transferring to a station along the border to be closer to his children, his ex-wife said. Before joining the Border Patrol he worked as a local jailer and served in the Army National Guard, she said.
The day the FBI said Manzanares kidnapped and assaulted the immigrants, he and Susana Manzanares texted each other about the kids. In his last message to her, about 3:15 p.m., he said he wanted to help with the kids.
"I want to help in any way I can but I am very limited," he wrote.
Susana Manzanares said she sent him another message at 5:23 p.m. to chat about plans to swap sofas. By then, according to officials who discussed the case with The Associated Press, Manzanares had left the border with the teenage girl. At some point, he dropped off his patrol truck at the nearby station in McAllen, a border city about 350 miles south of Houston. He never responded to his ex-wife's message.
The details of what happened between the time other border patrol agents found the older woman near the border fence in a place called Abram and when investigators heard a single gunshot inside his first-floor apartment remain unclear.
The FBI has declined to discuss specifics of the case. The Homeland Security Department has referred questions about Esteban Manzanares' shift and activities that day to the FBI.
The federal law enforcement official and a border patrol agent who helped in the search for the missing girl told the AP previously that the woman was spotted on a border camera shortly after 5 p.m. Wednesday. Agents made it to the area within about 10 minutes and started searching for the teenagers. Both the official and the agent spoke on the condition of anonymity because they were not authorized to discuss details of the case being investigated by the FBI.
Esteban Manzanares' day shift was ending as the search started. If he had his radio on as he left the border, he likely would have heard his colleagues start the search for him and the missing girl.
Investigators narrowed in on Manzanares hours later after finding blood and remnants of duct tape inside the vehicle he had been assigned for that day's shift, the federal law enforcement official said.
As authorities approached his apartment sometime after midnight Thursday they heard a gunshot.
Since the attack the women have received medical attention for what the law enforcement official described this week as non-life threatening injuries. Their exact whereabouts have not been released, but ICE said Friday the group was not in its custody.
Their future remains uncertain. Immigrant victims of crime can be eligible for a special visa that allows them to stay in the country to help authorities investigate a crime.
Bryan Johnson, an immigration attorney in New York, said the teens may also be eligible for green cards, depending on the circumstances of their home life in Honduras.
After the attack, the new Customs and Border Protection commissioner, R. Gil Kerlikowske, apologized for the incident.
"I want you to know that I consider these actions, if true, to be reprehensible and I know they are not representative of the agents of the U.S. Border Patrol," Kerlikowske said. "I am deeply sorry that this incident occurred and am committed to doing everything in my power to prevent incidents like this from occurring again."
Susana Manzanares' sister, Nelly Ceniceros, said the family just wants to know what happened.
"We want the truth, even if the truth is something my sister and I and everybody else doesn't want to hear," said Ceniceros, an Army soldier who drove to the Rio Grande Valley from El Paso, Texas, after hearing about her former brother-in-law's death.
Follow us on twitter.com/foxnewslatino
Like us at facebook.com/foxnewslatino