Border agents foil attempts to smuggle meth in tortilla shells, carrot packages and mufflers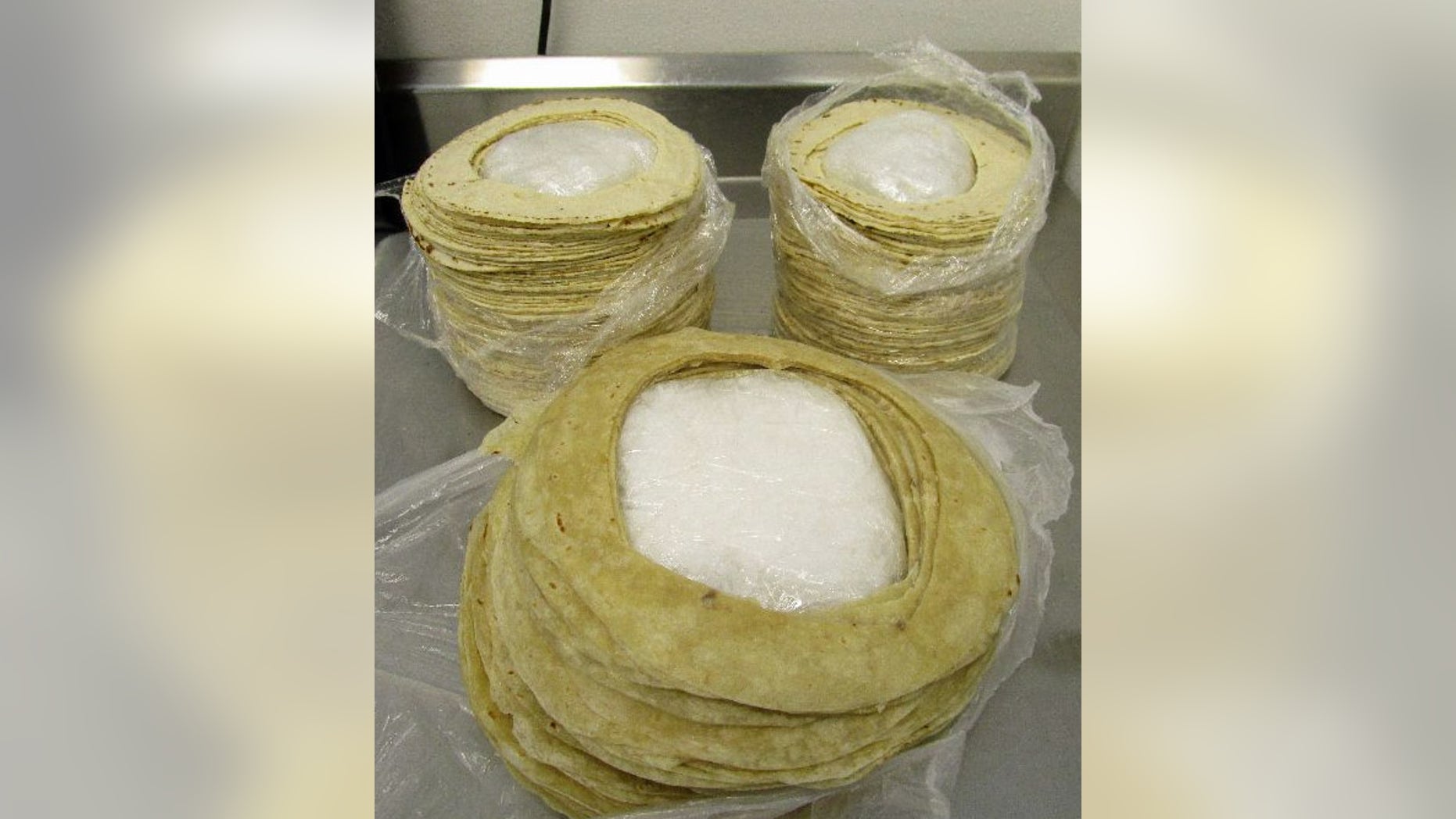 Tortilla shells are meant to be stuffed.
But filling them with meth normally is not part of anyone's menu.
That is what an Arizona man traveling through the pedestrian crossing at the border in Nogales, Arizona recently found out.
Customs and Border Protection officers stationed at the crossing earlier this week stopped the man, 62, when a narcotics-detection dog noticed that something was awry.
The officers discovered close to 3 lbs. of methamphetamine in a package of tortillas the man was carrying, according to U.S. Customs and Border Protection.
CBP officials told Fox News Latino that they turned the man over to the Homeland Security Department "for disposition and if found guilty will be charged for drug smuggling."
CBP says it seized some 5,600 lbs. of meth – with a value of $17 million – between October, 2015 and August of this year.
Meth smuggling has grown common across the U.S.-Mexico border.
The day before the meth was discovered in the packages of tortillas, which had been hollowed out and filled with the narcotics, border authorities, aided by canines, found meth in a tractor carrying carrots.
Amid the carrots were hidden almost 160 packages, or 88 lbs. worth, of meth, valued at $1.8 million.
A few days after, authorities intercepted a Chevy SUV, belonging to a 23-year-old U.S. citizen who lives in Mexico, carrying 26 lbs. of meth with a value of $78,000.
On Wednesday, Border Patrol agents near the border in California found 17 bundles of meth stuffed inside the muffler of a 2004 Honda coupe driven by a 26-year-old man.
"Often, when our agents are conducting immigration inspections, they uncover other crimes," said David S. Kim, Assistant Chief Patrol Agent in a statement on the CBP site.  "On this occasion, an alert agent and a canine detection team worked together and arrested a methamphetamine smuggler."
The narcotics had a combined weight of 13.28 pounds with an estimated street value of $42,500, the agency said.