Bolivia's armed forces dismisses hundreds of protesting soldiers for 'sedition'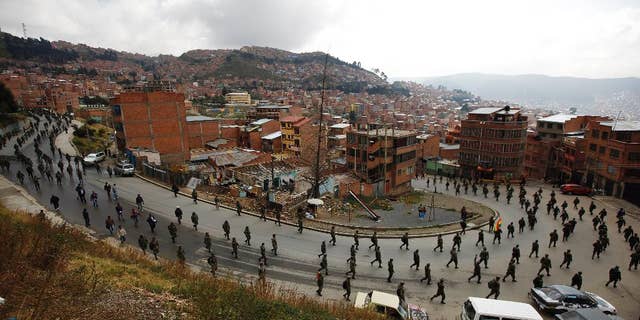 LA PAZ, Bolivia – Bolivia's military leaders have ordered the dismissal for sedition of 702 low-ranking soldiers who had been protesting for equal treatment in the country's armed forces.
The army, navy and air force said in a statement that they have ordered the dismissal of the enlisted men and sergeants because they "committed acts of sedition, rebellion, conducted political actions and attacked the honor of the Armed Forces."
The unprecedented military protest began on Tuesday with 500 soldiers, but expanded to about 1,000 on Thursday. The low-ranking soldiers marched through the capital of La Paz dressed in camouflage uniforms, together with some of their wives and Aymara indigenous leaders who supported their demands.
Protesters say the military discriminates against indigenous Bolivians, an accusation denied by defense officials.