Boko Haram extremists attack Nigerian town, many feared killed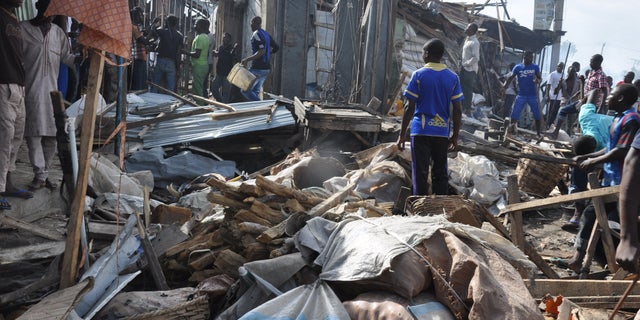 MAIDUGURI, Nigeria – Boko Haram gunmen killed many villagers and set homes ablaze in a northeastern Nigerian town just 53 miles from the strategic center of Maiduguri before dawn Friday, according to survivors.
Residents of Damboa town called The Associated Press to say they were "piling up corpses."
Half the town is up in flames, say civilian defense fighters there according to Nigerian Vigilante Group spokesman Abbas Gava.
Well-armed Islamic extremists attacked as residents were preparing for the 5 a.m. dawn prayers and the civilian defense fighters could only resist with clubs and homemade shotguns, he said.
Damboa has been besieged for two weeks, since Islamic extremists on July 4 attacked a new tank battalion base set up on its outskirts. The Defense Ministry reported it repelled the attack and killed at least 50 insurgents, with the deaths of six soldiers including the commanding officer. But locals said the soldiers were driven from the base and that extremists twice have ambushed military convoys trying to reach it in the past week.
The militants had cut off access to the town from the south on Monday when they blew up a bridge further south. Damboa is on the main road south from Maiduguri, the Borno state capital.
Both Nigeria's military and Boko Haram have been claiming victories on the battlefield in the rapidly spreading Islamic insurgency in Africa's most populous nation and biggest oil producer.
Boko Haram has attracted international condemnation for the abductions of more than 200 Nigerian schoolgirls who have been held in captivity for 3 months.
Boko Haram, which means "Western education is sinful," has increased the number and deadliness of attacks this year, particularly in its stronghold in the Nigeria's northeast, though it also has detonated bombs as far away as Lagos, the commercial capital in the southwest. Human Rights Watch published a report this week which said the insurgency has killed at least 2,053 civilians in an estimated 95 attacks during the first half of 2014. That compares to an estimated 3,600 people killed in the first four years of the insurgency.
The New York-based advocacy group said there has been "a dramatic increase" in casualties from bombs, with at least 432 people reported killed in 14 blasts so far this year.
Boko Haram wants to enforce an Islamic state in Nigeria though half the country's population of 170 million is Christian.