Blue Helmets hurt in Darfur ambush: top peacekeeper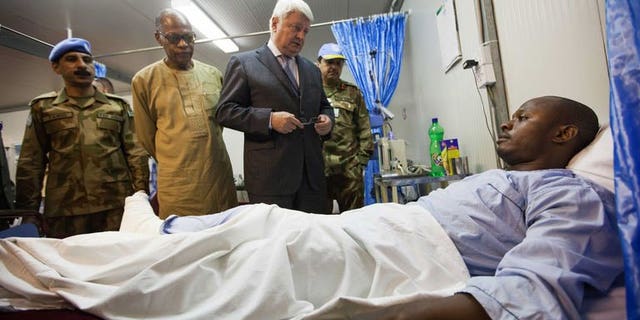 KHARTOUM (AFP) – Attackers shot up an ambulance and wounded three Blue Helmets during an ambush in Sudan's Darfur region, the UN's peacekeeping chief said on Thursday.
Herve Ladsous, speaking after a visit to East Darfur, said the attack by "an armed group" against the African Union-UN Mission in Darfur (UNAMID) happened in the community of Labado.
"And what is even worse is that an ambulance which was with the convoy, an ambulance showing very clearly the red crescent, was shot at. And I could myself touch the holes of the bullets in the ambulance," Ladsous, the UN's Undersecretary General for Peacekeeping, told reporters in the capital Khartoum.
"This is absolutely unacceptable."
In meetings with Sudanese government officials Ladsous said he called for "full cooperation" to determine who carried out the attack.
In April, a Nigerian UNAMID peacekeeper was killed and two others were wounded in an assault against their base near Muhagiriya town which is in the same area more than 60 kilometres (37 miles) east of the South Darfur state capital Nyala.
At the time, local sources said the fatal attack appeared to have been planned and carried out by government-linked forces, but authorities denied such a connection.