Berlusconi eyes presidential pardon for tax fraud crimes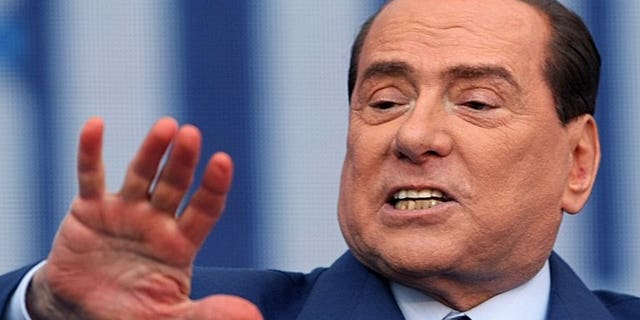 ROME, Italy (AFP) – Silvio Berlusconi's lawyer said Wednesday he believed the former premier would request -- and could be granted -- a presidential pardon following his tax fraud conviction, sparking a heated debate in Italy.
"I believe (a pardon) will sooner or later be requested. It remains to be seen, if it is requested and granted, what sort of pardon it would be," lawyer Piero Longo told Radio Capital, evoking the possibility of a full or partial amnesty.
Longo denied his comments shortly after the Radio Capital interview, but the audio was published by Italy's main media outlets on their websites.
An amnesty would get the billionaire out of having to perform humiliating community service or spend a year under house arrest.
Franco Coppi, another of Berlusconi's lawyers, said a pardon request "is one several options on the table".
"At the moment there are good chances (the request will be made), but we have not yet decided anything," he said in an interview with Affaritaliani.it.
Berlusconi's allies have threatened to topple the government if their leader is not shown clemency, and political observers say President Giorgio Napolitano may eventually pardon the billionaire for the sake of ensuring political stability in the recession-hit country.
On Tuesday, Napolitano issued a statement which did not rule out a pardon but laid down strict rules to be followed, insisting that a request would have to be formally presented first.
He insisted that the law was the same for Berlusconi as for any other convicted criminal, stating that "any definitive sentence, and the consequent obligation of applying it, cannot but be taken into account".
He also warned that rebellion against Prime Minister Enrico Letta's already shaky centre-left and right coalition could be "fatal" for the debt-laden country where unemployment is at record highs.
Napolitano hand-picked Letta and put the coalition together following a two-month political deadlock following inconclusive elections in February.
His words were interpreted by some commentators as a possible deal offer for Berlusconi, if he keeps his combative allies in check.
"I'll pardon you if you behave yourself," read the headline of the left-wing Il Fatto Quotidiano newspaper, alongside a photograph of Napolitano and Berlusconi.
Beppe Grillo, head of the 5-star protest movement, said Napolitano would have to resign if he let Berlusconi off the hook.
"If Berlusconi is saved, the institutions will perish. Who do you think you are protecting? Certainly not Italy," he wrote to Napolitano on his blog.
Former comedian Grillo slammed both the political left and right for allowing the media magnate to determine the government's future.
"You have reduced the country to an economic and social desert and you are clutching on to a criminal for survival," he said.
Other political observers said the magnate was unlikely to ask for a pardon because it would mean acknowledging guilt, and Berlusconi insists the trial against him was part of a long-running plot by left-wing magistrates to oust him from politics.
At the start of August the supreme court upheld a conviction against him for huge tax fraud connected with his media empire and confirmed the punishment of a year in prison. The legal case against Berlusconi started in 2006.
The 76-year-old will not do any time behind bars because of his age, but will serve the time under house arrest or in community service. A final decision is expected next month
Napolitano has confirmed that Berlusconi will not go to jail.
He acknowledged the enormity of a popular former prime minister -- who nearly won his fourth general election in the February vote -- being forced to drop his leadership of the People of Freedom (PDL) party while he serves his sentence.
"It is understandable that there would emerge, especially in the PDL, anxiety and concern over the definitive conviction of someone who has led the government... and who remains the undisputed leader of an undeniably important political group," the president said.
Berlusconi's eldest daughter Marina, who heads up his business empire, has been touted by several party members as a possible successor, but on Tuesday she ruled out the possibility of taking over the reins of the centre-right party.