Belfast family cheers freedom for man who escaped Algerian siege; many others wait in hope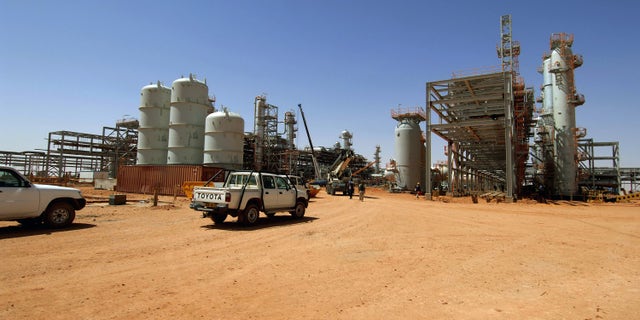 DUBLIN – Stephen McFaul's loved ones say they cannot believe he's escaped unharmed from the Algerian hostage crisis — and never want him to work in the energy fields there again.
The 36-year-old Irish electrician telephoned his wife Thursday to say he had escaped the custody of al-Qaida extremists after one day's captivity and was safe with Algerian security forces. The call came hours after reports that dozens of hostages could have been killed as the Algerian army struck the militants' positions inside the Ain Amenas natural gas plant.
While dozens of families in many nations from Japan to the United States waited in hope for similar news, the McFauls threw their arms around each others' shoulders in the living room of their Catholic west Belfast home.
"I feel over the moon, really excited. I just can't wait for him to get home," said his 13-year-old son Dylan, choking back tears in the arms of his grandmother Marie.
She tried to stem his tears, patting his head and offering words of comfort. "Yes he's coming home... And we'll party."
The McFauls said their jubilation reflected the stark fact that, just hours before, they had feared Stephen was dead — but remained mindful that dozens of families worldwide still remained in that terrible place.
"It's been hard. I've tried to put a brave face on it," said his father, Christopher. "But not knowing what's happening out there — I feel sorry for the other hostages and their families, the ones who's still there and the ones who've been killed."
His wife Angela stayed away from the media with the couple's 4-year-old son Jake, but she did meet Irish Foreign Minister Eamon Gilmore in Belfast to brief him on the surprise call.
"Angela told me there is not a scratch on him," said Gilmore, who added that McFaul was expected to fly home to Belfast on Friday.
McFaul had worked in North Africa's oil and natural gas fields off and on for the past 15 years, and had flown back to Algeria to resume work for the Norwegian energy company Statoil the day after Christmas. As on all his previous visits home, his brother Brian said, other family members had asked him if he had any security fears.
"Every time he came home we asked him: Are there any problems? And he said no, there's no problems where I am," his brother said.
McFaul was able to call his parents' home twice Wednesday as militants stormed the facility — first to say he'd avoided capture by locking himself in a room, later to pass on his new captors' demands.
"He phoned me to say al-Qaida were holding him, kidnapped, and to contact the Irish government, for they (the militants) wanted publicity. Nightmare, so it was. Never want to do it again," Marie McFaul said.
All three generations of the McFauls agree on one key point: No matter how safe their adventurous relative felt in North Africa, this must be his last assignment there because their hearts can't take the worry.
"He'll not be back! He'll take a job here in Belfast like the rest of us," his mother said with a chuckle.
Dylan, still crying in her arms, concurred. "I'll never let him go back there," he said. Asked what he planned to do when he saw his dad Friday, he said, "Just give him a big hug, and I won't let go."