Beirut marathon turns into rally for return of Lebanon's ex-PM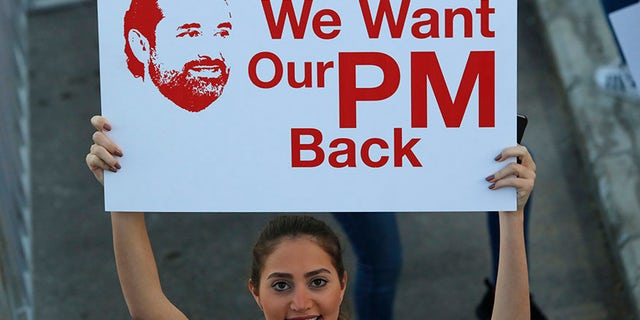 The mysterious resignation of Lebanese Prime Minister Saad Hariri during a visit to Saudi Arabia earlier this month shocked people in his country– and now they want him back.
Thousands of Lebanese who took part in the country's annual marathon on Sunday used the event to call on Hariri, a regular to the international sports event, to return home.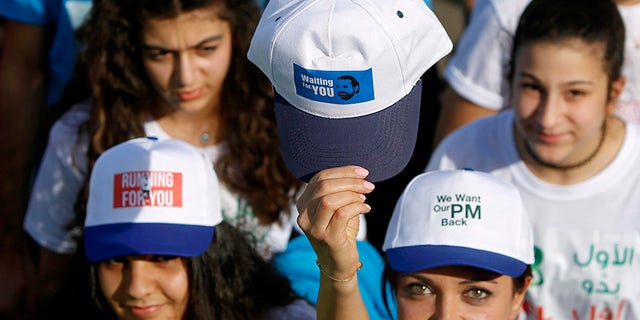 They wore hats and held signs that read "Running for you" and "Waiting for you" as they crossed large billboards with pictures Hariri. One woman raised a placard reading: "We want our prime minister back."
"Somehow, a humiliating moment for Lebanon became an occasion for national unity, even pride," New York Times reporter Anne Barnard wrote this week.
Online, supporters tweeted pictures from the event with the Arabic hashtags "Run for Saad" and "Saad's coming back".
Hariri – who enjoys exercise, the Guardian reported – has taken part in the Beirut marathon in previous years.
LEBANON FOREIGN MINISTER STARTS EUROPE TOUR TO RALLY SUPPORT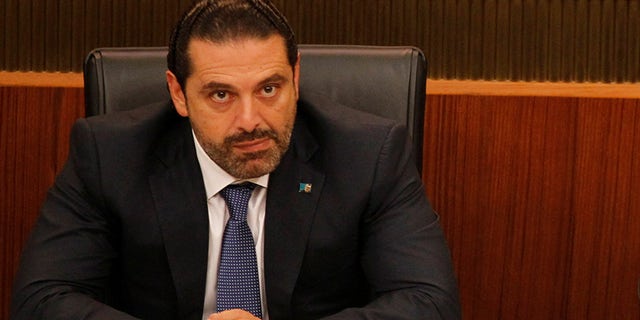 A dual Lebanese-Saudi national and ally of Riyadh, Hariri unexpectedly announced his resignation on Nov. 4 in a pre-recorded message broadcast on Saudi TV in which he also criticized Iran and Lebanon's Hezbollah militant group. He said he was stepping down because he feared for his safety.
Many Lebanese suspect he was placed under house arrest as part of a Saudi plan to unravel a coalition government Hariri formed with Hezbollah last year.
Hariri insists he is free and said on Sunday that he will return to Lebanon "within days" to seek a settlement with Hezbollah.
Many feared Saudi Arabia was dragging Lebanon into its rivalry with Iran and called for Hariri to return home to ensure he was acting of his own free will.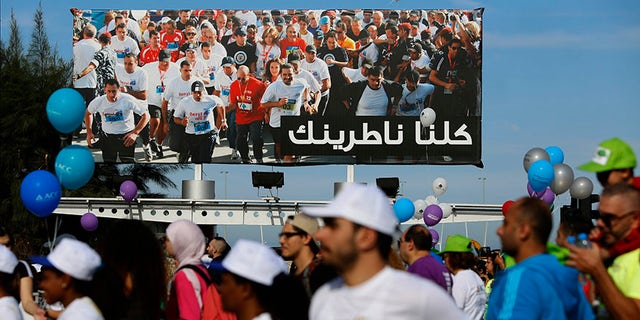 "I am free to travel tomorrow if I wanted to. But I have a family. I saw what happened when my father was martyred. I don't want the same thing to happen to my children," Hariri said.
His father, former Prime Minister Rafik Hariri, was killed by a car bomb in Beirut in 2005. Hezbollah members are being tried in absentia for the killing. Saad Hariri's family lives in the Saudi capital of Riyadh.
In the TV interview, Hariri said he was compelled to step down to save his country from imminent dangers, which he didn't specify.
He held back tears at one point and repeated several times that he resigned to create a "positive shock" and draw attention to the danger of siding with Iran, Hezbollah's main patron, in regional conflicts.
"We are in the eye of the storm," he said.
He said he would return to Lebanon to work.
"We can't deal with any more ambiguity in this issue. There must be a final settlement with Hezbollah on this regional aspect," he said.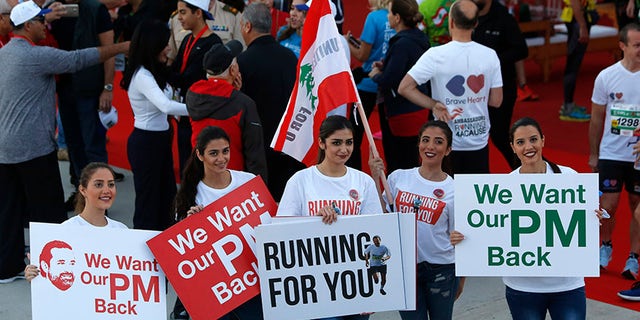 HEZBOLLAH AT THE CENTER OF LEBANON'S CURRENT CRISIS
On Sunday, runners said Hariri's absence from the marathon was "unifying."
"All Lebanese, from all sects, are missing their leader," Joanne Hamza, a physical education teacher said. "This is somehow reassuring but we still want him with us."
Saudi Arabia has stepped up its rhetoric against Hezbollah and its patron, Iran, accusing both of supporting Shiite rebels in Yemen known as Houthis. A Saudi-led coalition has been at war with the Houthis since March 2015.
Saudi Arabia has asked its citizens to leave Lebanon, and many Lebanese fear further economic sanctions or even military action against their country.
"It was a shock for the country, and already the country was suffering economically," said Ziad Zakka, a 52-year-old engineer who took part in the race. "Nobody knows what the future will hold for Lebanon so we need to have him back as soon as possible before it's too late."
Organizers say more than 47,000 participated in the marathon.
The Associated Press contributed to this report.