Before Assad unleashed violence, UN showcased wife Asma as a 'champion' of reform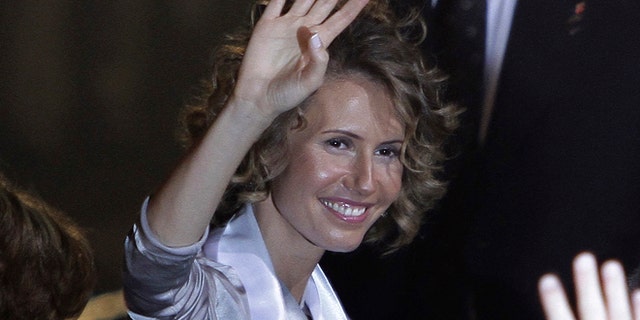 NEWYou can now listen to Fox News articles!
Before Syrian President Bashar al-Assad unleashed a wave of violence against his own people last year, the United Nations Development Program, or UNDP spent $18 million to create an elaborate structure of reform initiatives to demonstrate that Assad was moving toward a more modern, liberalized regime, according to documents obtained by Fox News.
One major element: creating a high-profile role for Asma al-Assad, the glamorous wife of the Syrian dictator, as a champion of greater citizen participation in the dictatorship's anti-poverty and social programs.
The process quickly proved to be a façade. As soon as demonstrators took to the streets in March, 2011, demanding a larger say in how Syria was ruled, the UNDP-sponsored reform movement crumbled as President Assad responded with a campaign of arrest, torture and bombardment.
The multi-million dollar U.N. program, followed by a failed peace effort led by former Secretary General Kofi Annan, demonstrates how the U.N.'s densely written successes on paper can turn to dismal failure once an authoritarian government casts aside everything in favor of keeping a grip on power.
For its part, UNDP insists through a spokesman that its elaborate development plans in Syria are merely "stalled."
Before the "stall," the UNDP program in Syria was budgeted for extension beyond its five-year life-span between 2007 and 2011 into 2012-- months after the Assad regime began its long campaign of harsh domestic repression.
The Syrian fiasco also shows the limits of UNDP's preferred method of "national execution" of development projects, meaning that it leaves most of the real work to the governments of most of the 169 countries where it operates, with UNDP offering financial and technical assistance and the veneer of U.N. prestige, while encouraging the international community to provide money.
In the case of Syria, according to documents obtained by Fox News, UNDP played a key role in creating a reformer's aura around Asma al-Assad, the country's fashionable First Lady, who was also the founder and chairman of an organization known as the Syria Trust for Development.
Starting in 2007, Mrs. Assad became a special partner of UNDP in a five-year program known as the National Platform for NGOs [non-governmental organizations] aimed at creating in Syria "an empowered civil society involved in local community development and implementation of public policies, planning and programs." The Syria Trust, which she created in 2002 as a personal charity vehicle, was reorganized that year into a foundation that incorporated a number of additional social programs.
The Syria Trust-UNDP partnership was intended, among other things, to forge a "National Platform for Syrian NGOs," which would "enhance civil society and the private sector in the socio-economic development in place." Along with providing technical support to the project, UNDP helped provide financing, which totaled more than $570,000 by 2010.
Mrs. Assad is described in the Syrian Trust's 2009-2010 annual report—the only one publicly available—as an "active champion and sponsor of civil society activities in Syria." (The Trust also served as an "incubator" of additional NGOs, which presumably would have access to the National Platform.) The financial report shows that her efforts at the Trust were supported by a variety of principally Western European governments, a welter of Syrian state and local governments, and a few U.N. agencies, including UNDP.
CLICK HERE FOR THE ANNUAL REPORT
In the end, however, the "civil society" program provided little more than cover for the regime's brutal methods of control—even after the Assad government began to escalate its violent onslaught against its own people.
The other partners in Mrs. Assad's UNDP-organized "National Platform" effort included the Syrian State Planning Commission, the country's Interior Ministry, and the Ministry of Social Affairs and Labor, according in the annex to a "Country Program Action Plan," or CPAP, signed between Syria and UNDP in June 2008.
The CPAP also includes a collaboration between UNDP and the Syrian Computer Society, an organization once run by President Assad himself, before he took political office.
According to the UNDP-Syrian document, the computer society was a partner of UNDP in an effort to build a "National Knowledge Society," through "dissemination of community-based IT tools and facilities with special attention to vulnerable groups (disabled people)."
CLICK HERE FOR THE SYRIA TRUST AND COMPUTER SOCIETY REFERENCES IN THE CPAP
The Syrian Computer Society has been accused by non-Syrian NGOs of monitoring their activities and "keeping tabs" on their personnel. It also hosts UNDP's websites in Syria.
In response to questions from Fox News last month, UNDP declared that it "does not have any shared programs with SCS and never has," even though the computer society is also listed not only in the CPAP but also in another UNDP "country program document" for Syria as a partner in two additional UNDP programs, involving trade and youth employment.
The computer society is also deeply involved with Mrs. Assad's Syrian Trust. A five-year Syrian Trust Strategic Plan, dated December 2010, says that the computer society is the sole donor of technology funds for the Trust's "Communications and Knowledge Management Division (CMK)."
According to the strategic plan, the CMK's role is to "help the Trust create and promote its identity and brand, define its desired image, reconcile its reputation with its image, articulate and communicate its mission and objectives, set guidelines for fundraising and partnering, set standards to bring consistency across publications and services, and maintain the technical infrastructure to support automation and knowledge sharing."
In other words, the Knowledge Management Division, with SCS technical help, is largely the Trust's propaganda arm.
A March 2011 evaluation commissioned by UNDP itself to examine the initiative centered on the glamorous Mrs. Assad declared the program a qualified success—even while it also noted that nothing really had changed.
The report observed that the regime had made "no significant legal changes" to empower civilian organizations, despite promises to do so. It also noted that for all the effort, "few mechanisms exist to hold constructive dialogues between government and local communities and consultation is minimal."

The evaluation also observed that a new government five-year plan made "little mention of strengthening civil society's capacity and role in contributing to government policies, planning and programs."
On a more positive note it declared that "while difficulties remain, NGOs are clearly rising to the challenge and pushing for more space to achieve their development objectives."
By then, in fact, civil protests against the Assad regime were growing rapidly in southern Syria and the government was preparing to send in tanks to begin the butchery that continues today.