Bangladesh mourns deaths of 117 people in deadliest fire, flags lowered to half-staff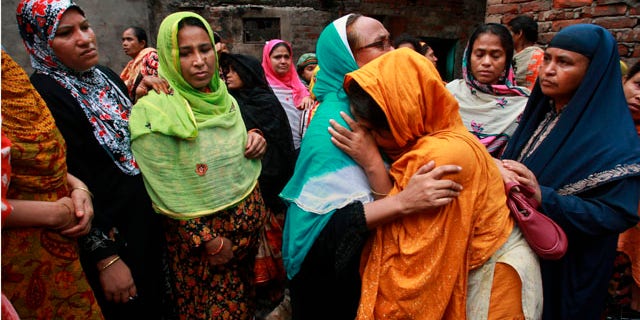 DHAKA, Bangladesh – DHAKA, Bangladesh (AP) — Flags in Bangladesh were lowered to half-staff Saturday as the country mourned 117 people killed in a massive fire.
The country's deadliest blaze in recent memory broke out Thursday night in the narrow alleys of the old section of Dhaka, when an electrical transformer exploded soon after a rainstorm swept the city. About 100 others were injured.
As of Friday, a total of 117 bodies had been found.
Dhaka's Deputy Commissioner Muhibul Haque said earlier Saturday that 39 injured people, many in critical condition and on life support, were still being treated at the state-run Dhaka Medical College Hospital.
Later, 14 patients with life-threatening injuries had been shifted to a military hospital in Dhaka, said Shamanta Lal Sen, burns unit chief of the state-run hospital.
"Everybody here is in critical condition," Sen said.
The government is investigating to find out how the fire began and what fueled its quick spread, he said.
Firefighters are blaming a chemical warehouse for helping accelerate the blaze. The area in the old part of Dhaka has many chemical warehouses or small factories in residential neighborhoods.
Dhaka's police chief A.K.M. Shahidul Haque said authorities are working to evict chemical shops or warehouses from the area.
President Zillur Rahman visited the injured while several Cabinet ministers talked to the local people in the affected area on Saturday.
Rahman asked wealthy citizens to volunteer to assist the mostly poor victims.
"Please come forward, don't only wait for the government to respond," he told reporters.
The fire came just a day after a four-story Dhaka apartment building collapsed and its debris buried nearby shanties, killing 25 people.