Bahrain court denies appeal by activist Nabeel Rajab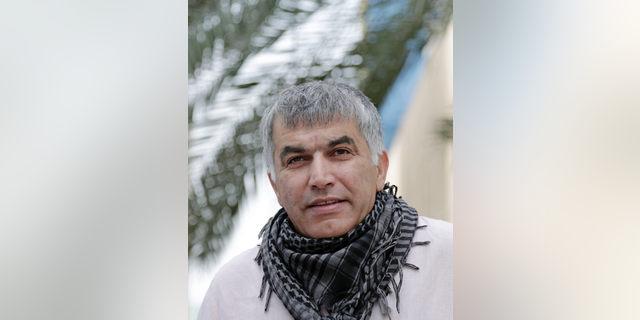 NEWYou can now listen to Fox News articles!
DUBAI, United Arab Emirates – A Bahrain appeals court on Tuesday upheld a five-year prison sentence for human rights activist Nabeel Rajab amid the island kingdom's clampdown on all dissent, a verdict that has been widely criticized internationally.
Rajab did not attend the hearing before the Bahrain High Criminal Court of Appeal over his case involving tweets that criticized the Saudi-led war in Yemen and alleged abuses in Bahraini prisons.
He is already serving a two-year prison sentence for television interviews he gave that included criticism of Bahrain
Bahrain's constitution guarantees its citizens freedom of speech. However, Rajab was prosecuted under laws making it illegal to offend a foreign country, spread rumors at wartime or "insult" a government agency. Bahrain described his February sentencing by saying Rajab was "found guilty of undermining that security."
Rajab can still appeal to Bahrain's Court of Cassation, its highest judicial body, or possibly be pardoned by King Hamad bin Isa Al Khalifa, which happened in a previous case in 2015 when the activist faced health problems.
However, that appears unlikely given today's political climate in Bahrain, an island off the coast of Saudi Arabia in the Persian Gulf, as well as in other Gulf Arab nations.
In the years since its 2011 Arab Spring protests, Bahrain has rolled back some of the reforms it made. It has dismantled opposition political parties, imprisoned activists and forced others into exile. The kingdom also has revoked the citizenship of over 700 people since 2012, including 115 in a mass terrorism trial in May.
Amid the crackdown, local Shiite militant groups have carried out several attacks on security forces.
The United States previously pushed back against Bahrain on human rights matters, using its influence as the island's defense guarantor with over 7,000 U.S. troops attached to a sprawling base in Manama that hosts the Navy's 5th Fleet. Britain also recently opened a naval base there.
However, President Donald Trump's administration has approved a multibillion-dollar sale of F-16 fighter jets to Bahrain without the human rights conditions imposed by the State Department under President Barack Obama. Meanwhile, Bahrain's allies Saudi Arabia and the United Arab Emirates have made their own arrests.
___
Follow Jon Gambrell on Twitter at https://twitter.com/jongambrellAP . His work can be found at http://apne.ws/2galNpz .