Baby Hope's Mother Didn't Go To Cops Because She Didn't Know English, Was Afraid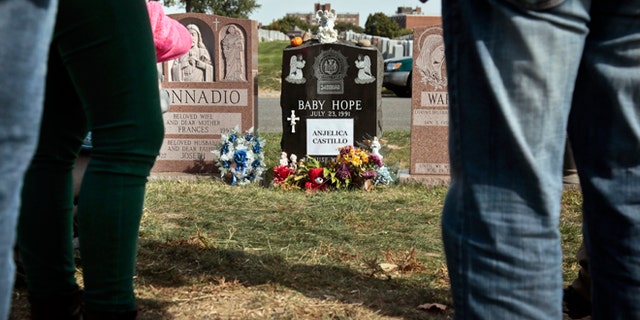 New York – The mother of the slain girl known as "Baby Hope" said she never went to police after her daughter went missing because she was afraid, didn't know the language and didn't understand the country's criminal justice system.
Plus, Margarita Castillo told Univision New York, for the past 22 years she held out hope that her daughter, Anjelica Castillo, was still alive.
"I thought she was with other family members, Castillo told the Spanish-language network. "That was my hope, that I'd find her one day."
It wasn't until last week, when investigators showed up at her door, that she learned Anjelica was dead – killed in 1991, allegedly at the hands of her uncle. Conrado Juarez, 52, was arrested over the weekend and admitted to sexually molesting the 4-year-old girl before smothering her, stuffing her body in a picnic cooler and then dumping it along a Manhattan highway.
And while the two-decade-old case that perplexed and haunted investigators finally seemed solved after Juarez's arrest, many questions remained unanswered. Chief among them was why Anjelica's family and own mother never called authorities to notify them of her disappearance.
Now the mother, who is from Mexico, is speaking out – saying she never forgot her daughter and was just as determined to find Anjelica as the detectives who were working the case.
She said it all started when Anjelica's father and her split up, and he told her he was taking two of his daughters with him. The father, unbeknownst to Margarita Castillo, eventually left the girls with his brother and sister.
"Because she wasn't missing - her father took them away and maybe that was my mistake, let him take them away," Castillo told Telemundo New York another Spanish-language broadcaster. "I did not go to the police because I was afraid of not being heard. I was afraid, not knowing the language."
Months later, she showed up at Juarez's home and asked about her daughters. They brushed her off. But Juarez's sister, who police say was complicit in the killing, died – he dropped one of her daughters off at her home and said he was returning her.
"I asked him where Anjelica was, and he said he didn't know where she was. He said his sister had told him she had died," Castillo told Univision New York. "I asked where her grave was. He said he didn't know."
Castillo told the New York Daily News that she didn't know who to turn to – and didn't know what to do, particularly because she didn't speak English.
"You feel dumb going to the police station and asking for a translator…I was intimidated," Castillo told the newspaper. "It's hard to explain. I felt ignorant about the process."
She said she vividly remembers a lovely young girl who loved to dance and listen to music. Now all she can think about is the brutality in which her young daughter was murdered – and she said she wants justice.
"My pain is so big, there isn't punishment enough," Castillo told the Daily News. "(The killer) needs to pay. I just hope the judge hands out fair justice."
"This case really touched us, because she was just an innocent child, we all have kids or know them," said retired Detective Jerry Giorgio, who also investigated the case. "I know it haunted me."
Affection grew for the girl they nicknamed "Baby Hope." Officers organized a funeral for her in 1993, and hundreds attended. They paid for her gravestone at the Bronx cemetery and visited annually.
Detectives made a publicity push this summer on the 22nd anniversary of the discovery of her body, canvassing the area, plastering posters, asking for anyone with information to come forward.
This time, it worked. A tip came in that led to the girl's mother, her sister and a birth certificate.
The Associated Press contributed to this report.
Follow us on twitter.com/foxnewslatino
Like us at facebook.com/foxnewslatino