Austria slams Hungary over its treatment of refugees, report says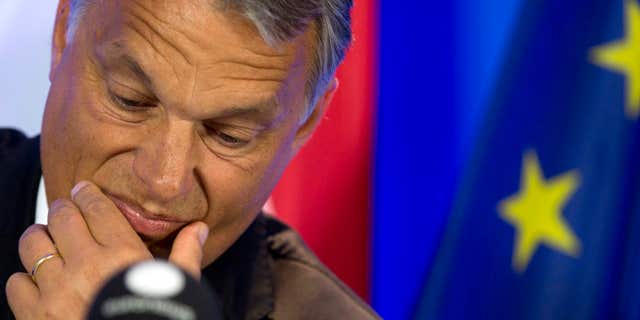 Austria's chancellor on Saturday slammed Hungary for its handling of the refugee crisis likening its policies to that of Nazi deportations during the Holocaust, according to a published report.
Austrian Chancellor Werner Faymann made his comments in an interview with German news magazine Der Speigel, according to Reuters. Faymann likened Hungarian Prime Minister Viktor Orban's treatment of refugees to the Nazis' deportation of Jews and others to concentration camps.
"Sticking refugees in trains and sending them somewhere completely different to where they think they're going reminds us of the darkest chapter of our continent's history," he said.
Refugees traveling from Budapest hoping to reach the Austrian border on Sept. 3 were stopped in Bicske instead, where Hungary has a refugee camp. Some refugees have complained about the treatment they received once they entered the camp.
"They put us in jails. We were there for a week, so little food, one of these little breads in the morning and one at night ... Everyone has a cold because there is no heating or anything there," a 25-year-old Syrian refugee, identified as Saeed, told Reuters.
As refugees struggle to get into Europe, Germany welcomed at least 10,000 more asylum seekers Saturday. A packed stadium cheered some of the littlest newcomers, who walked in hand-in-hand with top soccer players, as officials worked to give everyone a firm rook over their heads.
Germany has taken more than 40,000 people fleeing war and poverty in the Middle East, Asia and Africa. Though, it hasn't come without some concerns of the future for the migrants.
Vice Chancellor Sigmar Gabriel said the speed of the arrivals was outpacing Germany's ability to give proper emergency housing. He said Germany still needed European Union partners to agree to host some of the newcomers at a meeting Monday in Brussels. Several Eastern European nations insisted they won't accept any EU quotas on taking refugees.
"Because of the speed at which large numbers of people are coming in, Germany is approaching a situation where we are reaching our limits," Gabriel said.
Aid workers said Germany was determined to meet the challenge and provide as warm a welcome as possible. The country's biggest soccer Club, Bayern Munich, took the field Saturday with each player holding a newly arrived child by the hand. Some 75,000 fans roared their approval as many kids waved back.
"Munich is doing the right thing. We have to help them," said Johann Hoerterer, a bus driver waiting at the city's central train station to ferry newcomers to refugee shelters across Bavaria.
"It is a positive experience for me. It's not fun for anyone, but they've fled war and bombs. If it were me, I'd do the same — get away to security," said Hoerterer, standing before a new row of tents at the station providing medical care, food, clothes and other support.
"But these people need to be taken in by the whole of Europe, not just here in Germany," he added.
This year alone, some 450,000 refugees have arrived in Germany. The country is expecting at least 800,000 in 2015 – the most of any EU nation.
German Chancellor Angela Merkel is facing some criticism from Bavaria's governing party, the Christian Social Union, the sister party to Merkel's own conservative Christian Democrats.
Bavaria's governor, Christian Social Union leader Horst Seehofer, was quoted as telling the weekly Der Spiegel that Germany's Sept. 5 decision to open its borders to migrants stuck in Hungary was "a mistake that will occupy us for a long time." Seehofer said he sees "no possibility of getting the cap back on the bottle."
Merkel on Saturday countered that notion, saying her coalition government made the right decision.
Germany hopes to make refugees' journey more positive. The journey starts from Syria or Turkey, continues through Greece and the Balkans, to Hungary and onto northern European nations.
Greece's coast guard said it was searching Saturday for four children aged 8 to 13 and a 20-year-old man who disappeared when two boats carrying 61 people from Turkey to the islands of Samos and Lesbos overturned in the Aegean Sea. Scores have drowned over the past year on that route, even though the sea crossing is relatively short.
Greek police said about 3,500 more crossed the country's northern border into Macedonia, while Austrian police said more than 6,000 walked across the Hungarian border to the border town of Nickelsdorf, where fleets of buses whisked them to several Austrian towns and cities for onward travel to Germany. Scores of taxis also waited at a nearby gas station offering people rides to Vienna for $170, sharply higher than the usual rate.
Hungary's Orban, aside from facing Austria's criticism, proposed that the European Union step up aid to Syria's neighbors to stem the flow of refugees from camps there, and declared that there is "no fundamental right to a better life."
Germany and Austria have stressed the right to asylum for war refugees but Hungary argues that most are economic migrants seeking better jobs and therefore not entitled to live within Europe. Hungary and other eastern nations have rejected proposed quotas to spread the human tide around the 28-member nations.
Hungary plans to start enforcing tougher security on its border with Serbia starting Tuesday. Asked by the German daily Bild where future arrivals should go, Orban replied, "To where they came from."
He argued that people coming to Europe from camps in Lebanon, Jordan and Turkey "were safe there."
"There is no fundamental right to a better life, only a right to safety and human dignity," Orban declared.
Orban suggests every EU country pay 1 percent extra into the EU budge to provide aid to countries bordering war-torn Syria that host refugee camps. He said it could generate $3.4 billion for aid.
But Germany's commissioner for immigration, refugees and integration, Aydan Ozoguz, said Orban was being "extremely cynical" to describe refugee camps bordering Syria as safe environments. She cited World Food Program decisions to slash food rations to refugees in Jordan and Lebanon as indicative of deeper problems there.
"Everyone who has been following this knows that the food rations there have been halved. One really can't speak of safety," Ozoguz said on Germany's rbb-Inforadio.
Saudi Arabia, which along with other oil-rich Gulf states has faced repeated calls to shelter more Syrian refugees, responded Saturday by saying it has taken in about 2.5 million Syrians during that nation's four years of civil war. Saudi Arabia never before had given any figure.
The official Saudi Press Agency quoted an unidentified official at the Foreign Ministry saying the kingdom does not consider those taken in as refugees and does not house them in camps "in order to ensure their dignity and safety."
The statement said "hundreds of thousands" had received Saudi residency, but didn't specify how many of the total 2.5 million are currently in the country.
The Associated Press contributed to this report.