Australia wants claims against Indonesian judges probed before executions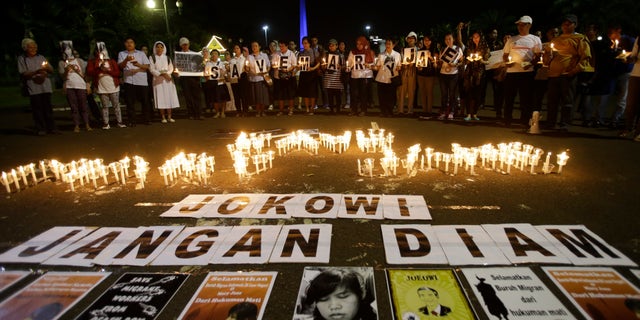 CANBERRA, Australia – Australia wants corruption allegations against Indonesian judges investigated before their death sentences against two Australian drug traffickers are carried out, the foreign minister said Monday.
The Australians, Myuran Sukumaran, 33, and Andrew Chan, 31, are among 10 drug traffickers who were given 72-hour notices over the weekend that they will be executed by a firing squad.
Indonesian authorities say that the Australians have exhausted all avenues of appeal.
But Foreign Minister Julie Bishop argued that the men should not be executed while they have an unresolved case before Indonesia's Constitutional Court and while Indonesia's Judicial Commission investigates claims of corruption in the pair's original trial.
According to Australia's Fairfax Media, Sukumaran and Chan's original Indonesian lawyer, Muhammad Rifan, says the trial judges originally asked for a 1 million rupiah ($77,000) bribe to pass sentences of less than 20 years.
Rifan alleged that the deal fell through after the judges later said that they had been ordered by senior legal and government figures to impose the death penalty.
Rifan said the judges then "started asking for a lot more money" to provide a lesser sentence, but the pair did not have any more money, Fairfax Media reported Monday.
Rifan could not be immediately contacted for comment Monday.
The pair were sentenced to death in February 2006 for their leading roles in an Australian smuggling group dubbed the Bali Nine. They were arrested in 2005 after a tip-off from Australian police while trying to smuggle more than 18 pounds of heroin from Bali to Sydney. The rest were sentenced to prison terms.
Sukumaran and Chan have provided sworn statements to the Judicial Commission, which safeguards the probity of judges, Fairfax Media reported.
Foreign Minister Bishop said she contacted her Indonesian counterpart, Retno Marsudi, on Sunday night in a bid to prevent the executions. She said the Australians should not be killed while two legal cases were outstanding.
"There have been some allegations made in relation to the trial and I said that Australia, indeed the international community, would expect those legal processes to be concluded before any other action was taken," Bishop told reporters in Sydney of her conversation with Marsudi.
"I would anticipate that both proceedings -- the Constitutional Court proceedings and the Judicial Commission -- would require to hear evidence. I would anticipate that they would need to hear evidence from Mr. Chan and Mr. Sukumaran, and therefore, my request that these proceedings be allowed to continue and that there be a stay of execution," she said.
Bishop and Australian Prime Minister Tony Abbott continued to lobby Indonesia on Monday, saying it was not too late for Indonesia to have a change of heart.
Authorities have asked the two Australians, the four Nigerian men, a Filipino woman, and one man each from Brazil, France and Indonesia for their last wish and gave them a 72-hour notice of their executions, a spokesman for the Indonesian attorney general, Tony Spontana, said Sunday.
He said the legal options of nine of them have been exhausted, while Frenchman Serge Atlaoui still has an outstanding legal complaint over the procedure followed in his request for clemency. Spontana said he expects the Supreme Court to rule on it Monday.
The 72-hour notice indicates the executions by firing squad in Besi prison on Nusakambangan Island will be carried out at the earliest on Tuesday or Wednesday.
Philippine President Benigno Aquino III appealed to Jokowi on Monday to spare Filipino drug convict Mary Jane Veloso's life in a meeting on the sidelines of an annual summit of Southeast Asian leaders in Malaysia. Jokowi "was sympathetic" and promised to respond to Aquino's appeal later Monday after consulting with Indonesia's attorney general, Aquino spokesman Herminio Coloma told reporters.
Filipino boxing champion Manny Pacquiao also appealed to Jokowi to spare Veloso's life.
"I am begging and knocking at your kind heart that your excellency will grant executive clemency to her by sparing her life and saving her from execution," Pacquiao said in a live interview from Los Angeles with Philippine network GMA News.
Abbott wrote to Indonesian President Joko "Jokowi" Widodo over the weekend on the Australians' behalf.
"This is not in the best interests of Indonesia, let alone the best interests of the young Australians concerned," Abbott told reporters in France.
U.N. Secretary-General Ban Ki-moon urged Widodo on Sunday to "urgently consider declaring a moratorium on capital punishment in Indonesia, with a view toward abolition."