Australia offers Indonesia prisoner swap to save lives of drug smugglers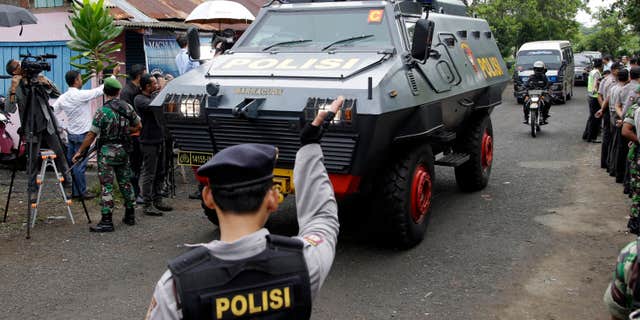 CANBERRA, Australia – Australia has offered Indonesia a prison swap deal in a last-ditch bid to save the lives of two Australian drug smugglers who have been transferred to an island prison where they are to be killed by firing squad within days.
Foreign Minister Julie Bishop said on Thursday she made the proposal to her Indonesian counterpart Retno Marsudi who had agreed to convey it to President Joko "Jokowi" Widodo. Bishop said she had yet to hear back.
"What we are seeking to do is have an opportunity to talk about options that might be available in the area of prisoner transfer or prisoner swap," Bishop told reporters at a dawn vigil outside parliament House.
"Absolutely no details, but we are seeking opportunities to explore every option that might be available to us — every avenue that might be available to save the lives of these two men," she added.
Bishop had offered to repatriate three convicted Indonesian drug criminals in return for the lives of the Australians, Andrew Chan, 31, and Myuran Sukumaran, 33, The Australian newspaper reported on Thursday.
The proposal was made in a phone call Tuesday night after Indonesia announced the men would be transferred Wednesday from their prison home of a decade on the resort island of Bali to their place of execution, the newspaper said.
Bishop and Prime Minister Tony Abbott were among 40 lawmakers who gathered near the front doors of Parliament House for a candlelight vigil for the death row prisoners.
Abbott said he had requested another phone conversation with Widodo, a week after his last personal plea for the Australians' lives.
"I can't guarantee that the request will be met, but I've certainly put in a request because the government and the people of Indonesia need to know that this is important to us," Abbott said.
"We respect Indonesia, we honor the friendship that we have with Indonesia, but we stand up for our values and we stand up for our citizens and these are Australian citizens in extremis," he added.
The Australians are among nine foreign drug criminals who are to be executed soon despite clemency appeals from several of their governments. An Indonesian is also scheduled to be executed.
The preparations at Nusakambangan Island's maximum-security prison facilities have been completed, Attorney General Muhammad Prasetyo said. He refused to say when the executions would take place.
Besides the two Australians, a Nigerian national born in Spain was also transferred to the island prison off Indonesia's main island of Java. Two other Nigerians, a Filipino woman and four men from Brazil, France, Ghana and Indonesia are also scheduled to be executed. It was not immediately known how many have been transferred to the island.
Jeff Hammond, a Jakarta-based pastor who has been counselling Chan for four years, said the prisoner "was very upbeat" when they last met at the Bali prison on Monday.
"He's still praying ... that God will provide a miracle for him," Hammond told Australian Broadcasting Corp. radio.
The planned executions have soured relations between Indonesia and other countries involved, especially Australia and Brazil. Widodo received phone calls from some foreign leaders asking that the executions be canceled but has rejected their requests. He has vowed not to grant mercy to drug offenders because Indonesia is suffering a "drug emergency."
Cabinet Secretary Andi Widjajanto told reporters Wednesday that the government was following Indonesian law carefully in preparing for the executions and was being particularly cautious about the impact on relations with other countries.
Australia has repeatedly pleaded for clemency for its two citizens, who were arrested in April 2005 while trying to smuggle more than 8 kilograms (18 pounds) of heroin from Bali to Australia.
The Indonesian government recalled its newly designated ambassador to Brazil, Toto Riyanto, last week to protest the postponement of the approval of his credentials by Brazilian President Dilma Rousseff amid tensions over the imminent execution of its citizen, Rodrigo Gularte, 42.
The Spain-born Nigerian, Raheem Agbaje Salami, 45, and 30-year-old Filipino Mary Jane Fiesta Veloso have also been convicted of drug smuggling.
Attorney General Prasetyo said authorities are waiting for the completion of a last-minute judicial review of Veloso's case.
Indonesia executed six drug convicts including foreigners in January. More than 130 people are on death row, including 57 drug convicts.