Australia nurse gets life sentence for nursing home fire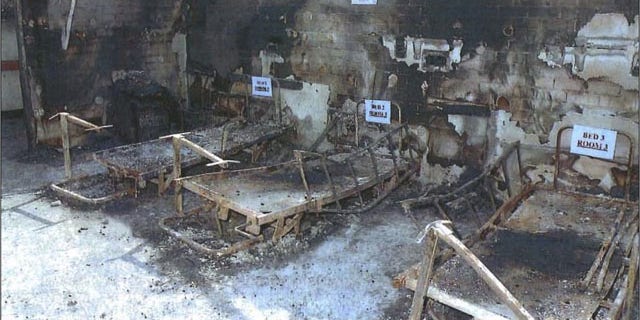 SYDNEY – A nurse who set a Sydney nursing home on fire, killing 11 residents and wounding several others, was sentenced Thursday to life in prison, with the judge slamming the man's actions as heinous and reprehensible.
Roger Dean, 37, showed no reaction as New South Wales Supreme Court Justice Megan Latham handed him the maximum sentence for setting two fires that engulfed the nursing home in the Sydney suburb of Quakers Hill on Nov. 18, 2011. Dean pleaded guilty in May to 11 counts of murder and eight counts of grievous bodily harm.
Police said Dean, who started one blaze in a bedroom where two residents were sleeping, lit the fires after discovering he was under police investigation for stealing more than 200 prescription pills from the home. The fire was an apparent attempt to destroy evidence in the case.
Dean told officials that lighting the fire was stupid, and blamed his actions on the devil.
"You won't believe it, but it was like Satan saying to me that it's the right thing to do," he said in a videotaped interview with police. "I love the residents very much and I have a really good rapport with them. So I feel extremely bad and I just feel evil -- that I'm just corrupted with evil thoughts that had made me do that."
During the sentencing hearing, psychiatrist Michael Diamond, who examined Dean's recorded police interview, said there was no indication Dean was confused, delusional or withdrawing from medication after the fire.
On Thursday, the judge described Dean's actions as "heinous," "atrocious" and "greatly reprehensible."
"The pain and terror experienced by all of the victims must have been horrific," Latham said. "For those who were unable to move independently and who faced the prospect of being burned alive or suffocated by smoke, a worse fate is hard to imagine."
Dean gave an interview to reporters who were at the nursing home shortly after the fire, painting himself as a heroic rescuer.
"The smoke is just overwhelming, but we got a lot of people out so that's the main thing," he breathlessly told a television news crew.
Dozens of the victims' friends and family members, some wearing pins with their loved ones' photos, filled the courtroom on Thursday. One woman watching the proceedings collapsed and had to be carried out by court officials.
After the sentence, several of the victims' loved ones cheered and hugged outside court.
Elly Valkay, whose 90-year-old mother Neeltje Valkay, died in the fire, called Dean's sentence "wonderful."
"I hope he suffers as much in jail as my mother suffered in the last days of her life, which was horrendous," Valkay told reporters.
Amanda Tucker, whose 80-year-old grandmother, Dorothy Sterling, was killed in the fire, said a life sentence wasn't a harsh enough punishment.
"Every time we picture my nana, we wonder whether she was in pain or if she was scared or screaming or needing help," Tucker told reporters outside court. "He walked straight past her and didn't help ... so a life sentence is never going to be good enough. ... It's never going to take the pain away from any of these families."