At least a dozen people may be buried after avalanche at popular Swiss resort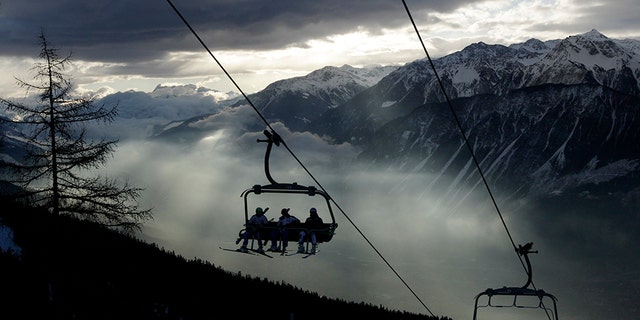 About a dozen people may have been buried following an avalanche Tuesday at a popular Swiss Alps ski resort.
Rescuers were searching for people with the aid of dogs and helicopters, the BBC reported. The avalanche happened at the Crans-Montana resort in southern Valais.
Published reports say that the avalanche may have resulted from warmer weather in recent days. But avalanche risk warnings for the area had been set at a level of two out of five, the BBC said.
HIGH AVALANCHE RISK IN ALPS AMID HEAVY SNOW; 1 DEAD
A journalist who was at the scene posted a picture on Twitter of what appears to be the avalanche. A marked slope reportedly was affected.
Manager Michele Vizzino of the nearby La Violette restaurant, at the foot of the gondola heading up to the peak, told Associated Press that he heard the loud noise of the avalanche but didn't see it. He said it only left a "small trail" afterward.
Vizzino said such avalanches were rare in the area, known for its skiing. The police statement did not specify whether the people buried under the snow were skiers.
The slopes were busier this week because of school breaks. Philippe Magistretti, president of the resort's ski lift company, told the Reuters news agency that the Army was assisting in the search and rescue effort.
"About 100 rescue workers are on the site," he said to Reuters.
A local newspaper, Le Nouvelliste, quoted the head of Crans-Montana's municipal government, Nicolas Feraud, as estimating that "between 10 and 12 people" remained buried under the snow.
There was no official confirmation of any deaths.
CLICK HERE TO GET THE FOX NEWS APP
"We are shocked and hope for good news about these people," Nicolas Feraud was quoted as telling local reporters.
The affected area covers the resort's highest ski track, which is almost 10,000 feet high.
MSN.com said that usually most deadly avalanches in Switzerland occur in places that are away from conventional ski runs. But Tuesday's avalanche hit a designated ski track.