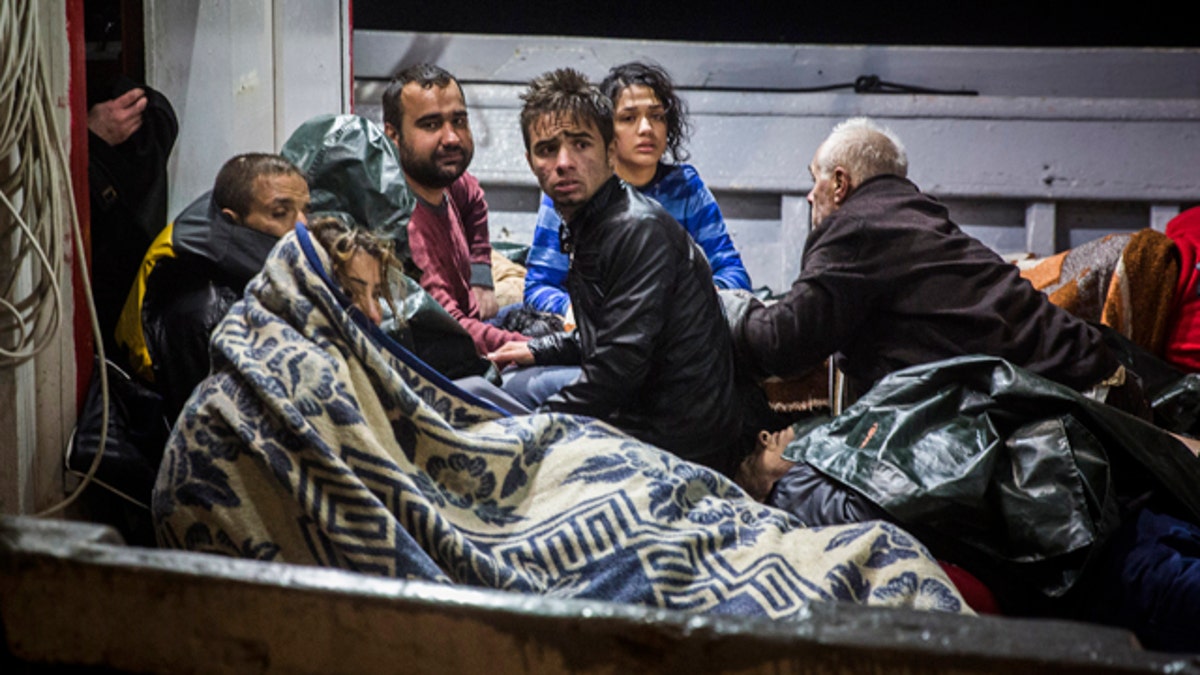 LESBOS, Greece – Greece's prime minister lashed out against European "ineptness" in handling the refugee crisis Friday, after 22 more people drowned in two new shipwrecks Friday as boatloads of Middle Eastern refugees and economic refugees sought to reach the Greek islands in rough seas.
The Merchant Marine Ministry said 19 people were killed and 138 were rescued near the eastern Aegean Sea island of Kalymnos, in one of the worst accidents in Greek waters since the mass refugee flows started after the war in Syria.
At least three more people died when another migrant boat sank off the nearby island of Rhodes, and three more were missing. On the islet of Agathonissi, a fisherman recovered the body of a boy missing from yet another accident on Wednesday.
Nearly 600 people were rescued by the coast guard in the past 24 hours, while thousands more made it safely to the islands.
The death toll in the Aegean over the past three days has now reached nearly 50, while in Spain rescuers found the bodies of four refugees and are searching for 35 missing from a boat that ran into trouble trying to reach Spain from Morocco.
Greek Prime Minister Alexis Tsipras accused Europe of an "inability to defend its (humanitarian) values" by providing a safe alternative to the dangerous sea journeys.
"I want to express ... my endless grief at the dozens of deaths and the human tragedy playing out in our seas," he told parliament. "The waves of the Aegean are not just washing up dead refugees, dead children, but (also) the very civilization of Europe."
Tsipras accused western countries of shedding "crocodile tears" over children dying in the Aegean but doing little for those who make it across.
"What about the tens of thousands of living children, who are cramming the roads of migration?" he said.
Tsipras blamed the migrant flows on western military interventions in the Middle East, which he said furthered geopolitical interests rather than democracy.
"And now, those who sowed winds are reaping whirlwinds, but these mainly afflict reception countries," he added.
"I feel ashamed of Europe's inability to effectively address this human drama, and of the level of debate ... where everyone tries to shift responsibility to someone else," Tsipras said.
Four coast guard patrol vessels, a helicopter and three fishing boats helped rescue the survivors off Kalymnos, and nobody was listed as missing, the Merchant Marine Ministry said. The accident occurred shortly before midnight Thursday, when the wooden boat in which the refugees had left from Turkey took on water and sank in moderately strong winds.
At least three more people died when another refugee boat sunk off the nearby island of Rhodes. Three people are still missing, while six were saved. On the islet of Agathonissi, a fisherman recovered the body of a boy missing from yet another accident on Wednesday.
Meanwhile, authorities on Friday raised to 16 the number of deaths from another refugee ship disaster off the island of Lesbos on Wednesday. They said 274 people have been rescued in total, while one more refugee remains listed as missing.
Lesbos has borne the brunt of the refugee crisis in Greece, with more than 300,000 people reaching the island this year on small boats from Turkey, police say. More than a third of that number has come in October alone, rushing to avoid the onset of harsh winter weather, and as conditions in camps in countries neighboring Syria deteriorate.
In Spain, the Marine Rescue service said Friday 15 refugees were found alive on the boat Thursday in the Mediterranean Sea, south of the Spanish port of Malaga, and four bodies were recovered. Some 35 people are still missing.
Greece is the main point of entry for people fleeing war and poverty in the Middle East and Africa and seeking a better life in Europe, after an alternative sea route from Libya to Italy became too dangerous. Well over half a million -- mainly Syrians and Afghans -- have arrived so far this year from the nearby Turkish coast, as European governments weigh taking tougher measures to try to limit the number of arrivals in Europe.
The influx has overwhelmed authorities in Greece, which is struggling through its worst financial crisis in decades.
"This is a problem that exceeds the capacity of Europe, not a small country that faces its own financial crisis," Tsipras told parliament.
His left-led government has appealed for more assistance from its EU partners. It argues that the refugees should be registered in camps in Turkey from which they could be directly flown to host countries under the EU's relocation program, in order to spare them the perilous sea voyage.
Migration Minister Yiannis Mouzalas expressed shock at the new deaths, and appealed for a more coherent European policy on immigration.
"It's a good thing that we are shocked. The danger is that we'll start getting used to it," he told state TV.