As Wal-Mart struggles in its global growth, its one bright spot is Chile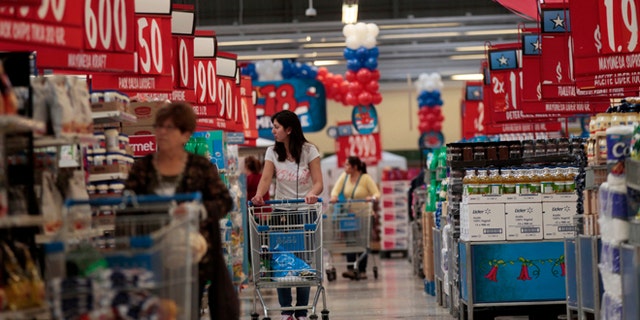 NEWYou can now listen to Fox News articles!
SANTIAGO, Chile (AP) – As Wal-Mart tries to build an international juggernaut, it has had no greater success than in Chile, where even its failures show a commitment to adapting quickly to local shopping habits.
Take, for example, the company's bread snafu.
Bread is a big deal in Chile. The average household downs nearly 200 pounds of soft marraqueta rolls, hallulla biscuits and other breads a year, making Chile one of the world's top three bread-consuming countries along with Germany and Switzerland. Shoppers visit Wal-Mart's Lider stores two to three times a week for the staple.
But after company officials decided to economize by shifting bread-making to a centralized, company-owned bakery and away from individual stores, some customers complained the bread wasn't crunchy enough.
"There is no color. It's pretty much pale. It doesn't have that crunchy aspect," said Francisco Eguiguren, manager of one of Wal-Mart's Lider stores in Santiago.
Wal-Mart listened. It's tweaking the process as it monitors the rollout in the Santiago area.
Chile is a bright spot in Wal-Mart's international business, which has become ever more important as growth in the U.S. has slowed. But it hasn't been easy; the world's largest retailer has struggled in Brazil, the United Kingdom and in China, which is the ultimate challenge. Chile, though, is a success — and one that company officials hope to replicate elsewhere.
Since entering Chile in 2009 with its acquisition of the country's largest supermarket chain Distribucion y Servicio, S.A., Wal-Mart has worked hard to win over Chilean consumers. Sales have soared, carrying Wal-Mart's grocery market share to 34 percent, according to Euromonitor International.
Wal-Mart Chile's consumer research group, which tracks shoppers' perception of prices and shopping habits, is one of the company's most sophisticated. Chilean consumers are convinced the price gap between Wal-Mart's Lider and its competitors is twice what it actually is — the largest in any of its operations.
It's also worked hard to coax its more than 1,000 suppliers to get on board with its way of doing business.
Conditions in Chile were favorable to begin with. The Chilean economy is stable, and Chilean customers are more similar to Americans than other, more finicky shoppers like the Chinese. And it also helps that Wal-Mart bought a successful chain that was a price leader, which operates under Lider and other brands. Such factors allowed Wal-Mart to swiftly convert the Chile business to its "everyday low price" model.
"We are obsessed with price leadership," said Horacio Barbeito, CEO of Wal-Mart's Chile operations. "That is something that Chile does very well."
CATERING TO SHOPPERS
Like many shoppers in emerging countries, Chileans like to find fresh fruits and vegetables daily at open markets. In recent years, Wal-Mart has been pushing more frozen food to appeal to working Chilean women who don't have time to cook.
A big part of Wal-Mart Chile's success is tracking shoppers' perception on price. That involves visiting customers' homes daily and monitoring 1,500 people in 11 cities. And it has made adjustments accordingly.
In fact, soon after it took over D&S, Wal-Mart made red the signature color for price signs for its Lider supercenters because Chileans associate red with good deals. It found a message that resonates with pragmatic Chilean shoppers: "Precios Bajos Todos Los dias. Compruebalo en el Total de tu Boleto." In English: "Everyday low prices. Check the receipt as proof."
A slowing economy has made the environment more competitive, so Wal-Mart is offering more eye-catching discounts. That includes using promotions it borrowed from its British Asda chain, such as offering 1,000 basic items for a single low price.
But Wal-Mart's Chile has another weapon to attract shoppers in a cooling economy, one that it is replicating elsewhere: Its key global store brand, Great Value, is seen as a premium label in Chile and is a way to introduce new products to Chile's fast-growing middle class, says Euromonitor's Santiago-based analyst David Mackinson.
BUYING A SUCCESSFUL CHAIN
Wal-Mart often enters a country through an acquisition. And it generally does well when it buys a successful chain like D&S. The new addition had already been trying to do things the Wal-Mart way; D&S had admired Wal-Mart's U.S. culture and was trying to copy its everyday low prices strategy, though it struggled to keep costs low.
Still, blending Wal-Mart's corporate culture into the business without forcing it on non-American workers has been key. Wal-Mart educated Chilean workers about key principles espoused by its late founder Sam Walton, such as an emphasis on customer service. And it was more sensitive to the local rules and regulations when making the acquisition.
This new approach was developed by a new integration team created in the wake of its big failures in Germany and South Korea, where it was forced to pull out in 2006. Chile was the first country where the final version was used and it now serves a template for other countries.
When Wal-Mart bought D&S in 2009, the Chilean company generated annual revenue of $2.1 billion and operated fewer than 200 stores. Last year, it took in $3.8 billion in revenue and ran about 400 stores.
COAXING SUPPLIERS
Wal-Mart's success depends on its ability to squeeze costs out of suppliers and pass those savings onto shoppers. Unlike emerging countries like China, where suppliers are far flung, Chile's suppliers are more concentrated.
Still, Wal-Mart found there was some skepticism among the manufacturers, and it worked to educate its suppliers one by one on its way of doing business, says Manuel López, CEO of Wal-Mart's real estate business in Chile, who had been a key player during the transition.
It took some time for Unilever Chile to get on board.
"I find that Wal-Mart is a tough negotiator," says Erik Lange at Unilever's supermarket business in Chile. "They really push against the company to achieve an everyday low cost."
But he added that Wal-Mart is "quite reasonable" about working with his company to find savings.
Wal-Mart worked with Unilever to make sure that trucks going back and forth to the supplier's distribution centers and its own stores are full, resulting in costs savings. Also, Unilever factories run more efficiently because Wal-Mart's consistently low prices smooth customer demand, and Unilever doesn't have to pay to have factories run on the weekends to keep up with unexpected spikes in sales.
Wal-Mart also encourages Unilever Chile to develop exclusive, profitable products such as a decaffeinated tea it offers only in Chilean Wal-Mart stores.
Pressure from Wal-Mart has forced the family-run egg supplier Fuenzalida Moure y Cia Ltda., whose main brand is Huevos de Talca, to cut costs and improve quality. The relationship with Wal-Mart has paid off for the family-run firm. Business with Wal-Mart has grown to $13 million from $1.7 million in 2009.
But it hasn't always been easy.
Environmental and safety regulations — some pushed by Wal-Mart — have driven up costs. Workers at the supplier's complex in Talca, 160 miles from Santiago, must put on special safety boots and dip their feet into a sanitized solution before walking onto the premises, where 800,000 hens produce 3.5 million to 4.2 million eggs a week.
That's a lot of eggs to keep track of, and last year the company spent $50,000 on egg counters fastened on each row of cages to better monitor egg laying — a Wal-Mart inspired efficiency that means an estimated $200,000 in cost savings over the long term for Fuenzalida Moure y Cia Ltda.