As Nobel season begins Norway wonders whether peace prize jury is too Norwegian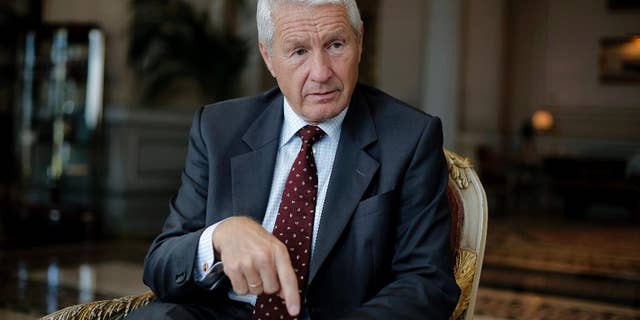 STAVANGER, Norway – With the 2014 Nobel Prize announcements around the corner, Norway is considering shaking up the five-member committee that selects the winner of the Nobel Peace Prize.
Critics say the prestigious panel should no longer be limited to retired Norwegian politicians and have suggested broadening the pool of potential judges to people from other walks of life and even non-Norwegians.
Any future changes wouldn't affect this year's winner, to be announced Oct. 10 by chairman Thorbjoern Jagland, but could influence next year's award as Jagland and two other members are up for re-election.
"Right now we are all former politicians, but it doesn't have to be that way," said Inger-Marie Ytterhorn, a Nobel judge from the right-wing Progress Party.
Questions surrounding the committee's makeup have gained prominence amid stinging criticism of some of its recent choices.
While Nobel Peace Prizes are almost always controversial, under Jagland's leadership the committee has been accused of poor timing.
The 2012 award to the European Union cited the bloc's historical role in keeping the peace in postwar Europe but didn't come at its finest hour as the bloc was in the midst of a crippling debt crisis.
By contrast, the 2009 award to Barack Obama honored a president who had not been in office long enough to make an impact.
"He is the first peace prize winner who celebrated by starting a drone war," said Sverre Valen, a Norwegian lawmaker who also suggested that some of the Nobel judges should be drawn from overseas "to help the credibility of the prize."
Valen nominated former NSA contractor Edward Snowden for this year's peace prize for his disclosures of secret surveillance programs.
Earlier this year, Norwegian lawmakers touted former U.N. Secretary-General Kofi Annan and former U.S. Secretary of State Hillary Clinton as possible future Nobel judges.
"It should be a Norwegian committee but with one or two from other nations," said Sverre Myrli a lawmaker for Norway's Labor Party.
Kristian Berg Harpviken, a prominent Nobel-watcher and head of the PRIO peace institute in Oslo, was skeptical of that idea, saying appointing foreign members would inevitably open a new discussion about which countries and continents are represented.
Still, he suggested the committee should expand its pool of candidates in Norway to include academics and members of civil society.
"We are unfortunately in a situation now where the committee is closely tied to party politics," Harpviken said.
Harpviken tries to predict the winner every year in a list of potential candidates, though his guesses are rarely correct. His favorites for this year's award include Snowden, Pakistani activist Malala Yousafzai and Pope Francis.
Prize founder Alfred Nobel established in his 1895 will that unlike the other Nobel Prizes, which are awarded in the Swedish capital of Stockholm, the peace prize should be given by a five-member committee selected by the Norwegian Parliament. He gave no further instructions.
By tradition the Nobel appointments reflect the political balance in Parliament, with major parties typically tapping a member of their own party to the committee.
Because the majority in Parliament shifted from left to right last year, so will the Nobel committee, with three members elected by center-right parties instead of the current two.
Jagland, a former prime minister and foreign minister, is likely to be re-elected by his Labor Party, but some center-right lawmakers say someone else should be the chairman now that the balance of power is shifting.
"I think it is time to change him out as the leader of the committee," said Kristian Norheim, foreign affairs spokesman for the Progress Party.
He and other critics say the fact that Jagland is also head of the Council of Europe, an international human rights group, could present a conflict of interest, making it difficult for Jagland to endorse a Nobel winner that could upset a member country, such as Russia. Jagland has rejected that notion, fiercely defending his independence.
He declined to comment for this article through his spokeswoman, but told Norwegian media the criticism against him in Norway was linked to the 2010 award to Chinese dissident Liu Xiaobo.
The prize so enraged China that it froze diplomatic and trade ties with Norway. Many Norwegian export businesses are still feeling the effects.
Norheim said that China's fury over the Liu award underscores why it's time to end the tradition of "recycling old politicians" for the Nobel committee.
At the time the Norwegian government tried in vain to explain to China that it could not influence the decisions of the independent Nobel committee.
"When we gave the prize to Liu Xiaobo there was a Labor government. And a former Labor foreign minister and prime minister as the committee chairman," Norheim said. "I think it is naive to think that this couldn't be misunderstood."
___
Karl Ritter reported from Stockholm.