As caliber used in German highway shootings increases, so does police reward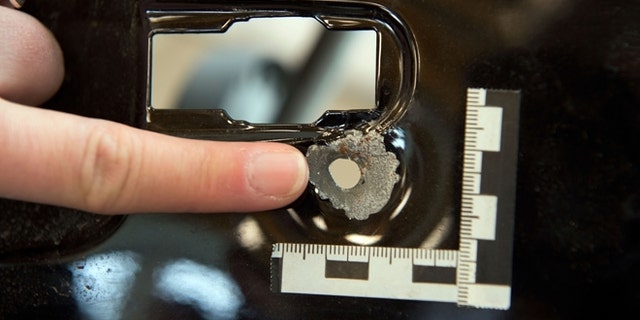 BERLIN – German authorities on Tuesday almost quadrupled a reward for information on a four-year series of shootings at trucks loaded with cars on the country's highways, saying the attackers are now using more dangerous weapons.
Only one person so far has been injured in more than 700 shootings, which started in mid-2008 and have occurred across Germany's south and west.
[pullquote]
But officials are intensifying their investigation because whoever is behind the attacks switched in June from using small-caliber .22 ammunition to larger-caliber 9-millimeter bullets, increasing the danger to drivers and others on the road.
They hope that increasing the reward for useful information to $128,000 from $35,000 will help, said Joerg Ziercke, the head of the Federal Criminal Police Office.
Investigators have determined that the shots were fired from moving vehicles, generally traveling in the opposite direction, Ziercke said at a televised news conference at his agency's headquarters in Wiesbaden.
But beyond that, they're pretty much in the dark. Ziercke said investigators have "no concrete indications" as to who the assailant, or assailants, may be.
"As a rule, the shots aren't noticed by drivers immediately -- only later, when they next take a break or check their loads, or even hours or days later at their destination," he said. That is making it difficult for investigators to nail down exactly when and where the shots were fired.
"As far as we know, the perpetrator is not targeting people -- it is often the cars loaded on the back of car transporters that were shot at," he said. But the shooter must be aware that people could be injured or killed, he added.
The most recent shooting happened Nov. 2. Investigators said they have yet to determine any motive.