Arrest and pending deportation of Iowa pastor spawns nationwide campaign in his defense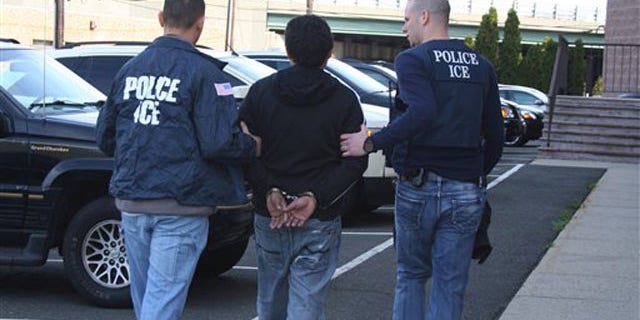 NEWYou can now listen to Fox News articles!
DES MOINES, Iowa – The support for Max Villatoro, an Iowa pastor, has poured in from every state.
The 41-year-old immigrant from Honduras has lived in the United States for 20 years, becoming a leader in his community and in his Mennonite church.
He is, his fellow congregants say, an immigrant who has contributed in myriad ways to his adopted homeland.
But Villatoro, 41, is now sitting in detention and facing deportation. He was among the more than 2,000 people arrested last week as part of a five-day nationwide operation, nicknamed "Cross Check," targeting convicted criminals living in the country illegally.
A petition objecting to his detention and imminent deportation because of a 17-year-old conviction has received more than 25,000 signatures.
Family, friends and advocates of Villatoro stopped in Des Moines this week on their journey transporting six boxes with the signatures from people in all 50 states to Omaha's Immigration and Customs Enforcement (ICE) office.
Of those detained, more than 1,000 had felony convictions, 58 were associated with gangs and 89 were convicted sex offenders.
Villatoro has never been convicted of anything that serious.
His attorney, Dan Vondra, admitted to the Des Moines Register that Villatoro had a 1999 conviction for "tampering with records," for trying attempting to obtain a driver's license illegally. That is an aggravated misdemeanor, according to the attorney.
ICE spokesman Shawn Neudauer cited a 1998 drunk driving conviction. The agency's statement about Operation Cross Check, which was released on Monday, stated that, "ICE considers DUI offenders, particularly repeat offenders, to be a significant public safety threat."
Because of that, Neudauer said, Villatoro was an enforcement priority, making him one of 17 arrested in Iowa during the operation.
Department of Homeland Security Deputy Secretary Alejandro Mayorkas said, "The focus is on public safety and national security," in reference to the deportation of illegal immigrants," according to published reports.
"Public safety is directly and significantly improved by deporting those individuals involved in crime," said ICE Director Sarah Saldaña. "By focusing on those who pose the greatest risk to our communities, we are marshaling our limited resources in the most responsible manner."
Supporters of Villatoro, who was training to be a pastor at the First Mennonite Church in Iowa City, say that he is precisely the kind of immigrant whom the Obama administration said they would not prioritize for deportation, those who do not present a danger to society.
David Borshart, a Mennonite minister who has mentored Villatora for two years, said Villatoro is an asset to this country.
"Max is a leader in his community doing good work," Borshart told the Register.
The Mennonite church's website said of Villatoro: "Villatoro's detention is devastating to his family, his church and the community where he has been a leader for years."
The site added, "As we take action for Pastor Villatoro, it is important to remember that this is not an isolated case. In recent years, hundreds of thousands of families like Villatoro's have been separated. Many of those currently being detained, like Villatoro, might qualify to stay in the U.S. under President Obama's November 2014 executive action. Even though this action has been delayed by a federal judge, ICE guidelines state that immigrants such as Villatoro should not be a priority for deportation."
Another prominent Iowa immigrant, 50-year-old Gustavo Villalpando-Bolaños, founder and owner of the Azteca chain of Mexican restaurants in Davenport, was also arrested during the sweep. A nearly two-decades-old conviction related to helping immigrants enter the U.S. illegally led to his detainment in Wisconsin pending deportation.
The petition on Villatoro's behalf seeks to block his deportation, which would separate him from his four children – ages 7 through 15 and all U.S. citizens – and his wife, a native of Mexico who was brought here when she was 8. Family members and other supporters said he has turned his life around since his conviction and record-tampering plea.
"He doesn't deserve this," said Villatoro's 13-year-old daughter, Etna. "I want him back."
In 2006, the Department of Homeland Security took action to deport Villatoro. A series of appeals and denials followed, culminating in his recent arrest. Villatoro is being held at the Hardin County Correctional Center in Eldora while he awaits deportation.
His wife, Gloria Villatoro, has vowed to fight until her family is reunited, saying her husband is now "more of an Iowan than a Honduran."
"Everything is here for him in Iowa," she said. "One way or another, my kids are going to wake up from this nightmare."
The Associated Press contributed to this report.
Like us on Facebook