Ariana Grande concert attack: Victims in Manchester blast identified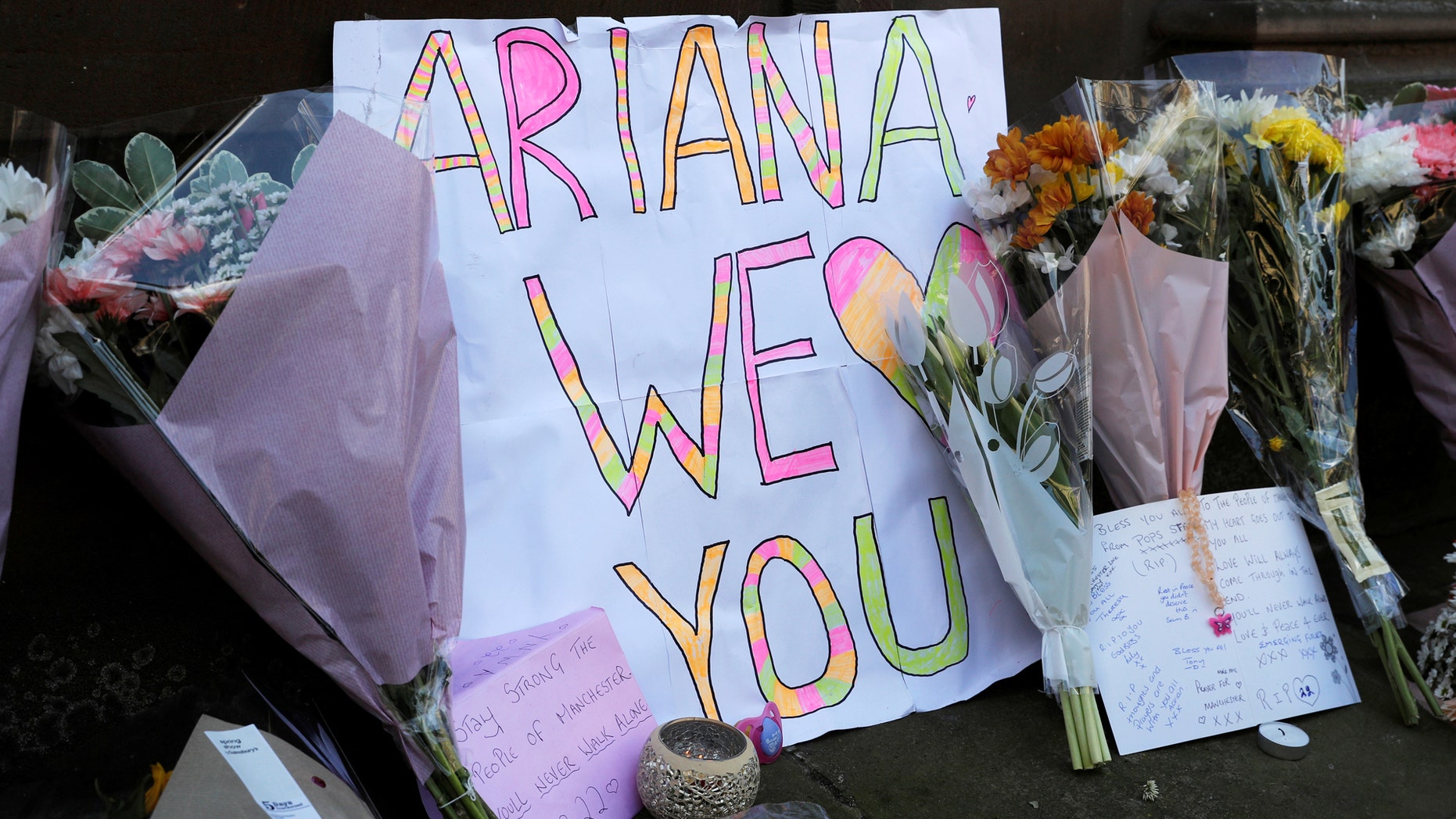 The 22 victims killed the bloody attack at an Ariana Grande concert in Manchester have all been identified on Thursday.
An 8-year-old girl was the youngest victim among the 22 people who died in the explosion at the end of Grande's concert at Manchester arena. Seventeen of the victims were women and girls.
Manchester hospital officials raised the number of people wounded to 119, which include 12 "seriously injured children." The total number of injured jumped from the previously reported 59 because of the "walking wounded" who sought medical treatment after the attack.
MANCHESTER TERROR ATTACK: TRUMP CALLS ATTACKERS 'EVIL LOSERS IN LIFE'; OFFERS SYMPATHY FOR VICTIMS
Manchester police said they are investigating a "network" of suspects that may have worked with the attacker, identified as Salman Abedi, who detonated an improvised explosive device. The Islamic State terror network claimed responsibility Tuesday morning.
Greater Manchester police began posting tributes of the victims on its Twitter page on Thursday. Families and friends started to identify the victims shortly after the attack, posting heartfelt messages on social media.
ARIANA GRANDE MANCHESTER ATTACK: KATY PERRY, TAYLOR SWIFT AND MORE STARS REACT
Georgina Callander, 18:
Callander, described by her friends as an "Ariana Grande superfan," was the first victim identified. Runshaw College, where Callander was a student, confirmed the news on social media in a statement.
"It is with enormous sadness that it appears that one of the people who lost their lives in Monday's Manchester attack was one of our students here at Runshaw College. Georgina Callander was a former Bishop Rawstorne pupil studying with us on the second year of her Health and Social Care course," the school said.
"Our deepest sympathies, thoughts and prayers go out to all of Georgina's friends, family, and all of those affected by this loss."
On Saturday, Callander tweeted about how "excited" she was to see Ariana Grande perform. Callander met the pop star two years ago during a backstage meet-and-greet at another concert. The fan posted a 2015 Instagram photo of the two with her arms wrapped around the singer.
British star Joe Sugg and YouTube personality Tyler Oakley issued their condolences on Twitter, posting photos of them meeting Callander on separate occasions.
Saffie-Rose Roussos, 8: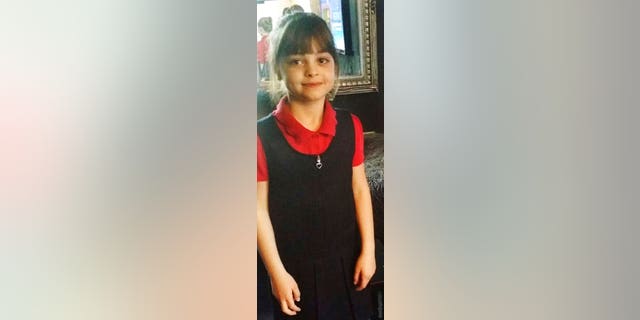 Chris Upton, headteacher at Tarleton Community Primary School, confirmed Roussos' death to Sky News. He said Roussos was "simply a beautiful little girl in every aspect of the word. She was loved by everyone and her warmth and kindness will be remembered fondly. Saffie was quiet and unassuming with a creative flair."
"News of Saffie's death in this appalling attack has come as a tremendous shock to all of us and I would like to send our deepest condolences to all of her family and friends," he continued.
Her mother and older sister suffered shrapnel wounds but were expected to survive, The Telegraph added.
John Atkinson, 26: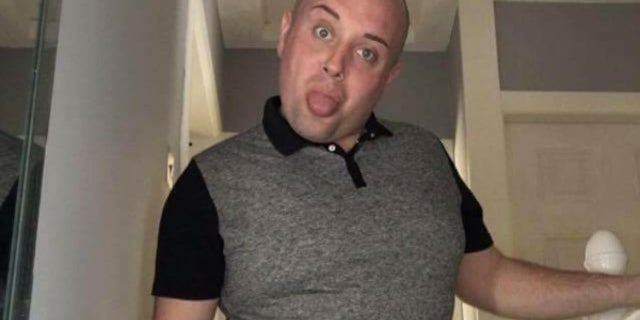 Atkinson was leaving the arena when the explosion occurred on Monday, according to the Manchester Evening News. Friends described Atkinson as "a beautiful soul."
"Sleep tight John Atkinson. Thoughts and prayers with all your family and the other 21 people who lost there lives last night," a friend wrote on Facebook.
Kelly Brewster, 32:
Brewster attended Monday night's concert with her 11-year-old niece, Hollie Booth, and her sister Claire, 34. She was killed while shielding the young girl from the blast, according to The Sun. She got separated from her family in the chaos following the incident. Hollie broke both her legs and Claire broke her jaw in the attack, their grandmother wrote on Facebook.
An office worker from Sheffield, Brewster had reportedly placed a deposit on a house with her boyfriend the day prior to the attack.
Megan Hurley:
Hurley's age wasn't immediately released, but she may have been a student at Halewood Church of England Primary School, according to Metro UK.
Hurley's family and friends have started a crowdfunding account to raise money for a memorial service in her honor.
"We're raising £3,000 to help fund a beautiful send off for Megan who was taken far too early due to the awful attacks at Manchester Evening News Arena on 22/05/2017," Helen McDermott, who organized the fundraiser, wrote on the page.
"After such a heartbreaking event where many were killed and injured through such a horrendous act of violence we can do little more than pray for the families who have suffered and hope we are never subject to the pain they must be feeling! RIP to Megan and every other victim," McDermott wrote.
Olivia Campbell, 15:
Campbell hadn't been seen since the blast occurred on Monday night. She was with a friend that night, according to Tottingham Hill School. Her mother, Charlotte, made an impassioned televised plea for information on her daughter's whereabouts.
"I need my daughter home," the mother said, according to The Mirror. "I need to know where she is. A mother shouldn't have to do this - she's 15."
Hopes of finding Olivia alive were dashed on Tuesday, however, and Charlotte posted to Facebook shortly after.
"RIP my darling precious gorgeous girl Olivia Campbell taken far far to soon go sing with the angels and keep smiling mummy loves you so much," Charlotte Campbell wrote.
Angelika, 40, and Marcin Klis, 42: 
Polish foreign minister Witold Waszczykowski confirmed a Polish couple died in Monday night's attack.
Waszczykowski said the couple went to the arena to pick up their daughters after the concert. The daughters, Alex and Patricia, were unharmed. 

Poland's Ministry of Foreign Affairs wrote on Twitter on Wednesday confirming the deaths.
"At least two Polish nationals are dead and one was injured in the #Manchester atttack. We share the pain of the family and the loved ones of the victims & express our condolences. Consuls have offered them assistance," the tweet read.
A friend of the family set up a GoFundMe page to help the daughters.
Nell Jones, 14: 
Jones was enjoying the concert with another friend when the blast happened. Her parents were searching afterward, hoping she was being treated in the hospital.
Her school, Holmes Chapel Comprehensive School & Sixth Form College, said it was with "great sadness" to announce Jones' death.
"Nell was a very popular girl, always smiling. Always positive. Her tutor group have been together since the transition from primary school. It feels like they have lost a sister not a classmate," David Wheeler, her form tutor, said.
Jones' friend was taken to the hospital and treated for her injuries.
Jane Tweddle, 50:
Tweddle was a mom of three working as a school receptionist. The principal of South Shore Academy remembered her as a "bubbly, kind, welcoming, funny [and] generous" person.
"As our receptionist, she was in many ways, the public face of the school and she represented us amazingly in this role," principal Jane Bailey said in a statement.
"In our school family and theirs...she is irreplaceable, much loved and will never be forgotten."
Martyn Hett, 29:
Hett was believed to have left his seat to go to the bar about 20 minutes before the explosion, according to the Manchester Evening News. His friend, Russell Hayward, made a public plea to find Hett before confirming he was among the 22 people dead on Wednesday.
"We got the news last night that our wonderful and beautiful Martyn didn't survive. He left this world exactly how he lived, centre of attention," Hayward wrote on Twitter.
Hett previously appeared on the reality TV shows "Tattoo Fixers" and "Come Dine With Me." His employer, Rumpus, said on its website that Hett had packed life "to the brim with his passions."
"He was taken from this world too soon, by forces we will never truly understand," the company said.
Alison Howe, 45, and Lisa Lees, 47:
Howe and Lees were waiting in the foyer for their daughters, who were inside the arena as Grande was wrapping up her concert. Howe's family said they were among those killed after listing them as missing after the attack.
"They took a caring beautiful mum and step mother away from us all she was amazing to us all x love you loads Alison Howe xx," a family member wrote on Facebook.
Michelle Kiss:
Kiss was a mother of three children, a loving wife, sister and daughter — and "family was her life," according to friends and relatives.
"She has been taken away from us and all that love her in the most traumatic way imaginable," her family said in a statement to Manchester police. "We hope to draw from the courage and strength she showed in her life to get through this extremely difficult time."
Kiss was reportedly with her daughter at the concert. Her daughter was reported to be safe and was photographed being hugged by a police officer.
Sorrell Leczkowski, 14:
Leczkowski died at a Manchester hospital with her mother and grandmother by her side, according to a family statement to Manchester police. The girl did not attend the concert on Monday, but was at the arena with her mother and grandmother to pick up her sister, who was not hurt.
The mother, Samantha, and grandmother, Pauline, were both injured in the blast. Samantha was in intensive care and Pauline remained at the hospital to recover from surgery.
Leczkowski was a student at Allerton High School.
"Sorrell was a delightful member of the school community. She enjoyed her studies, had a lovely group of friends and was a real asset to Allerton High School," head teacher Elaine Silson said. "Our whole school community is extremely shocked and saddened by this and our thoughts are with Sorrell's family and friends at this very difficult time."
Leczkowski's family said in a statement to Greater Manchester police that the 14-year-old girl was an aspiring architect who wanted to go to Columbia University.
"She was our rock, she kept us all grounded. She was such a clever, talented, creative girl, there was nothing she couldn't do," the statement read.
Chloe Rutherford, 17 and Liam Curry, 19:
Rutherford and Curry were a couple attending the concert when they both died in the blast, according to the Greater Manchester Police.
"On the night our daughter Chloe died and our son Liam died, their wings were ready but our hearts were not," the family of both Rutherford and Curry wrote in a statement.
"They were perfect in every way for each other and were meant to be. They were beautiful inside and out to ourselves and our families, and they were inseparable."
Liam's father, Andrew, died on March 18 following a battle with cancer, according to The Mirror.
Elaine McIver, 43:
McIver, an off-duty officer for Cheshire Police, was with her husband at the concert. The police department released a statement, describing her as a "big-hearted, bubbly and a positive person."
"Detective Constable Elaine McIver, 43, joined the Constabulary as a special 20 years ago and became a regular officer in September 1998," Chief Constable Simon Byrne said in a statement.
"Friends who knew her well have described her as big hearted, bubbly and a positive person. We are supporting her family at this very difficult time, and will be providing support for friends and colleagues from the Constabulary as we come to terms with the loss of an officer in such tragic and heart-rending circumstances. We will not let evil win."
McIver's husband was hospitalized for injuries he sustained from the explosion.
Eilidh Macleod, 14:
"Words cannot express how we feel at losing our darling Eilidh," the parents of Macleod said in a statement.
MacLeod was at the concert with her friend Laura MacIntyre, who was hospitalized with serious injuries. MacLeod was reported missing immediately after the attack.
Her parents called her "vivacious and full of fun" and a girl who loved all music.
Wendy Fawell, 50:
Fawell was last seen near the exit of the arena when the blast happened. She was there with her daughter Charlotte.
Her friend, Debbie McDowell, described Fawell as a "beautiful lady who I will have treasured memories of," adding that she was "heartbroken beyond belief."
"Love you to the moon and back," McDowell said of her beloved friend.
Courtney Boyle, 19, and Philip Tron, 32:
Boyle and her stepfather, Tron, were at the concert together when they were killed.
Boyle's mom released a statement to Greater Manchester police: "My stunning amazing beautiful daughter you were my rock you made me so proud with all you had achieved."
The mom said Tron made her world "a happy place."
"Now you are both my angels flying high in the sky," Boyle's mom said.
The Associated Press contributed to this report.