Argentina confronts U.S. over Iran deal exonerating suspect wanted in 1994 bombing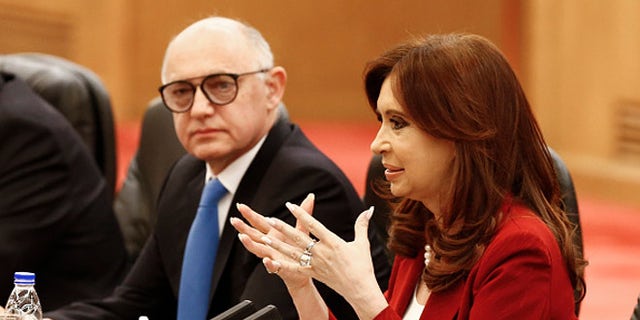 Argentina is demanding that U.S. Secretary of State John Kerry and his European counterpart, Federica Mogherini, explain a decision to remove from its sanctions list an Iranian general that allegedly played a role in the 1994 bombing of a Jewish Center in Buenos Aires, where 85 people were killed.
According to a July 27 story by the Wall Street Journal, retired Gen. Ahmad Vahidi, a former minister of defense, is among the Iranian military officers, scientists and institutions set to be rehabilitated internationally in the wake of the nuclear accord.
A letter penned by Foreign Minister Hector Timerman said Argentina is anxious by the fact that Vahidi has been removed from the Interpol's list.
The 470-word letter was posted by Merco Press, an Argentinian website, and several Argentinian outlets on Wednesday, while President Cristina Fernandez de Kirchner spread the missive via her Twitter account.
"At first glance, these two things, i.e. the negotiations for a nuclear deal and the AMIA attack, could have been regarded as unrelated," the letter reads in part. "However, confirmation of the commitment (…) would demonstrate that the request made by my Government was, and of course continues to be, fully justified," it continues.
Iran has denied any kind of involvement in the attack, even after a special prosecutor accused the Iranian government of planning and following through with the bombings with the help of members of Islamist militant group Hezbollah.
The prosecutor, Alberto Nisman, was found shot dead in his bathroom on January of this year, shortly before he was to appear in Congress to detail his allegations that Fernández helped Iran cover up the bombing.
According to the WSJ piece, Vahidi was a commander of Iran's elite overseas military unit, the Qods Force, when the suicide bomber struck the AMIA community center in 1994.
In his letter, Timerman says any event or development related to the AMIA attack has a huge impact for the people and Government of Argentina, stating that "there are values that stand above any political considerations."
Toward the end, Timerman asks his U.S. and European counterparts to confirm if indeed Vahidi and others are indeed contemplated in the nuclear deal.
"I would be grateful," he wrote, "if you could advise us whether, as a result of the agreed conditions, scope and effects of the commitment assumed by the European Union or by any other signatory to the deal, individuals or actions linked to the AMIA attack would be included."