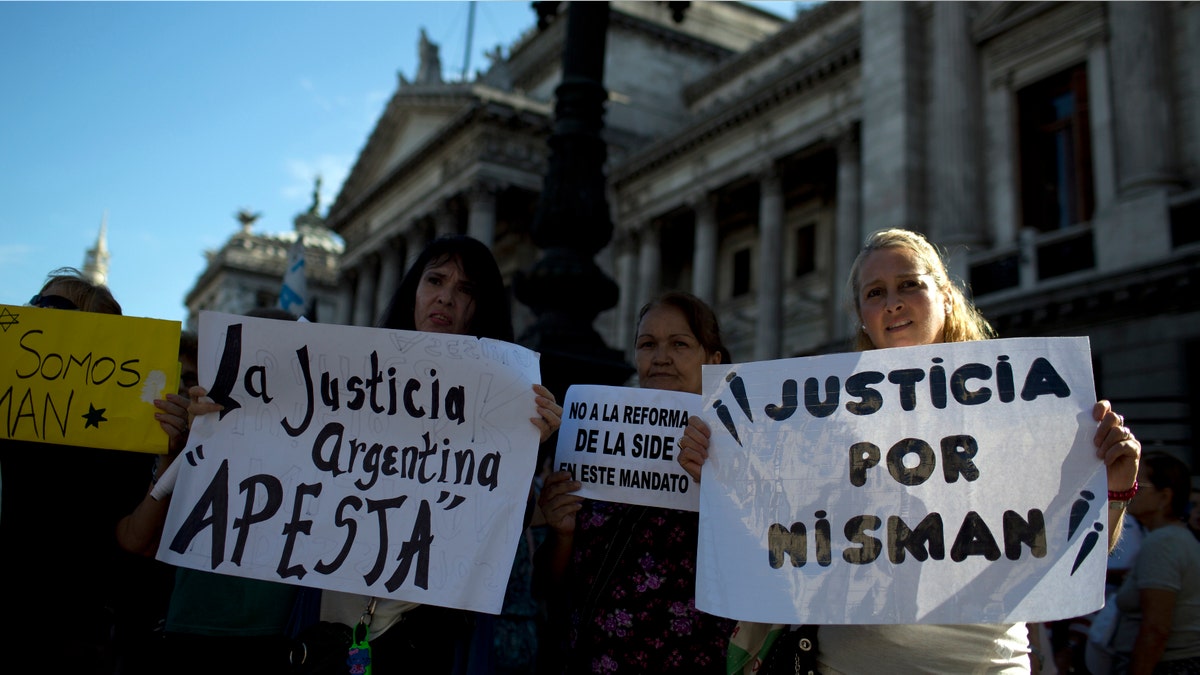 BUENOS AIRES, Argentina (AP) – An Argentine prosecutor on Wednesday appealed a judge's decision to throw out an investigation that accused President Cristina Fernandez of a cover-up deal with Iran, the latest twist in a case that has rocked the South American country in an election year.
The appeal by prosecutor Gerardo Pollicita sends the case to the Federal Chamber of judges, which can uphold or reject last week's decision by federal Judge Daniel Rafecas.
In his sharply worded ruling last week, Rafecas said "there is not a single element of evidence, even circumstantial, that points to the head of state."
Pollicita called that decision "premature," arguing in his appeal that an investigation was needed to "prove or disprove the facts."
The case was being built by prosecutor Alberto Nisman, who was found dead in his apartment bathroom on Jan. 18, the day before he was to detail his allegations to Congress. Nisman accused Fernandez and top administration officials of helping Iranian officials hide their role in the 1994 bombing of a Jewish community center, which killed 85 people and stands as the country's worst terrorist attack. Fernandez has rejected the allegations, and Iran has denied any role in the bombing.
Nisman's 289-page investigation, which was published a few days after his death, is based on wiretaps of top administration officials that he argued proved the secret deal with Iran. According to Nisman, Fernandez allegedly orchestrated the deal in exchange for favorable economic deals with the Middle Eastern country. After Nisman's death, it was assigned to Pollicita.
The strength of Nisman's case is hotly contested within the legal community. Many experts have argued, as Rafecas did, that there isn't enough solid evidence to open an investigation while others, similar to Pollicita, say a comprehensive probe is needed to know for sure.
"Some people would say Pollicita is fishing," said Martin Bohmer, a law professor in Buenos Aires. "Others would say that is what the discovery process is all about."
Fernandez, constitutionally barred from running for a third term, has struggled to confront the growing scandal on two fronts: Nisman's case against her and the investigation into his mysterious death, which has not been solved. According to polls, many Argentines believe she had a hand in it. Beyond legal ramifications, both cases have wide implications for Fernandez's legacy and her ruling party's chances in October's presidential election.
Fernandez, a strong orator known for fiery, populist speeches, has gone on the offensive in recent weeks. She has accused opposition parties of using the Nisman case for political gain. She also has suggested rogue operatives in the intelligence services were behind Nisman's death and even said the United States and Israel were meddling in Argentina's affairs, though she did not elaborate.
On Wednesday, her administration published full-page ads in several newspapers that accused the late prosecutor of trying to create a "destabilizing political effect."
"What objectives was prosecutor Nisman pursuing with his complaint riddled with contradictions, lacking logic and judicial sustenance?" the ad asked.
Opposition lawmakers criticized the move.
"It's awful to see so many accusations against a person who can't defend himself," Congresswoman Cornelia Schmidt-Liermann told The Associated Press in an interview. "Instead of clarifying anything, Fernandez is damaging the investigation into Nisman's death."