AP Explains: Who's in charge in South Africa these days?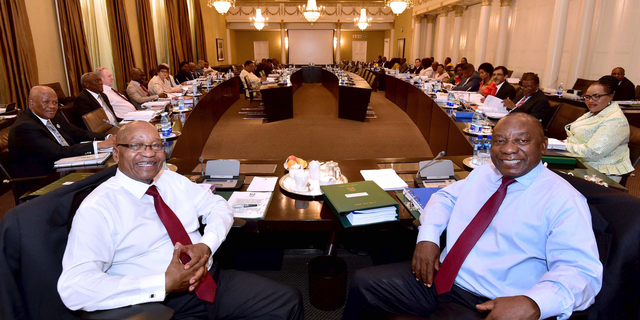 NEWYou can now listen to Fox News articles!
JOHANNESBURG – South Africans are anxious over what could be the last stage of scandal-swamped President Jacob Zuma's tenure. The executive committee of the ruling African National Congress party met Monday over the calls for Zuma's presidency to end.
The ANC's new leader, Cyril Ramaphosa, said the executive committee meeting would finalize a power transition in South Africa. Ramaphosa held several meetings with Zuma to negotiate the terms of the president's departure from power.
South Africa is in limbo as it waits to hear how long Zuma will stay on as president. A photograph from a Cabinet meeting last week of the two men seated across the table from each other, smiling at the camera, only reinforced the perception that one of Africa's largest economies now has two centers of power.
Here's a look at the uncertainty and options for an exit.
___
WHO'S IN CHARGE?
Zuma remains head of state while Ramaphosa is the new leader of the ruling African National Congress party, elected to the post in December. Ramaphosa has quickly asserted himself, making high-profile moves and statements against the alleged corruption that has dogged Zuma for years and weakened the ANC's reputation ahead of 2019 elections. The party has been in power since the end of white minority rule in 1994. Ramaphosa also led South Africa's delegation to the World Economic Forum in Davos, Switzerland last month, mixing with heads of state and trying to assure investors that the country is emerging from the turmoil that briefly sent it into recession last year.
___
WHAT ARE THESE PRIVATE TALKS?
As pressure grows inside and outside the ANC for Zuma to resign, the president and his deputy have met to discuss a change of power. Ramaphosa on Sunday said the ruling party committee would finalize South Africa's power transition at its meeting on Monday. Analysts have said Zuma, a deft political operator, and his deputy, a key negotiator during the end of apartheid, likely discussed the terms of the president's exit. Sticking points could include concerns over possible prosecution of Zuma for corruption allegations. Zuma continues to have some support.
___
COULD THE PRESIDENT BE FORCED OUT?
Some ruling party members have pushed for ANC leaders to demand that Zuma, who has denied any wrongdoing, resign. Other options for his removal include impeachment proceedings in parliament or a vote on an opposition-sponsored motion of no confidence that is scheduled for Feb. 22. Ruling party leaders are uncomfortable with the idea of backing an opposition motion, fueling speculation that the ANC will make an internal decision to remove Zuma in the same way that President Thabo Mbeki was ousted in 2008 during his second term. Critics questioned the legality of Mbeki's removal, as the constitution only says parliament can remove the president through impeachment or a motion of no confidence.
___
WHAT ARE SOUTH AFRICANS SAYING?
"This is a challenging time for our country," Ramaphosa said. Many veterans of the long struggle against apartheid worry that the corruption allegations against Zuma are undermining the ANC's legacy as the main movement against white minority rule. The Nelson Mandela Foundation said the president should resign "sooner rather than later" and the foundation of Nobel laureate and former archbishop Desmond Tutu last year posted a scathing tweet in his name: "We will pray for the downfall of a government that misrepresents us."