Another Murrieta? Protesters Plan To Block Busload Of Immigrant Kids In Oracle, Ariz.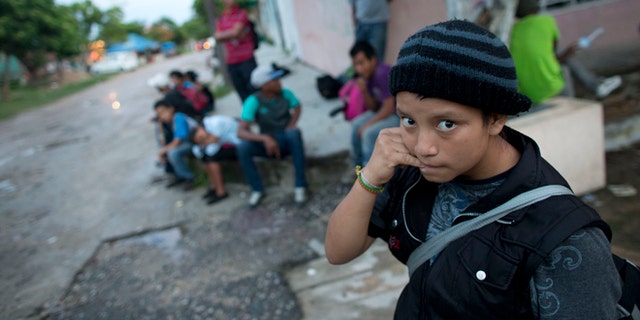 NEWYou can now listen to Fox News articles!
TUCSON, Ariz. (AP) – Protesters in a small town near Tucson want to send a message about the immigration debate Tuesday, when they plan to block a bus they believe will be transporting about 40 immigrant children to an academy for troubled youths in Oracle, Ariz.
The protests will mirror those in Murrieta, Calif., which gained national attention this month when the city's mayor and residents blocked buses carrying immigrant children who were going to be processed there.
In Oracle, anger has been spreading since Pinal County Sheriff Paul Babeu told residents last week that immigrant children from Central America caught crossing the border illegally into the U.S. would be placed at the Sycamore Canyon Academy in Oracle. The academy houses troubled youth, many of whom have been through the criminal justice system.
Calls to the academy were not returned. A spokesman for the federal Department of Health and Human Services said the agency could not identify the locations of shelters for migrants in order to protect their identities and security.
"We don't know who they are. We don't know their health conditions. We don't know a doggone thing because the federal government isn't telling us anything," protest organizer Robert Skiba said.
Anger has been spreading since a massive surge in unaccompanied children crossing the border illegally began more than a month ago. Though largely considered a humanitarian crisis, the influx of immigrants has also become political fodder.
In a state known for its strict immigration laws, including SB1070, which many call the "show me your papers" law, attitudes are just as contentious.
The fallout began in late May when reports surfaced that immigration officials were dropping off hundreds of women and children at Phoenix and Tucson Greyhound bus stations after they had been caught crossing the border illegally.
Within a week, immigration authorities were flying hundreds of children who had crossed the border into Texas alone to be housed at the Border Patrol facility in Nogales. Gov. Jan Brewer, a Republican, sharply criticized the move and demanded it stop. Republican candidates for governor have also chimed in. Some are expected to attend the rally on Tuesday.
But the children, if they arrive as expected, will not only be met by angry faces. Immigrant-rights groups are also planning to attend and counter-protest.
"They are using fear and hatred in hopes of generating demonstrations similar to recent events in Murrieta, California," said the Latino civil rights group Somos America. The group added that it "condemns those actions and seeks to provide a peaceful alternative to the fear-based panic which is being caused by the recklessness of tea party agitators and Sheriff Paul Babeu."
Follow us on twitter.com/foxnewslatino
Like us at facebook.com/foxnewslatino