Another Bout With Winter Bringing More Freezing Rain And Heavy Snow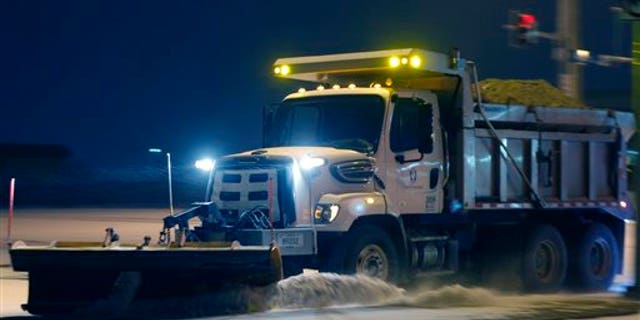 WASHINGTON (AP) – A round of wintry precipitation blasted across much of the U.S. on Sunday, bringing a mix of freezing rain and heavy snow to central and eastern states as the workweek gets underway.
Authorities warned of possible power outages and flight disruptions across much of the mid-Atlantic region.
Much of the worst weather was expected to pound the East Coast. The National Weather Service was calling for six to eight inches of snow across parts of southern Pennsylvania, while areas along the New York border were expected to receive one to two inches through Monday.
Nearly 1,600 flights in the United States were canceled and another 1,515 delayed Sunday afternoon, according to flight tracking site FlightAware.com. The bulk of the problems were in Dallas, Chicago and Newark, N.J. Another 1,115 flights for Monday were also already canceled. There are more than 30,000 flights in the United States on a typical day.
In Pittsburgh, snow began falling about dawn and was expected to taper off before another band of snow hits early Monday. Forecasters are expecting three to six inches total. Philadelphia was expected to get four to eight inches through Monday. More than six inches would make it the city's second snowiest winter, surpassing 65.5 inches that fell in 1995-96.
In Ohio, among those braving treacherous conditions was Patty Lee, who drove some 20 miles from Cincinnati to suburban Blue Ash for a job interview. She joked that her first job test was making it through the icy parking lot without falling down.
"The roads are deteriorating pretty quickly," she said after returning to Cincinnati.
A suspension bridge over the Ohio River between Cincinnati and Kentucky was closed Sunday because of ice covering its hard-to-treat metal grid deck.
Some of the worst weather was predicted for the Washington, D.C., area with a layer of ice and 8 to 12 inches of snow possible, which could be enough to shut down schools and offices on Monday.
Freezing rain and sleet moved across Kentucky, making road travel treacherous on Sunday. Officials warned residents to avoid unnecessary travel. Power outages could result if falling tree limbs laden with ice hit power lines. Parts of the state could receive up to 8 inches of sleet and snow through Monday. Churches throughout the state canceled services.
The eastern West Virginia panhandle could get up to a foot of snow. That sent residents on a hunt for food, water and other supplies. Nearly a foot of snow was expected in some parts of New Jersey.
In the Midwest, parts of northern Arkansas could see up to 2 inches of sleet, while St. Louis could see several inches of snow.
Arctic cold temperatures hit Nebraska. Forecasters said Sunday's single-digit high temperatures could set records across the state. And wind chills 20-to-35 degrees below zero were reported Sunday.
Snowfall amounts across Indiana range from nearly 9 inches in northwestern Indiana to 1.7 inches at the National Weather Service office in Indianapolis. Nearly 9 inches of lake-effect snow has fallen in Portage, about 8 miles east of Gary.
The same weather system inundated California with rain. Four hikers were rescued overnight after they became trapped by rising floodwaters in Malibu Creek State Park. Authorities were warning of mudslides and swollen creeks and drainage channels.
Follow us on twitter.com/foxnewslatino
Like us at facebook.com/foxnewslatino