Angry French protesters turn violent for third straight weekend, at least 107 arrested
Furious French protesters clashed with police for a third weekend over rising taxes and French President Emmanuel Macron's leadership, prompting the arrest of at least 107 demonstrators.
The authorities rounded up dozens of protesters, some wearing black hoodies, after they built barricades in the middle of streets in central Paris near the Arc de Triomphe, threw rocks at police officers and lit debris on fire.
In an effort to push back the protesters from the area, police used tear gas and water cannons. This prompted protesters to respond by throwing large rocks at officers.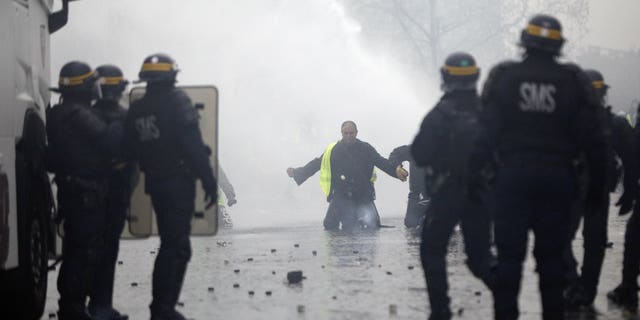 Other demonstrators meanwhile gathered near the Tomb of the Unknown Soldier from World War I and began singing France's national anthem.
French Prime Minister Edouard Philippe said he was "shocked" by the violent clashes and condemned the protesters who painted a graffiti on the monument. The authorities say they counted about 5,000 protesters.
He said "some determined, equipped individuals" gathered Saturday morning to "provoke" clashes with police that led to at least 10 officers being injured. He assured that the authorities are "determined to allow peaceful protests" but will give "no excuse to those coming to make trouble."
French Deputy Interior Minister Laurent Nunez said 5,000 police officers were deployed to contain the "troublemakers."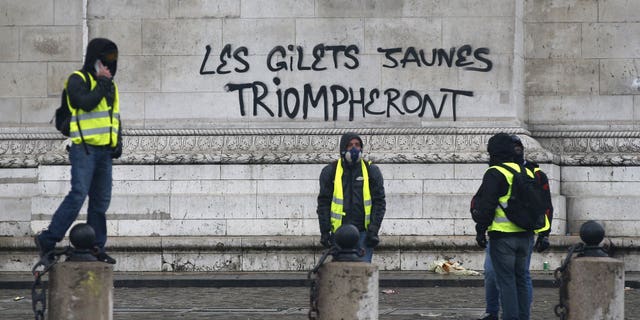 Amidst the violence, several hundred peaceful protesters, dubbed "yellow vests" for their fluorescent vests, marched towards the Champs-Elysees with a banner reading "Macron, stop taking us for stupid people."
Protesters are particularly angry about Macron's gas tax hike earlier this year in a bid to reduce the country's reliance on fossil fuels. The new tax will increase the price of fuel by about 30 cents per gallon, making it one of the most expensive in whole Europe.
But some have also expressed anger with the rising costs of living in general and Macron's leadership, who came into power last year promising to kick-start the sluggish French economy. So far, the promised economic boom hasn't materialized.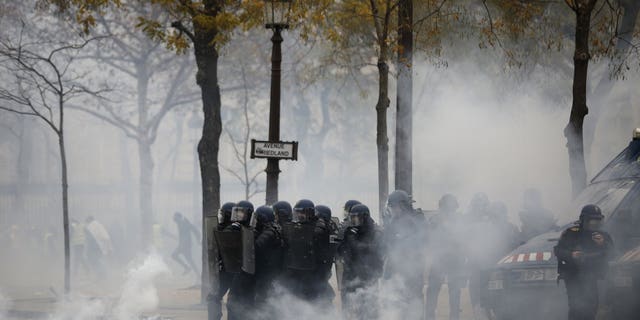 Elsewhere in France the protests were largely peaceful, with demonstrators blocking the roads.
This is the third weekend straight the French went to the streets.
Last weekend, the protests in Paris featured around 8,000 people and were violent, though the number of people detained was significantly lower.
The Associated Press contributed to this report.