Analysis: Mexico's Peña Nieto Has Mixed Record In Drug War Thus Far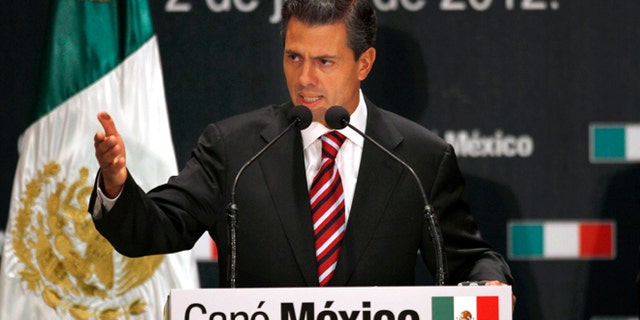 Nine months into his tenure as Mexico's leader, Enrique Peña Nieto has produced mixed results in his government's years-long war against powerful drug cartels.
While the Mexican government under Peña Nieto has made a number of high-profile arrests and killings – including the capture of Zetas leader Miguel Angel Treviño Morales – major bungles like the release of convicted hitman Rafael Caro Quintero has caused mistrust from the Mexican public and concerns in Washington over Peña Nieto's resolve to fight cartels.
"The release of Caro Quintero demonstrates that Mexico's institutions of criminal justice—not just its prisons but its judges—are too eroded by corruption to make a credible case for their own autonomy in administering justice for Treviño Morales," according to The New Yorker. "Peña Nieto should be applauded for his success in effecting the capture of the head of the Zetas, but if Z-40 is to be held accountable for his long résumé of murder and destruction the only responsible thing for Peña Nieto to do is to extradite him to the United States."
The Obama administration said last month that it's working with Mexico to bring new charges against a drug lord who persuaded a court to overturn his 40-year sentence in the kidnap, torture and murder of a U.S. anti-drug agent.
The chairman of the U.S. House Committee on Homeland Security said drug lord Rafael Caro Quintero's release was a test of Mexico's new president, who must see that Caro Quintero is put back behind bars.
National Security Council spokeswoman Caitlin Hayden said the United States is deeply concerned by Caro Quintero's release and the United States is working with Mexican authorities to see that those responsible for the 1985 murder of Drug Enforcement Administration agent Enrique "Kiki" Camarena face justice in the U.S.
Peña Nieto promised before becoming president that he'd work more closely with the U.S. in terms of the drug war, but has so far failed in that effort and actually distanced himself farther from the U.S. than his predecessor Felipe Calderón, who began the drug war in 2006.
Since taking office in December, Peña Nieto has moved to end the widespread access that U.S. security agencies have had in Mexico to tackle the violence that affects both sides of the border. It's a departure from the strategy employed by Calderón, one that was praised by the U.S. but reviled by many Mexicans.
Peña Nieto has also downplayed the notion that the new, more centralized arrangement would damage its security partnership with the United States. He said during a meeting of the two world leaders that Obama agreed during their private meeting earlier in the day to "cooperate on the basis of mutual respect" to promote an efficient and effective strategy.
While Peña Nieto has taken the reigns in terms of relations with the U.S., many analysts wonder if he can do the same in his own country to fight the drug problems and corruption – and can the U.S. help him get there.
'[T]he real test of Peña Nieto's resolve will be whether he is prepared to sacrifice Mexico's autonomy in the interests of justice—and send the most feared criminal in his country's history to face trial in the United States," according to The New Yorker.
The Associated Press contributed to this report.
Follow us on twitter.com/foxnewslatino
Like us at facebook.com/foxnewslatino