ANALYSIS: Ban Ki-Moon's New Weapon in Battles Over U.N. Oversight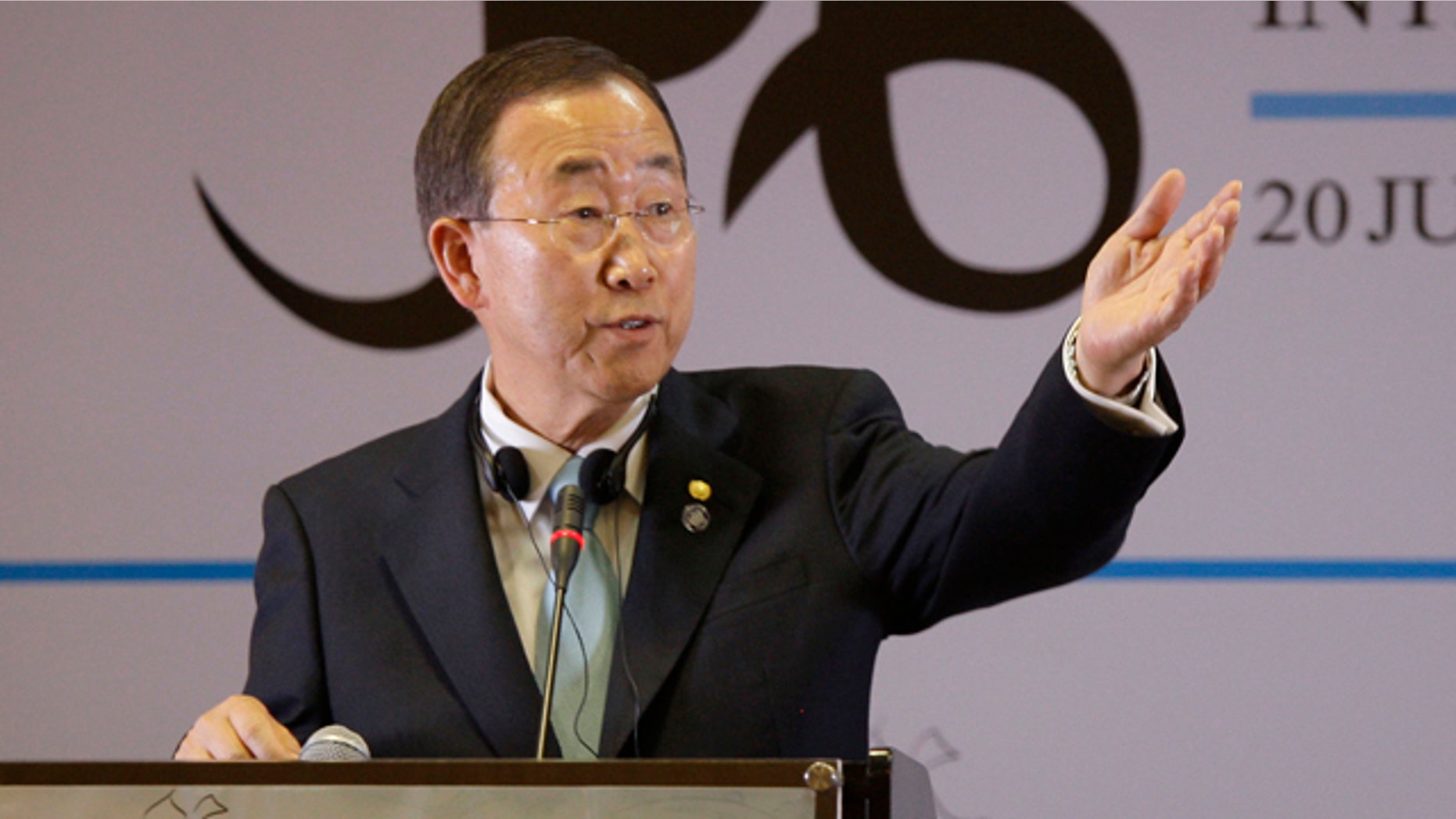 In a bid to alter the balance of power in his favor with the bodies of the United Nations that oversee his office, Secretary General Ban Ki-moon has unleashed a powerful new weapon: feminism.
Twice in the past 18 months, Ban has rejected candidates for top jobs in the sensitive oversight organizations made by the organizations themselves, on the grounds that the slates from which the winners were chosen did not include a woman.
In both cases, the watchdog organizations have responded to Ban's veto by suggesting that his actions were illegal.
Ban has, in fact, made a determined effort to make the status of women world-wide into one of his legacy issues. Just last month, he merged four different U.N. agencies devoted to women's issues into a new "U.N. Entity for Gender Equality and the Empowerment of Women."
But the organizations that have protested his gender-balancing personnel decisions — one of them headed by a woman — have two things in common: each has been highly critical over the past few years of bureaucratic inefficiency, maladministration or corruption within the stolid U.N. system that Ban heads; and in both cases, to safeguard the independence of the watchdog agencies, no U.N. secretary general has ever previously taken a hand in their personnel decisions.
The most scathing criticism of Ban's unprecedented personnel actions came last week from Inga-Britt Ahlenius, the outgoing head of the U.N.'s watchdog Office of Internal Oversight Services (OIOS), which both audits the Secretariat and investigates fraud and other malfeasance. Indeed, Ahlenius went far beyond sensitive personnel issues in castigating Ban for doing a miserable job of running the entire organization.
In a remarkably barbed "end-of-assignment" report at the conclusion of her five-year term — she charged Ban with "undermining" her organization, and leading a Secretariat that was "drifting into irrelevance." Ban, she said, had replaced strong, independent-minded subordinates with a coterie of loyalists on short-term contracts.
In the process, she accused Ban of deliberately blocking for nearly 20 months her choice as head of OIOS's sensitive Investigations Division, which looks into corruption and fraud in the Secretariat.
She also accused Ban of deliberately neglecting to choose her own successor, as he had originally promised, by April 2010, thus, as she put it, exhibiting a "lack of responsibility, not only for OIOS, but for the [U.N.] as a whole."
Ahlenius' choice as her investigations chief was Robert Appleton, a respected formed U.S. federal prosecutor, who for two years headed an ad hoc investigative unit of OIOS known as the Procurement Task Force. (The task force was established in 2005 after a Fox News investigation uncovered a major bribery scandal in the U.N.'s multibillion-dollar procurement department.)
Appleton had earned kudos for undertaking more than 200 investigations and uncovering 20 significant fraud and corruption schemes, involving contracts worth some $630 million. But along the way, he also earned plenty of enemies, including in the U.N. General Assembly, and the task force died of lack of funds in December 2008.
By that time, Ahlenius had already been trying for more than a year to hire Appleton as head of her permanent Investigations Division — and running into steely opposition from Ban's inner circle.
As Ahlenius told it in her exit report, Appleton's nomination was immediately rejected by a group of top Ban officials, known as the Senior Review Group, on the grounds that no woman was included among a panel of four candidates screened for the position. The review group ruled that a maximum of three candidates should be presented, and one of them had to be a woman.
Click here for the Ahlenius report.
Ahlenius noted two things about that decision: 1) members of the Senior Review Group were top U.N. officials whose departments were likely to be scrutinized by OIOS; and 2) there was no U.N. rule at the time mandating what the group required of her.
In fact, under a Secretary General's directive issued in 1995, and never modified, no one but the head of OIOS was supposed to pick the organization's senior staff — in the same way that U.N. funds and programs outside the Secretariat, such as the World Food Program and United Nations Development Program, do not need the Secretary General's OK.
"Never before," Ahlenius told Ban, " had a Secretary General intervened in a matter of appointing staff in OIOS."
Almost exactly the same charge was levied in March, 2009, by another small but important investigative element of the U.N. known as the Joint Inspection Unit, whose job is to assess and improve the efficiency and coordination of the U.N. worldwide. The JIU's eleven inspectors are elected directly by the General Assembly, and thus fall outside Ban's purview. But their supporting bureaucracy falls — on paper, anyway — under Ban's Secretariat.
In recent years, the JIU has issued a number of wide-ranging reports that have called into question the U.N.'s competence, even as it has been extending its reach and coordination within an expanding tangle of funds, programs and agencies. Among other things, JIU has harshly criticized the U.N.'s $10 billion global procurement system as a mess; said that its management of worldwide environmental treaties and programs was approaching a chaotic state, and said that key units of the World Meteorological Organization, touted as key tools in fighting climate change, were of "questionable value."
All of those reports, at a minimum, suggest caution in endorsing expanded roles that the U.N. seeks in environmental regulation, "sustainable development," and "food security."
Thus, it was perhaps not surprising when the U.N. Secretariat struck back, in its own fashion.
Last March, in a remarkable protest, the highly circumspect JIU complained in its annual report of the "illegal action" on the part of Ban's office. The same Senior Review Group that was involved in rejecting Ahlenius nominee for chief of investigations was demanding a bigger say in selecting candidates to become the JIU's powerful executive secretary.
Click here for earlier story on this issue.
And once again, the main objection that the review group used to stymie the process was the lack of a woman among the final selection of candidates.
In its annual report, the JIU argued that for the previous 40 years, staff appointments had been left in the organization's own hands to respect the JIU's autonomy, with largely ceremonial assent from the Secretariat. The unit said that it had never been notified about the need for women on the candidates' list — and like OIOS, also noted that the mandate to include female candidates was created by Ban after the JIU had submitted its three screened candidates for the job.
The inspectors declared that "the Unit questions not only the fairness of trying to apply a new procedure for selecting its executive secretary, but also the legality of changing a procedure on a fundamental question without at least informing the General Assembly and the staff."
In the end, however, Ban won. In August 2009 the new executive secretary of JIU was named: Susanne Frueh, a German native whose most recent experience was in administering Secretary General Ban's $250 million Peacebuilding Commission.
When it comes to OIOS, Ban is also likely to win. In an open letter to U.N. staffers issued last Friday, after Ahlenius issued her blast, Ban's chief of staff, Vijay Nambiar, declared that his boss "is finalizing the appointment of a candidate" as Ahlenius' successor, subject to General Assembly approval.
Click here for Nambiar's letter.
At the same time, Nambiar declared that while Ban "fully recognizes the independence of OIOS," that "operational independence does not mean being above the rules that apply to all of us." Following those rules "is the only way to build a modern U.N. including with true gender balance."
Even if, as apparently happened in these sensitive institutions, no one knew about the rule at the time it was used.
The question is how many other rules Ban may have up his sleeve, and when he may decide to reveal them.
George Russell is executive editor of Fox News.