Amnesty International Criticizes Cuba's Detention of Dissidents at Funeral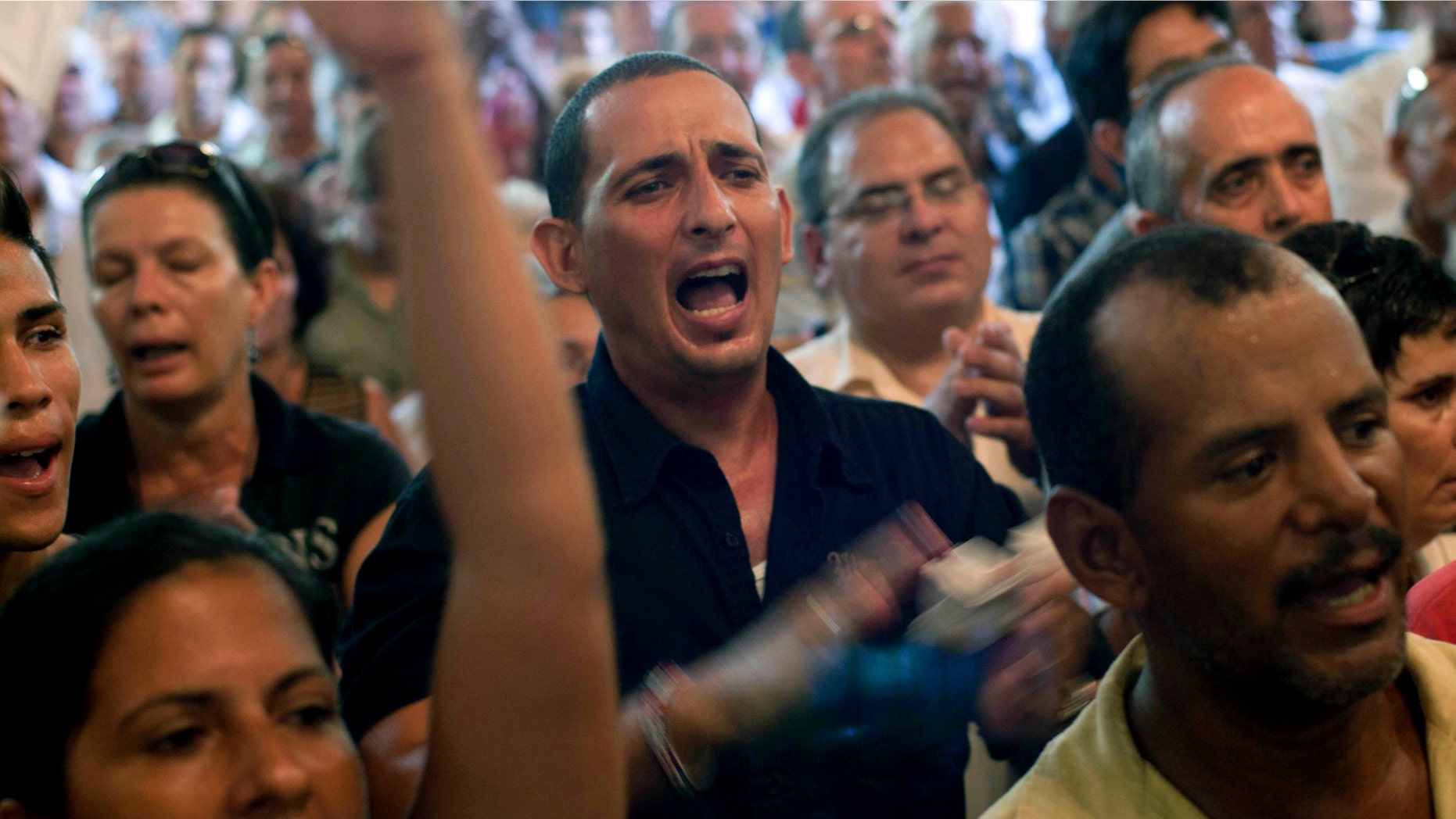 Human rights organization Amnesty International and the U.S. government criticized Cuba Wednesday for briefly detaining dozens of dissidents after they attended the funeral of prominent opposition leader Oswaldo Payá.
A few hundred people had gathered at a Havana church the previous day to pay respects to Payá, who died Sunday in a car crash, when a scrum broke out outside between dissidents yelling "freedom!" and state security agents.
Police herded more than 40 people onto buses, according to noted dissident hunger-striker Guillermo Fariñas. They were taken to police stations and released within hours.
Cuba, which considers members of the island's small dissident community to be "counterrevolutionaries" bent on undermining the government, has cleared its prisons of internationally recognized prisoners of conscience in recent years. Dissidents say authorities have since turned to brief detentions such as those seen Tuesday.
The short-term arrests "aim to produce physical and psychological wear and tear among the opposition," said Fariñas, who like Payá is a past winner of the European Union's Sakharov human rights prize.
Dissidents accused police of rough treatment, but there were no reports of any serious injuries.
The White House said in a Wednesday statement that the detentions "provide a stark demonstration of the climate of repression in Cuba."
"We look forward to the day when the Cuban people can live in the free society Oswaldo Payá worked so hard to bring about throughout his lifetime," it read.
Human rights group Amnesty International also criticized the arrests.
"Tuesday's events follow the pattern of short-term detentions and imprisonments we've seen the Cuban authorities carry out time and again as a form of intimidation against dissidents and human rights activists," said Gerardo Ducos, Amnesty's Cuba researcher.
There was no word of the detentions in Cuban state media, which rarely mention dissidents except to accuse them of being paid stooges of the U.S. government. Island newspapers have reported Payá's death, but without mentioning his opposition activities.
A rental car carrying Payá, another Cuban dissident, and two Europeans crashed Sunday in the eastern province of Granma, killing Paya and the other Cuban.
State media said the accident happened when the driver of the vehicle lost control and hit a tree.
A member of the Spanish conservative ruling party's youth wing was apparently behind the wheel. Both he and a Swede belonging to a political youth organization suffered minor injuries. They made statements to police and were being assisted by officials from their respective embassies, but have not spoken to the news media.
There have been some conflicting accounts of the crash including speculation it could have been intentional, and dissidents demanded a transparent investigation.
"We will clear up and seek justice for the violent death of my father," daughter Rosa María Payá said Tuesday at the church.
Payá, 60, was a leading government opponent who in the late 1990s and early 2000s headed up the Varela Project, which gathered thousands of signatures calling for political and economic change.
Based on reporting by the Associated Press.
Follow us on twitter.com/foxnewslatino
Like us at facebook.com/foxnewslatino