Amid global donor fatigue, UN asks new billions for famine relief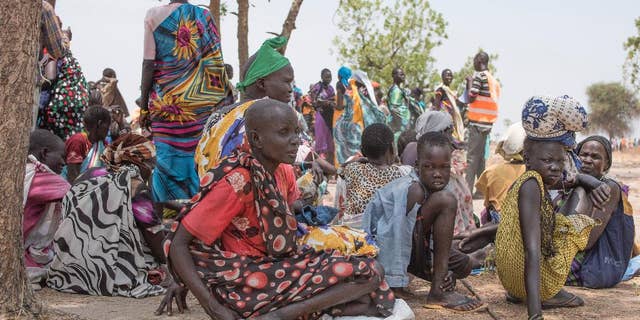 Amid dire predictions of mass starvation, the United Nations is calling on the developed world to pour billions of dollars into humanitarian relief in Africa, starting with Yemen, where a two-year civil war and drought have displaced more than 3 million people.
The question is, will the world provide it?
At a pledging conference in Geneva this week, the U.N.'s Office for the Coordination of Humanitarian Affairs, or OCHA, is asking for $2.07 billion in emergency relief for Yemen, of which only $324.5 million, or 15.7 per cent, has so far been pledged.
The U.N. describes Yemen as the world's largest "food insecurity" humanitarian crisis, with drought atop the escalating two-year civil war that has left not only some 3.1 million refugees but 14 million people overall that the U.N. nebulously calls "food insecure," including 6.8 million who are "severely" so. Among those are 2 million "acutely malnourished" children.
Whether Yemen--population 24 million-- can take title of worst crisis away from Syria--population 22.9 million-- is an open question. The war by the Russia- and Iran-backed Assad regime has killed at least 400,000 people, caused some 5 million people to flee abroad, and another 6.3 million to be internally displaced, according to OCHA. Due to the viciousness of the conflict, which includes deliberately inflicted starvation, the full extent of Syria's "food insecurity" is not known.
The Yemen funding event is the first in a new wave of money requests, backed by dire predictions of starvation, that U.N. officials led by Secretary General Antonio Guterres began issuing last February. At the time, those officials called for $4.4 billion in new donations for four highlighted countries: Yemen, Somalia, northern Nigeria and in Somalia, where outbreaks of famine were then being declared.
Said Guterres at the time: "We are facing a tragedy; we must avoid it becoming a catastrophe."
Nor is starvation the only adversary. "During a famine, death does not necessarily come from starvation, but often from disease as weakened people succumb," says Russell Geekie, an OCHA spokesman in New York. The World Health Organization is asking for $126 million as part of the Yemen response alone, to cope with maladies like cholera and measles.
Whether the U.N. will get all of the requested money despite the dramatic warnings, however, is doubtful. The fact is that the world has become accustomed to U.N. calls for ever-increasing amounts of emergency aid—and almost never meets them.
Last year, for example, the U.N. called for $1.6 billion in humanitarian donations for Yemen, and got only about $1 billion. Overall, its $4.4 billion emergency humanitarian target for the four stricken African countries, only $1.13 billion, or 26 per cent, has come in so far.
OCHA spokesman Geekie nonetheless told Fox News, "The risks are increasing, but there is still time to avert the worst."
That may be so. But after years of seemingly endless strife and conflict, and of failure to return millions of refugees to their homelands for years and even decades, "there is an enormous amount of donor fatigue around the world," observes Brett Schaefer, an expert on U.N. finances at the conservative Heritage Foundation.
That fatigue is demonstrated by the tendency for the UN to receive only about half of the funds it says is necessary to address various crises, he noted, and exacerbated by the increasingly protracted nature of the disasters that the U.N. is asking for money to mitigate.
"Part of it is that appeals are couched as if every emergency is temporary," Schaefer told Fox News. "But these are increasingly not short-term crises."
Whatever aid money does flow in, the problems are just beginning for those on the ground who have to make sure that it gets to where it is most desperately needed.
In South Sudan, for example, says Deepmala Mahla, South Sudan country director for the U.S.-based humanitarian organization Mercy Corps, notes that "there are only 60 miles of paved roads," and food supplies and other aid will have to be flown in when—and if—seasonal rains make ground travel difficult to impossible.
Some parts of Nigeria where famine has broken out are described in the U.N.'s own documents as "inaccessible." That can mean remote geographically, but it also refers to the sometimes dramatic impossibility of delivering aid in the midst of the ongoing civil wars that characterize all four of the spotlighted nations.
In the case of Somalia, for example, a civil war has been ongoing sporadically since the 1980s. A variety of U.N. peacekeeping missions fizzled in the 199002, but major aid operations, largely directed from neighboring Kenya, have continued since.
South Sudan has also been rent by civil war since 2013; as in Yemen, the government itself is at war with large segments of its population, while northern Nigeria is the scene of ferocious attacks by the Islamic terrorist organization Boko Haram.
At a briefing of the U.N. General Assembly two weeks ago, the U.N.'s top emergency relief coordinator, Stephen O'Brien, warned that "an estimated 700,000 people remain beyond reach for humanitarian actors, living in what are feared to be desperate conditions."
Says Michael Bowers, a Mercy Corps vice president for global emergency operations: "Aid does not happen in a vacuum. To agree on a humanitarian solution for these countries involves political will."
"These crises are often very complex," observes Schaefer. "The United Nations is often not capable of resolving these problems, but the major powers also have little appetite for directly intervening in situations that are not top foreign policy priorities." He sums up: "It is immensely unsatisfying."
The challenge is particularly acute for the U.S., traditionally the world's most generous humanitarian donor, but also deeply embroiled in contentious budget discussions—and a desire on the part of the Trump Administration to cut back on U.N.-related spending. Whether that will include humanitarian assistance is unclear, as key Republican legislators in Congress—where budgets are actually passed—have restated their commitment to U.S. aid.
For now, however, the U.S. remains "deeply concerned," in the words of a U.S. government official, "about the threatening food security situation" in the headlined countries, and "will continue to work with the international community and other international donors to provide humanitarian assistance to avert famine and support the most vulnerable people."
Last year, according to OCHA's Financial tracking Service, that included $343 million for Yemen, about $549 million for South Sudan, $139.2 million for Somalia and $45.6 million for Nigeria.
Out of the money actually donated by all donor countries for those emergency appeals last year, the U.S. giving amounted to 34 per cent of the total for Yemen, nearly 46 per cent of the South Sudan tally, more than 28 per cent of the international total for Somalia, 17 per cent of the Nigeria tally, and about 17 per cent of the donations for Nigeria..
Where those percentages will end up this year is still subject to another drawn-out conflict on Capitol Hill.
George Russell is Editor-at-Large of Fox News. He is reachable on Twitter at @GeorgeRussell and on Facebook at Facebook.com/George.Russell