Americans stabbed in Amsterdam thank police for swift action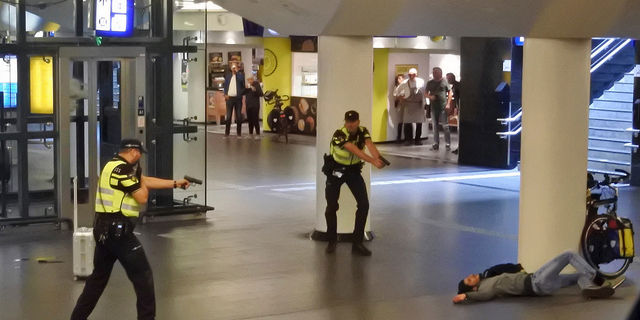 THE HAGUE, Netherlands – Two Americans injured in an Amsterdam knife attack that prosecutors say had a "terrorist motive" thanked Dutch police and medical staff Wednesday for their assistance.
Police and prosecutors say the two 38-year-old American men were stabbed last Friday at Amsterdam's busy central railway station by an Afghan who is seeking asylum in Germany. The alleged attacker was shot and wounded by police officers immediately after the attack and remains in custody.
In a written statement distributed by the U.S. embassy, the Americans, whose identities have not been released, paid tribute to the police, saying they "cannot thank them enough for what they did to save their lives."
The victims also thanked an information kiosk attendant at the station for rushing to their aid, and nurses, a surgeon and American consular staff for their support since the attack.
"The victims and their families said they appreciate everyone's support, thoughts, and prayers. The families are focusing on both physical and emotional recovery. They hope to return to living meaningful and productive lives in the United States," the statement said. "They want to thank everyone from the bottom of their hearts."
The 19-year-old suspect is accused of stabbing the Americans in an unprovoked attack after he arrived at Amsterdam's Central Station on an international train. Prosecutors say he did not know the victims were U.S. citizens.
Prosecutors say the suspect believes that Islam is "insulted" in the Netherlands, and that drove him to travel to the Netherlands to carry out an attack.
"It is apparent from his statements that he believes that in the Netherlands, the Prophet Muhammad, the Quran, Islam and Allah are repeatedly insulted," prosecutors said in a statement Monday, noting that the young Afghan man specifically mentioned Dutch lawmaker Geert Wilders, who is well known for his fierce anti-Islam rhetoric.
The prosecutors added that there was so far no indication the suspect, identified as Jawed S. under Dutch privacy rules, was working with anyone else.