American tourist Kimberly Sue Endicott and her safari guide were pictured for the first time since they were freed Sunday following five days in captivity at the hands of gunmen who ambushed them in Uganda's Queen Elizabeth National Park.
Endicott and her guide, Jean-Paul Mirenge Ramezo, were greeted by several people on Monday after they were found alive in Congo, where their kidnappers had taken them after abducting them last Tuesday, Ugandan authorities said. Endicott and Ramezo were found in "good health" and placed "in the safe hands of the joint security team" on Sunday.
AMERICAN TOURIST, DRIVER ABDUCTED IN UGANDA RELEASED BY CAPTORS, OFFICIALS SAY
U.S. military drones assisted Ugandan security forces in the recovery of Endicott and Ramezo, U.S. officials told Fox News
Endicott left the Ishasha Wilderness Camp in the national park on Monday for the capital city of Kampala, where she is expected to meet Deborah Ruth Malac, the U.S. Ambassador to Uganda.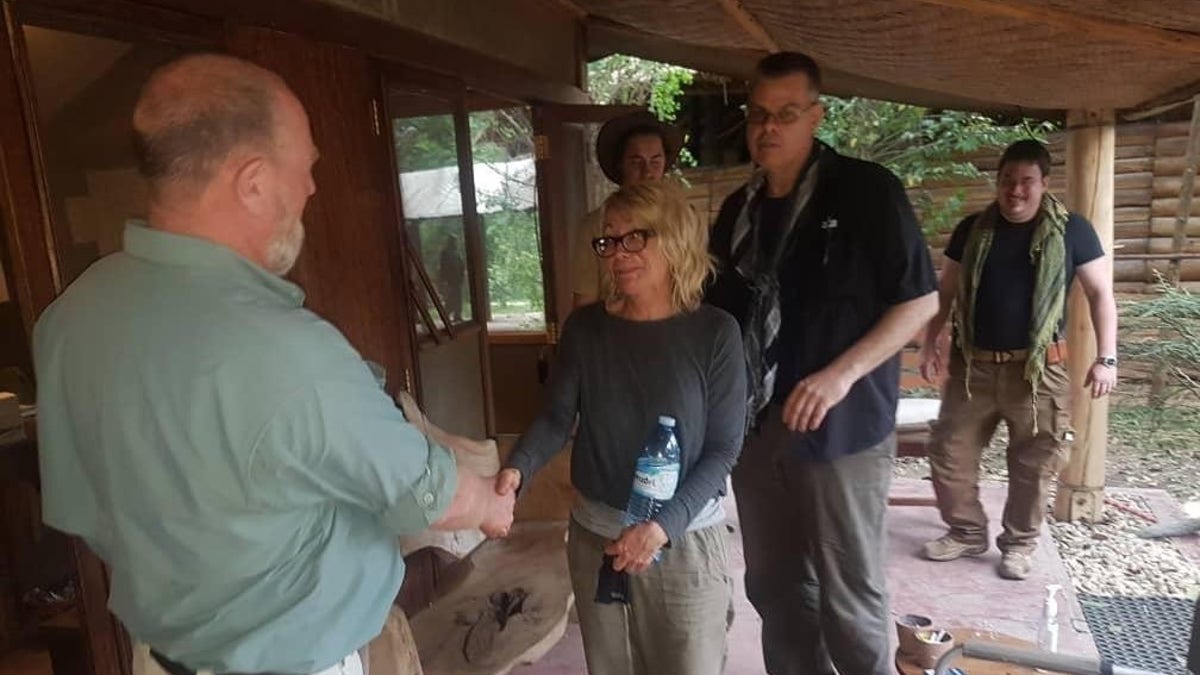 President Trump on Monday urged Ugandan officials to work quickly in finding the armed kidnappers still at large.
"Uganda must find the kidnappers of the American Tourist and guide before people will feel safe in going there. Bring them to justice openly and quickly!" Trump tweeted.
Endicott — an aesthetician from Costa Mesa, Calif. — Remezo and two other tourists were in a car between 6 and 7 p.m. Tuesday when four men stopped them and held them at gunpoint. The men took Endicott and Remezo and left the two tourists, who then contacted the camp manager and were taken to safety, Uganda Police Force said.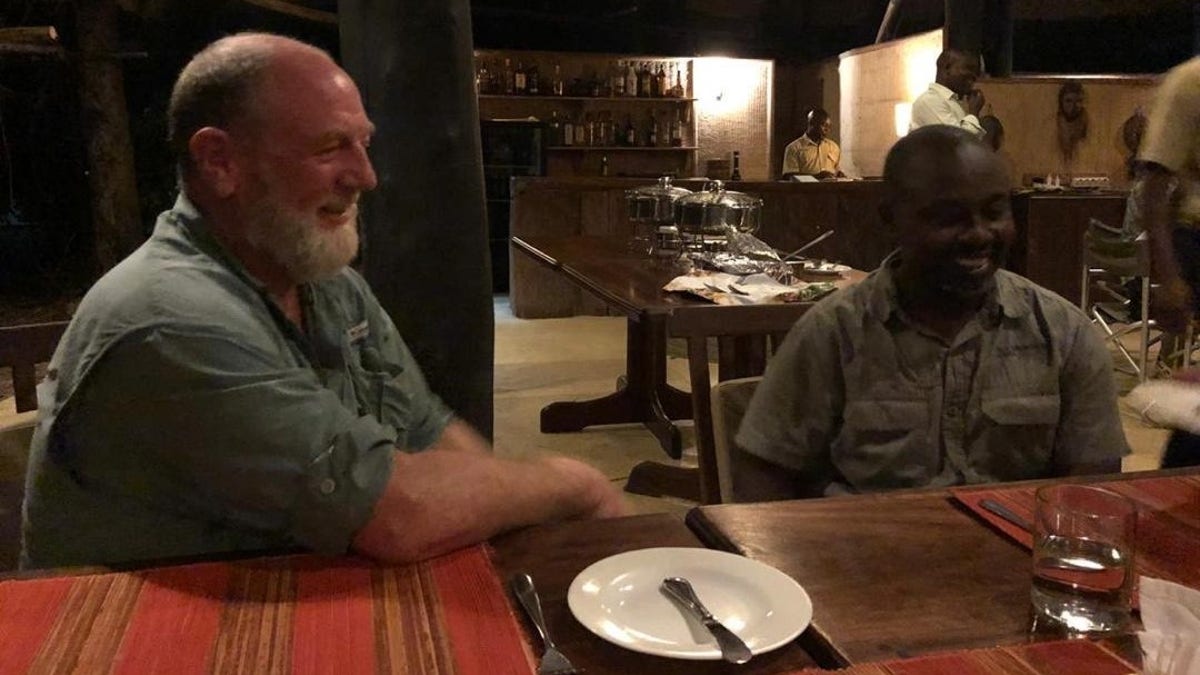 The captors used Endicott's phone to demand a $500,000 ransom for the pair's safe return. Ugandan police spokesman Fred Enanga said the armed kidnappers released Endicott and Ramezo because of the "implicit threat of the use of force," disputing several reports that stated a ransom was paid for their release.
"I have indicated to you that we don't do ransom," he said Monday.
US PULLS FORCES FROM LIBYA DUE TO 'SECURITY CONDITIONS' AMID FIGHTING NEAR CAPITAL
A Uganda-based tour official said, however, that a ransom was paid to secure Endicott's freedom. The official with Wild Frontiers Uganda Safaris, which organized the kidnapping victims' safari itinerary, said Monday that Endicott was released -- "not rescued" -- after money was paid.
"Otherwise, she wouldn't be back," he said, speaking on condition of anonymity because he was not authorized to speak to the press.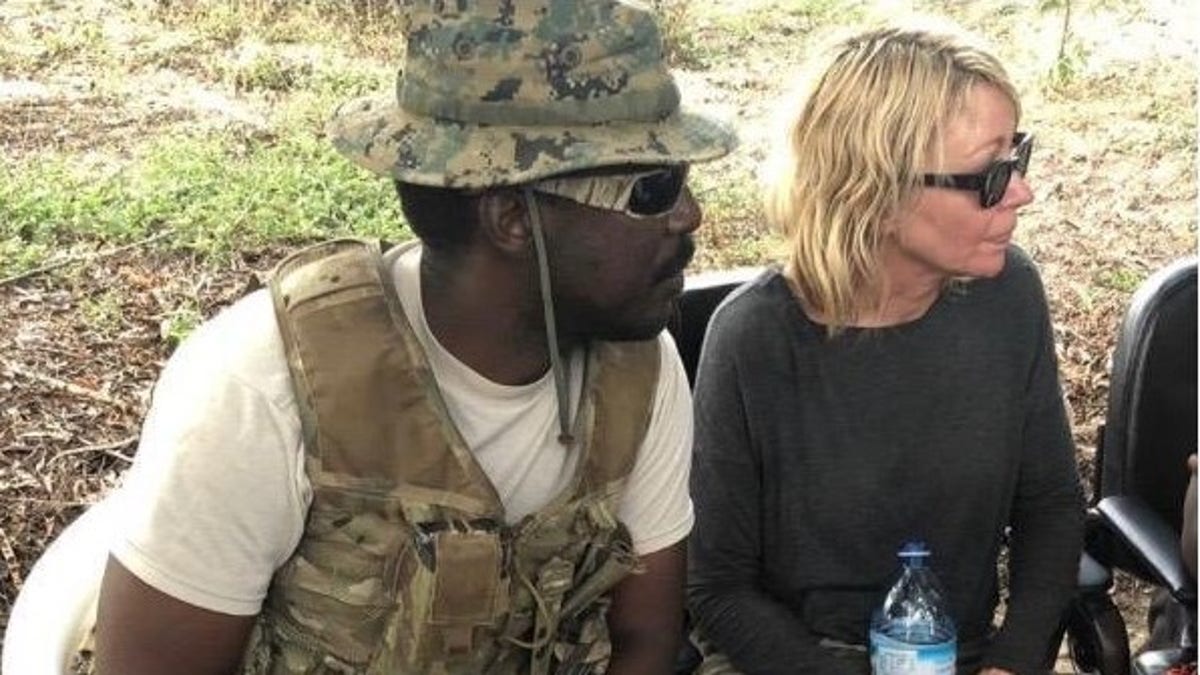 Enanga said authorities were working to find the kidnappers but insisted citizens' and tourists' safety is their main priority. Ugandan President Yoweri Museveni also tweeted the country is safe for tourists, despite Endicott's terrifying ordeal.
"We shall deal with these isolated pockets of criminals. However, I want to reassure the country and our tourists that Uganda is safe and we shall continue to improve the security in our parks. Come and enjoy the Pearl of Africa," Museveni tweeted.
CLICK HERE FOR THE FOX NEWS APP
Endicott, who is in her 50s, booked the trip to Uganda because it was her dream to see gorillas on a safari in Africa, her friend Pam Lopez, told the Los Angeles Times.
"I know she was planning this trip for a while because it's something that she's always wanted to do," Lopez said. "This was always a big trip she wanted to take."
Queen Elizabeth National Park, which is located near the porous border with Congo, is Uganda's most popular safari destination. Its attractions also include groups of tree-climbing lions.
Fox News' Lucas Tomlinson and the Associated Press contributed to this report.