American imprisoned in Iran offers prayers in thank you letter to Obama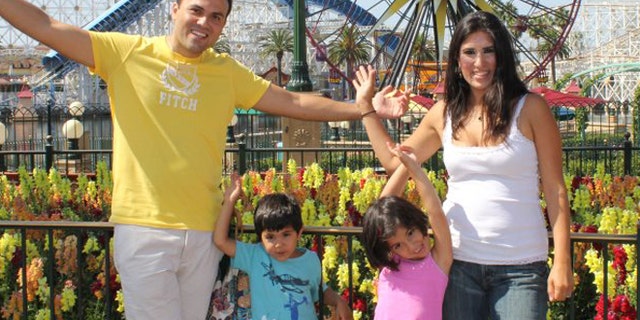 From his bleak prison cell in Iran, Christian Pastor Saeed Abedini penned a letter to President Obama, thanking him for meeting with his wife and two children last week and offering the commander-in-chief his "prayers from inside of these walls."
"President Obama, you have my prayers from inside of these walls."
"I was personally encouraged that you were in my hometown of Boise, Idaho, and made time to visit my wife and children," Abedini, an American citizen, wrote in a letter passed off to a family member who visited him at Rajai Shahr prison, just outside of Karaj, Iran, then delivered to the White House by the American Center for Law and Justice, which represents Abedini. "They have had a heavy burden to carry in my absence, and your presence helped to relieve some of that burden. . . Thank you again for standing up for my family and I and for thousands of Christians across the world who are persecuted for their faith in Jesus Christ.
"President Obama, you have my prayers from inside of these walls," Abedini's letter continued. "I pray for God's guidance, wisdom and blessing for you as you lead this great nation."
Obama met with Naghmeh Abedini and the couple's two young children on Jan. 21, while he was in Boise, Idaho, where the Abedinis live. Naghmeh Abedini came away from the 10-minute, private discussion encouraged, and said President Obama told her that securing her husband's freedom was a top priority for his administration. Obama told their son, Jacob, that he "will try" to get his father home by Jacob's birthday in March, according to Naghmeh Abedini.
An administration spokeswoman confirmed that Abedini's letter had reached its intended recipient.
"I can confirm that the White House has received a letter for President Obama from Saeed Abedini, thanking the President for meeting with Mr. Abedini's wife and children in Idaho," said National Security Council spokesperson Bernadette Meehan. "We remain concerned about the health and welfare of Mr. Abedini, sentenced to eight years in prison in Iran on charges related to his religious beliefs, and we repeat our request for Iran to grant Swiss officials, who serve as our protecting power, consular access to determine his well-being. We again call on Iran to release Mr. Abedini so that he may be reunited with his family."
Abedini was arrested in Iran 2009, but released after pledging to stop formally organizing house churches in Iran. He became a U.S. citizen in 2010, but remained committed to helping improve conditions in his homeland. When he returned to Iran in 2012 to help build a state-run, secular orphanage, police pulled him off a bus and imprisoned him. Over the last two-and-a-half years, Abedini has endured long stints in solitary confinement, and, according to his attorneys, beatings and torture at the hands of his jailers and fellow inmates. For months, he has been denied proper medical attention for his injuries, according to his family and attorneys.
"The meeting with President Obama was critical in elevating Pastor Saeed's case," said Jordan Sekulow, executive director of the ACLJ. "Now it is time to bring Pastor Saeed home. We will continue working with the Obama administration, the State Department, the United Nations, and world leaders toward Pastor Saeed's freedom."