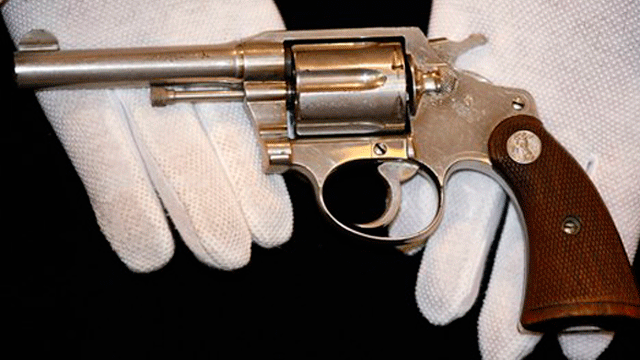 LONDON – A handgun once owned by gangster Al Capone was sold at auction Wednesday for $108,447.
Christie's auction house in London said the Colt .38 revolver was sold to an anonymous bidder in the room.
The gun was manufactured in 1929, the year of the St Valentine's Day Massacre, when seven people were killed in Chicago amid ongoing battles between Capone's gang and a rival group.
Capone ruled the Chicago underworld in the 1920s through racketeering and profiting from a ban on alcohol -- a period known as Prohibition.
At that time, the Colt .38 would have been one of the most reliable and most easily concealed handguns available.
Howard Dixon of Christie's said the gun was used only by Capone.
"We have a letter dated 1976 from his sister-in-law, categorically stating that this gun was owned and used solely by Al Capone while he was alive and on his death passed to his brother Ralph," he said.
The gun was sold along with the note from Madeleine Capone Morichetti.
Capone has been immortalized in numerous books and films as the stereotypical mobster, wearing pinstripe suits and a tilted fedora with a cigar hanging out of his mouth.